Located in the East Midlands in England, Nottingham University was founded in 1881. This university is very well respected and has a great student atmosphere. Not only does Nottingham University attract a lot of local students but they take in students from over 150 countries every year across their three campuses in the UK, Malaysia, and China. There are many great reasons why they manage to attract so many international students. If you'd like to know more about why you should study at Nottingham University, keep reading this article!
The Location
Nottingham is a great place to live and if you've never been to England or the UK before, Nottingham is a good place to start with. This city is full of culture and has its own success stories. You'll find a bustling music scene here and if you like to go to gigs then you'll love what Nottingham has to offer. Although the university isn't in the city center, you'll be able to easily travel in to see all of the amazing sights. Make sure to check out the Arboretum and the Victoria Embankment when you get there. If you are interested in modern art, then you'll love the Nottingham Contemporary gallery which is one of the biggest in the county.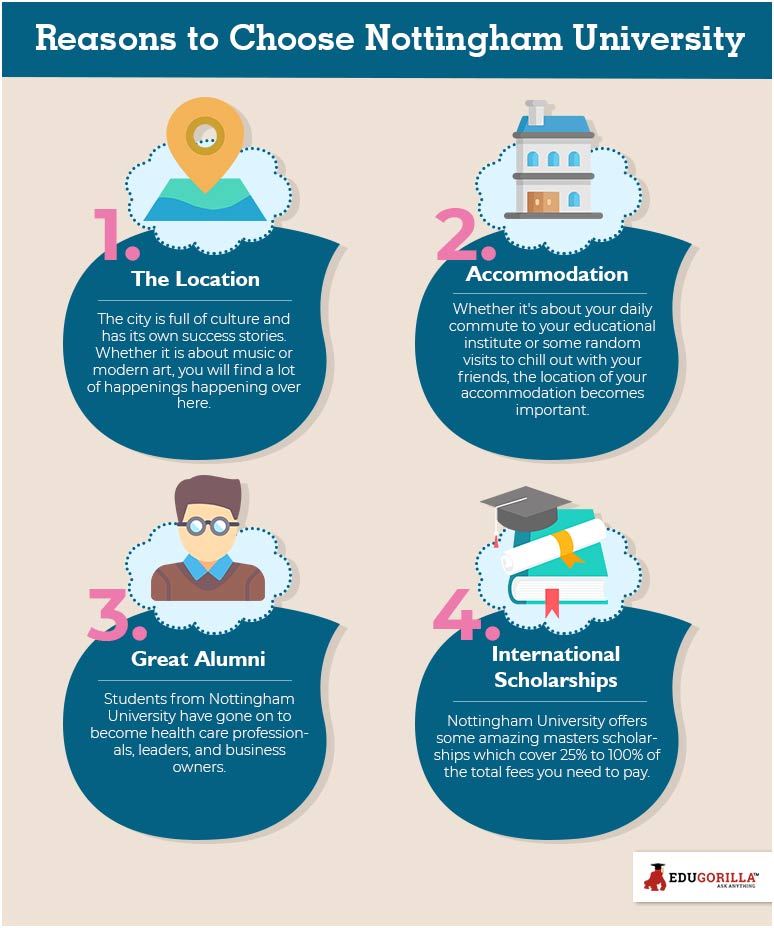 Accommodation
Accommodation is one of the most important things a student has to consider. It greatly impacts your overall experience of studying. Whether it's about your daily commute to your educational institute or some random visits to chill out with your friends, the location of your accommodation becomes important. Nottingham has some beautiful places for you to stay in. Whether you rent a flat or stay in the university allocated accommodation is up to you. If you are planning on studying here, then you should make sure to check out all types of student accommodation Nottingham has to offer.
Great Alumni
If you still aren't convinced in trying out this amazing university then you must hear about some of their notable alumni. Students from Nottingham University have gone on to become health care professionals, leaders, and business owners. The prime minister of Malaysia, Dato Seri Najib Razak studied at a Nottingham campus as well as Dr. Stewart Adams OBE who created the painkiller Ibuprofen. These are some amazing achievements. And they are just a few of the amazing people who have achieved their dreams after getting educated at Nottingham University.
International Scholarships
For international students and students from the EU, there are plenty of opportunities provided by Nottingham University. This university offers some amazing masters scholarships. These scholarships cover from 25% to 100% of the total fees you need to pay. There are also plenty of scholarships for undergraduate students and international research students. Make sure to have a look at what is on offer so that you don't miss out on any opportunities that you could benefit from.
Final Thoughts
If you are thinking about studying in the UK, make sure to consider Nottingham University carefully. This university has a great student satisfaction rate and a reasonably high ranking in the world. However, if financial concerns are coming in between you and your dream college, there are ways to save money while studying abroad. You can also look for financing options for colleges abroad.
You Might Want To Read:
Solved Question Paper 1 2009, Comparative Lit Question Paper 2 2013, Gmat Reading Comprehension Mock Test Paper 1, Aaksh Institute Admission Cum Scholarship Test Sample Paper First Step Course Jee Main Advanced 2014 2016, Manipal College Of Dental Sciences Manipal, Economics Definition Career Path Colleges Jobs Salary, Upsc Hindi Literature Paper Ii Question Paper 2012, Good, Karnataka Board, Central Footwear Training Institute Agra
Leave your vote
This post was created with our nice and easy submission form. Create your post!