Are you planning to study abroad? Finding the right city for your studies can be a hard task indeed. With so many options available, it is important that you do as much research as possible to choose the right option for you.
Let's check out why studying in Nottingham is so special. This city reserves its place as one of the top 100 universities in the world. Nottingham was also ranked 8th in the UK for its research. What's more, this city has a number of inexpensive and free activities, making it a favorite for students having less budget.
For inquisitive students, this city has lots to offer in terms of history and culture. Also read, How to Save Money While Studying Abroad? Moving forward, here are 5 great reasons to study in Nottingham.
Accommodation
With a range of studio flats, halls and apartments to choose from, there is something suitable for every student living in this city. When choosing Nottingham student accommodation, make sure you are aware of the location and distance from your university, the price of your accommodation and the quality of your new home.
Depending on your budget and requirements, you can finalize the accommodation of your choice. If you are looking for a bit of luxury, looking into these student mansions in Nottingham could be the right option for you.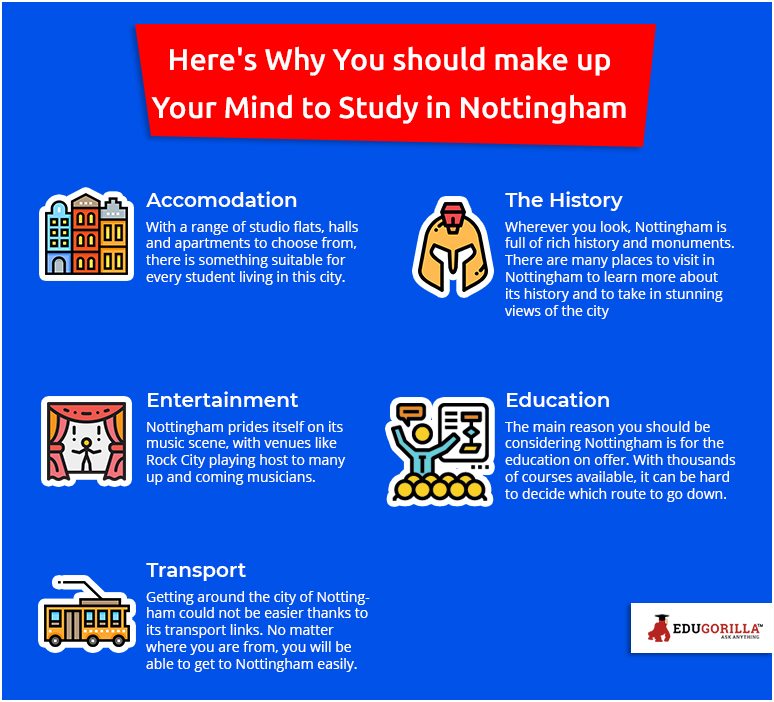 The History
Wherever you look, Nottingham is full of rich history and monuments. There are many places to visit in Nottingham to learn more about its history and to take in stunning views of the city such as Nottingham Castle. Once you have taken in the views of the city, you can go underground and explore the City of Caves, taking you under the streets of Nottingham and learning about the most famous areas of the city. There are also various museums in Nottingham, ensuring there is something for everyone.
Entertainment
Visiting and living in Nottingham are two different things. Students want to have a vast amount of entertainment on offer to ensure their social lives are jam-packed and there always being something new to do. Nottingham prides itself on its music scene, with venues like Rock City playing host to many up and coming musicians.
If you want to see a spectacle, visiting the Motorpoint arena will enable you to see live shows from top music artists from around the world. There are also a range of pubs, clubs and bars dotted across the city, giving you extensive choice when it comes to entertainment in Nottingham.
Education
The main reason you should consider studying in Nottingham is for the education on offer. The city has two universities (Nottingham Trent University and University of Nottingham). No matter which university you attend, the campuses feature historic and beautiful buildings, excellent teaching and ground-breaking research.
With thousands of courses available, it can be hard to decide which route to go down. If you need more guidance, it is best to look on the universities' websites to give you a clearer understanding.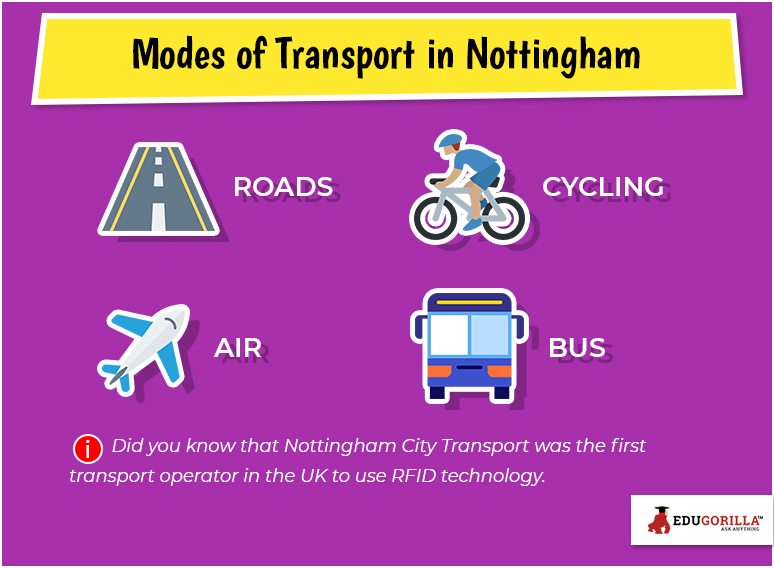 Transport
Getting around the city of Nottingham could not be easier thanks to its transport links. There are various bus routes that take you around the city and to your university campus as well as a city train station that is well connected to cities across England. No matter where you are from, you will be able to get to Nottingham easily.
If you are still unsure on whether Nottingham is the right place of study for you, make sure that you conduct more research online where you will be able to read first hand reviews from students already living there, helping to give you the reassurance and information you need. Watch out before applying loan for your Studies in Abroad.
You Might Want To Read:
Costing, M D S In Recent Advances In Orthodontics Mock Test Paper 53, Iitians Pace Kolkata, English Question Paper 7 2013, R P S C Question Paper 20 2014, Karnataka Public Service Commission Hindi Mock Test Paper 1, Associateship Examination Marine Clauses Mock Test Paper 147, Karnataka Public Service Commission Geography Mock Test Paper 5, Delhi University L L B 1St Year Mock Test Paper 5 5, Ugc Net Karnataka Music Question Paper 2 2015
Leave your vote
This post was created with our nice and easy submission form. Create your post!