5 of the Best TOEFL Books for Learning Like a Professional
2017 is approaching fast, so we thought that it would be helpful for people looking to get a degree in English if we were to put together a list of the top recommended books that will assist them in scoring high in their TOEFL test.
Barron's TOEFL iBT Superpack
This collection consists of virtually everything you might need for studying to get your TOEFL certificate. Unlike many other options we've seen that are still rather popular these days, this one is composed of not one, not two, not even three resources. Four books and multimedia resources await you in the pack. What this means is that, while the Superpack might be less affordable for some individuals who're looking for a budget-friendly option, it's surely worth its weight in gold. If you choose the Barron's TOEFL iBT Superpack, you'll be able to familiarize yourself not only with the basics of the test per se, but also with the sections pertaining to writing, reading, speaking, and listening. The Strategies and Tips book, as well as the Essential Words for TOEFL guides, can take your vocabulary to a whole new level.
The Official Guide to the TOEFL Test
Available both with and without the CD, this test study guide is published by the Educational Testing Service every year. In a nutshell, if you select this alternative, you'll be able to sift through a myriad of sample texts and questions which may or may not have shown up in actual past tests or practice ones. The core advantage offered by this book is that it can give you a real feel as to how difficult the questions are and as to whether or not you still have a little work to do when it comes to brushing up your skills.
Kaplan TOEFL iBT Premier 2016-2017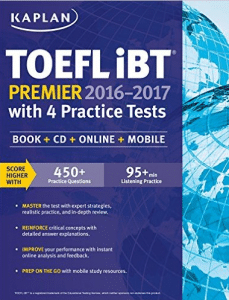 As with the resources mentioned above, the Kaplan manual is composed of a multitude of grammar and language exercises, study tips, explanations, and online access to video tutorials. Compared to some of the other books and CDs you might have used until now, this Kaplan edition stands out from the crowd because it breaks down the sections into various questions and answers depending on their nature. Combined with specific strategies which have been developed specifically for improving one's score, these portions can undoubtedly give you a hand if you're looking for a book with the help of which you can practice and test yourself. The CD can be of assistance if you intend to simulate the listening section of the exam.
McGraw Hill 400 Must-Have Words for the TOEFL
One of the most daunting tasks of students studying and practicing English is building vocabulary. It stands to reason that, if you were to live in a country where you'd have to use the language on a daily basis, you'd be forced by factors that you might not have any control over. In the end, you'd be left with a massive collection of words you'll be able to use as a pro. This situation typically occurs with people who regularly interact with native English speakers, as there are several expressions and idioms that even the best teachers might not have heard of if they haven't had the chance of talking with too many natives.
Here's where the McGraw Hill 400 Must-Have Words for the TOEFL comes in handy. These four hundred words are commonly used all throughout the test, but the detail that makes this guide unique is that it categorizes the terms depending on the topic. Thanks to the categories and subcategories used in this book, your vocabulary will take a leap forward in no time. After all, the publication has been created scientifically so that all target words are learned and remembered with the help of samples, tests, exercises, and various kinds of applications.
Barron's Practice Exercises for the TOEFL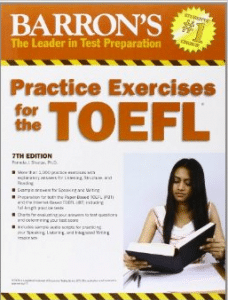 Practice makes perfect, they say, and we're not here to disagree. That's why this collection is composed of more than one thousand practical exercises, as well as detailed information about the sections of the test regarding your listening, speaking, reading, and writing skills. The publishing house regularly updates the edition so that it contains new vocabulary words, tips, and tricks, as well as patterns that can be used for a better learning process.
This post was written by Cristina Vulpe of Books For What. An avid reader and a tech and science aficionado, she puts her heart and soul into boosting site visibility for startups, with the help of content marketing. Over time, her works have been featured by SEMrush, Beaglecat, GilbHub, and PartyWithALocal.
You Might Want To Read:
Spanish Language Institute, Australia, Ugc Net Hindustani Music Question Paper 1 2015, How To Set Up A Learning Atmosphere For The Best Outcomes In Studies, How To Convert Fraction Decimals 2, Economics, Iaf, Scholastic Aptitude Testsat Mathematics Sample Paper 4, Delhi University M Com 1St Year Mock Test Paper 1, Rbse 12Th Previous Year Question Paper 14