Defence R & D (DRDO) Institute for Civilian Students
Defence Institute of Advanced Technology (DIAT) is the premier Deemed University under the Department of Defence Research & Development (DRDO), Ministry of Defence, Government of India.
MHRD, Government of India has placed DIAT (DU) in Category 'A' Deemed University. DIAT (DU) has also been accredited by NAAC and NBA. The DIAT (DU) has been ranked as the 38th Best University in India by the National Institution Ranking Framework (NIRF) during March 2016.
The education system is a Choice Based Credit System (CBCS) where teaching is done by well qualified faculty drawn from DIAT and serving / retired scientists & officers of DRDO, Tri-services, ISRO, IITs, various R&D and teaching institutes in India and abroad. DIAT has MoUs with various Industries, Universities & Establishments in India as well as across the world. DIAT also has an active International Cooperation & Placement Cell.
Dr. Surendra Pal, Vice Chancellor DIAT (DU) is a space communication technologist, accomplished researcher, academician, administrator and visionary of high repute, is an alumnus of Birla Institute Of Technology and Science, Pilani and Indian Institute of Science Bangalore. Dr. Pal is a former: Prof. Satish Dhawan Professor & Senior Advisor Satellite Navigation Programme (ISRO), Distinguished Scientist, Associate Director and also Programme Director Satellite Navigation Programme at ISRO Satellite Centre Bangalore. He is an Ex President of Institution of Electronics and Telecommunication Engineers India (2012-2014).
Defence Minister, Goverment of India is the Honorable Chancellor DIAT.
Five Most Unique things of DIAT
Research
DIAT (DU) is supported by 52 laboratories of DRDO to conduct collaborative research works and to validate and assess various technologies developed by DIAT (DU). Also, DIAT (DU) is supported by the Armed Forces to conduct field trails on various research Activities.
DIAT(DU) has a very strong inter disciplinary research atmosphere for the motivation of "Make in India" and has filed 23 patents since 2014. The faculty and students have published more than 495 research papers in various national and international journals and conferences.
A fair number of papers were received containing topics focused on Unmanned Vehicles, Information Warfare, Weapon technology, Military intelligence, Digital Armed Force, Sensor Technology, Education System and Training in Military Organization, and many more.
2 . Location & Infrastructure
The University is spread over 496 acres in scenic beautiful location, overlooking Khadakwasla Lake, in Sahyadri hills.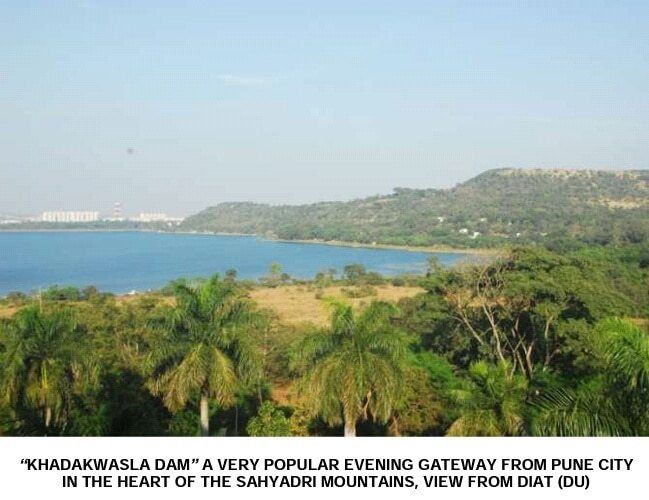 Facilities
The University has well equipped laboratories with latest equipments and simulation / analysis software.
Information Center and Library:
IC&L is the knowledge hub of the DIAT (DU), Pune. It reflects the institute's commitment in providing the best possible library and information services to its academic community of faculty members, scientists, students and staff members. It is a major resource hub for Defence, Science and Technology and allied subjects information in this part of the world and has a tremendous collection of both printed and digital resources.
The library subscribe print and online journals, databases such as Science Direct, IEL, ASME, ACM, SCOPUS, ProQuest, Springer and J-Gate etc. The library is using LibSys-7, the web centric library management software. The state of art DRONA network and data Centre are enabling its modern image.
DATA Center
Data Centre is providing following services in the Campus
CROWN(Computing Resources over Wired Network):
10 Gbps backbone connectivity; 1 Gbps connectivity to desktops; IT consolidation in Data Centre; SAN storage and Blade Servers; Network Security and Content Caching; 45 Mbps leased Line internet connectivity.
DIAT Wi-Fi Network
NKN Facility:
National Knowledge Network,the NKN comprises of an ultra-high speed CORE (multiples of 10 Gbps).
Video Conference and Virtual Class Room:
Virtual Class Room is developed to conduct interactive online lectures and meetings. It can support HD quality video streaming and video recording facility as well.
Video Conference room is used to conduct online meetings and lectures through DRDO labs spread all over the country. It works on dedicated DRONA network which is used by DRDO labs only.
Dedicated Application Software Servers(Antivirus and Mat Lab)
Latest Mat Lab Server is running at data centre and all clients are connected to it through LAN. Data Centre also provided centralized server for Symantec Antivirus protecting all of the clients throughout the LAN.
DRDO has provided its own network known as DRONA, which connected through all of the labs in the country. This facility is limited for DRDO Scientists/Officers studying or working in the campus. Data Centre has major role to provide this facility in the campus.
DRDO provided another dedicated network with 20 Mbps internet speed through a common gate way in the country. This network can support 250 connections based proper on authentication for valid use only.
Gender Ratio is good (3:5), Religion has no language here, you will find Mandir, Gurudwara, Chruch side by side.
It does also provide internship. People from various IITs, BITS, MITs coming for doing internship, mainly due to high end infrastructure and the quality of labs.
Hostel
Guest House
Medical Facility
Sports
Badminton Courts, Basket ball court, Cricket Ground, Hockey Field, Football Ground, Sailing, Lawn Tennis Court, Table Tennis Room, Chess room, Carom Room and Gymnasiums (Officers' Mess Gym, NGO Mess Gym, JCO Mess Gym, POINTS Mess Gym).
Career and Placements
A full pledged placement cell is functioning in DIAT (DU) with a full time placement officer. The Placement cell is inviting various Government, Semi Government Organizations, Private and Public Sectors for campus recruitment. For placement a large number of prospective employers are contacted during the year and efforts are made to invite those companies to visit DIAT (DU) and conduct campus recruitment. The objective of the Placement Cell is to look for a 100% employment of all the students. The Cell is assisted by student placement coordinators who lead a team of placement representatives from various courses of study.
Following are the some of Recruiters
DRDO Mahindra Defence Systems Whirlpool Engineering
HAL DANA International Pvt. Ltd. (US based MNC) 3D PLM Software
BDL SIT Lonavala Delloite Inc., Mumbai
L&T Limited Wavelett Group TATA Power SED
Eagle Photonics Rolta India Solar Explosives Ltd
Jumbo Systems & Solutions Pvt. Ltd. TCS
Post Induction Training School (POINTS) Programme
The Post Induction Training School (POINTS) at DIAT is a unique initiative of DRDO for imparting'integrated training' to the newly inducted scientists in the beginning of their scientific and professional career. The main objective of this 'training programme' is to train the bright young scientists in a highly specific manner so as to inculcate amongst them a deep sense of scientific temper, innovativeness and tenacity to achieve the set objectives in the most trying situations; and also to motivate and inspire them to pursue an exciting but challenging research career in Defence Sciences and Technologies by constantly enhancing their scientific capabilities and technological skills.
DIAT (DU) is specializing in the training of officers of Indian Armed forces (Army, Navy & Air Force), Paramilitary forces (CRPF/BSF/ITB/SSB etc.), Defence Research Organizations, Ordnance Factories, Defence PSUs (Like HAL, NAL, BrahMos Aerospace Ltd) and other central and state government agencies.
The uniqueness of DIAT (DU) is that fresh students have an opportunity to interact with service officers who are doing their M. Tech & share their infield experience with them. The students have an opportunity to visit DRDO laboratories & get the opportunity to listen and interact with scientists engaged in various disciplines carrying out state of art, research & development.
With these credentials in place, DIAT is able to fulfill its vision of being a center of excellence of international repute for education, training and research in advanced technologies with a view to strengthen national security and self reliance. We are proud to have accomplished the mission to evolve as an innovative unique research university to develop indigenous contemporary defence related technologies in navigation systems, wireless sensors, efficient propulsion systems, weapon systems for DRDO and defence services, provide technological solutions to the services to optimise combat battlefield effectiveness and above all produce qualified quality manpower which can truly become an instrument for building a strong indigenous technology base in the context of creating a performing defence industrial base in India.
You Might Want To Read:
Ctet Paperii Social Science Sample Test, Iti Electrician Fitter Test Series, Sathyabhama University B Tech Applied Physics Mock Test Paper 9, Derivability, 5 Tips To Help You Prepare For Study Abroad In An English Speaking Country, Liberal Arts Definition Career Path Colleges Jobs Salary, Writing Assignments, Kendriya Vidyalaya Sangathan Junior Mathematics Olympaid Mock Test Paper 4, Arab Culture Islamic Studies Question Paper 3 2007, Net Comparative Study Of Religions Paper Iii Sample Paper 6 2013