You're reading this article due to one of three reasons: you are about to start a new language, stuck with a new language or trying to start afresh after a span of discontinued learning. Inlingua New Delhi, a Switzerland-based language teaching institute reveals that most of the time, lack of a strategic approach acts as the biggest hindrance on the path of learning. In a bid to solve the generic problem, here are 5 tips that will help you turn your endeavor of foreign language learning, a cakewalk:
1. A Mixture of Offline and Online Learning
Use every resource at your disposal. While offline coaching helps maintain concentration and improve through competition, it usually has a large batch strength. You may feel a little skeptical about asking a question due to peer judgment. Furthermore, you may also miss out on classes due to college, job or prior family commitments.
Ms. Anushree, a language instructor at Inlingua New Delhi, expressed, "This is where virtual classrooms step in. As they help to clear doubts of an aspirant in 1v1 interaction with a teacher, they serve as a creative change in the pattern of classroom learning. This also removes the location-centric barrier and allows the aspirant to study as per the comfort of their schedule."
2. An Equilibrium between the 4 Foundational Pillars
Reading, Writing, Speaking and Listening: Each of them holds a unique importance in mastering the art of language. It is pivotal to balance all the spheres by working on them at regular intervals. Read and listen to as much foreign text as possible to understand different sentence formations. This would help you to understand the unconventional avenues of the language and increase command over the same.
Followed by this, try to write paragraphs or descriptions of everyday objects and check them for mistakes. The process is a tiring one, but it is bound to display the adequate results. For speaking, jump back to listening. In the end, it is a cycle. Try to get the essence of the accent and peculiar words by watching movies or cartoons in the foreign language. Start with your introduction and gradually transition into conversations.
3. Say NO to Rote Learning
Inlingua New Delhi MD, Vikram Bajaj says, "Rote learning may help you remember the rules, but a language is an art of expression, which cannot be learned mechanically. This is why the institute uses innovative activities like scrabble, crossword puzzles, Pictionary to make the process of learning dynamic as well as interesting."
The aim is to master a language and cramming up grammatical 'do's and don'ts' is not the best way to go about it. In the process of understanding the nuances associated with a foreign language, it is important to keep mixing up the process with activities to encourage the spirit of learning.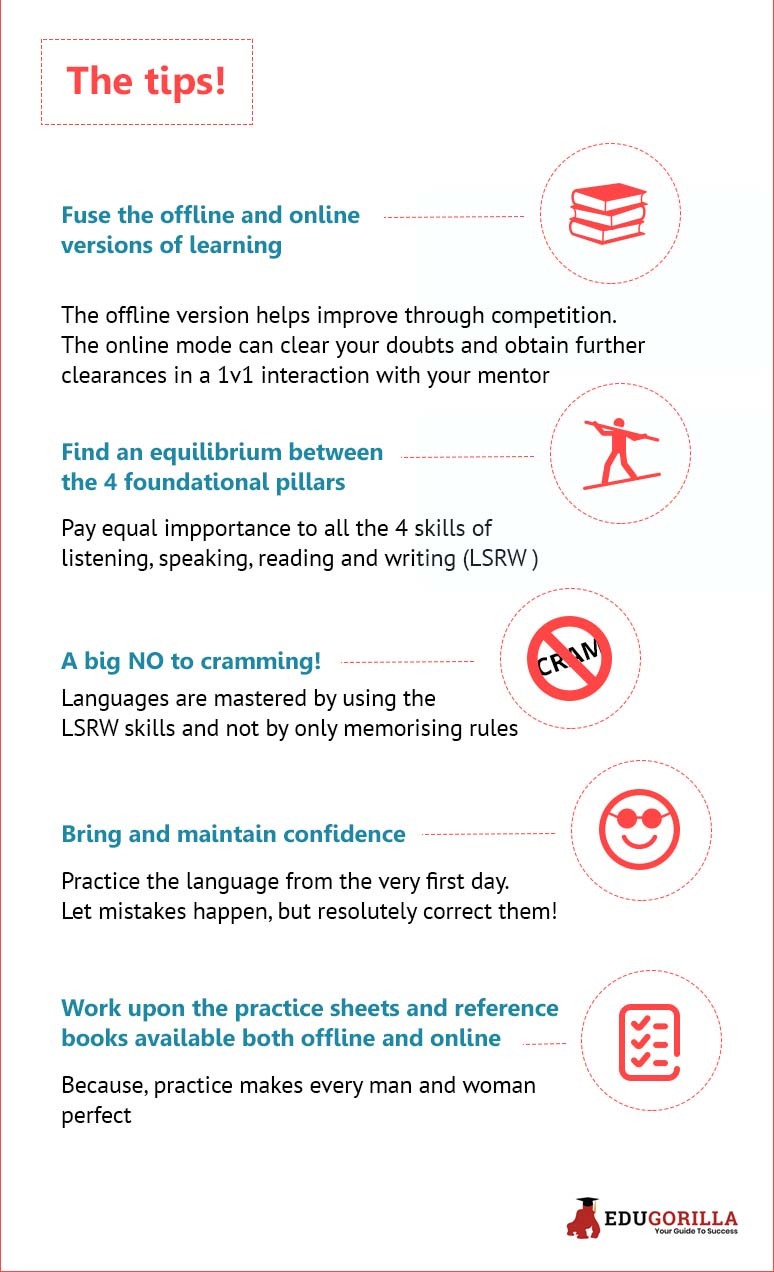 4. Confidence 
This is a tricky one. How can you be confident when you don't have a grip on the basics? In this case, it is different. The more you speak wrong, the more mistakes you correct and consequently, your confidence increases. Don't be afraid of trying.
For instance, speaking is one of the best exercises to gain confidence and keep the learning momentum high. You'll realize what this means when you will speak about yourself for 30 seconds, in a foreign language, without any mistakes.
5. Worksheets-Doubts-Repeat
Practice sheets and reference books are your best friends. "Keep solving assignments from your coaching classes and regularly ask doubts. Analyzing the mistake is half job done, the other half is to correct them," added experts at Inlingua New Delhi. Discuss with your peers or instructors regarding any new doubt or an issue in basics.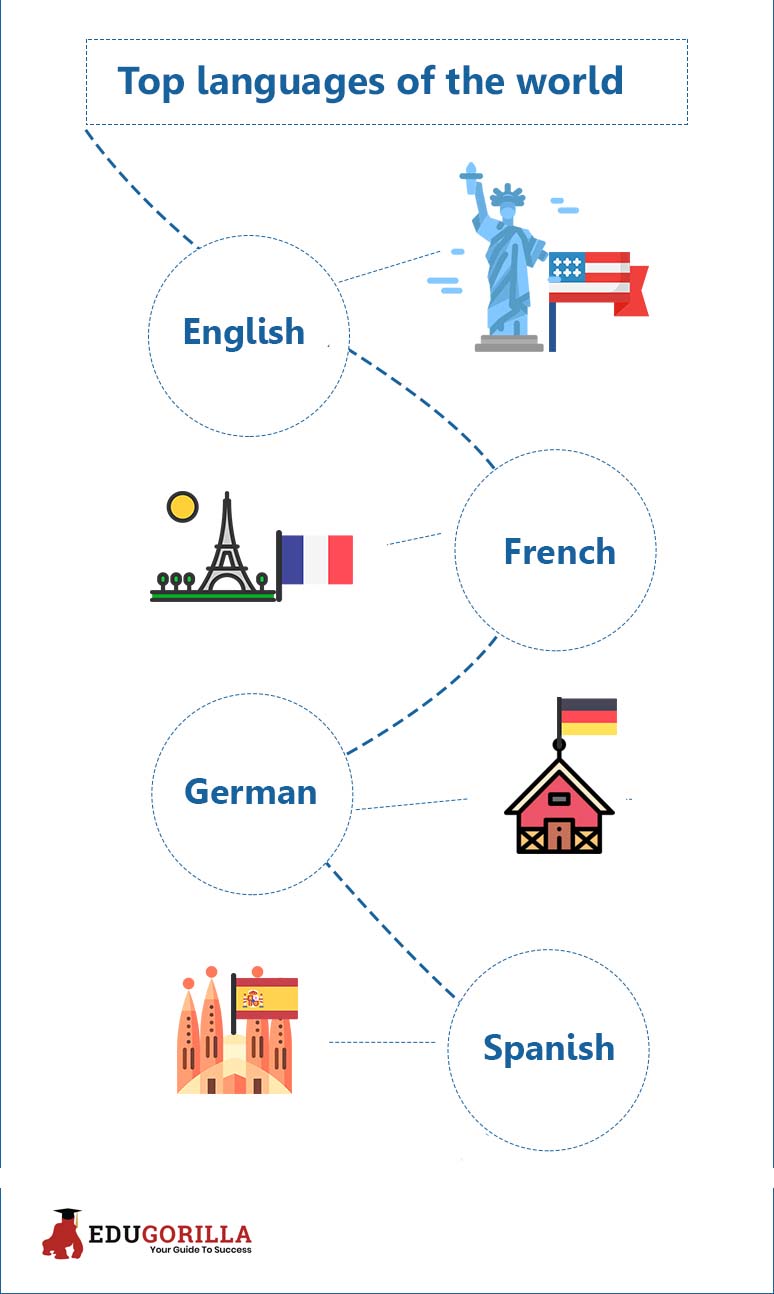 Reiterating the point of online learning, free worksheets and mock tests are available on the internet. Use them to your advantage by getting your hands on any material that you can. The more you practice, the more you learn!
So, how did it work out for you? Drop your suggestions and experiences in the comments below.
You Might Want To Read:
Karnataka Board Sslc Examination Rr Question Paper 15, Jee Main Advanced Physics Friction Notes, Edugorillas Ceo Rohit Manglik Writes How E Commerce Can Be A Game Changer In The Field Of Education As Published In Hindustantimes Com, Sample Paper 2007, Delhi University Geography Semester 5 Mock Test Paper 4 2013, Best Gre Coaching Institutes In Laxmi Nagar, Momentum Kota Classes, Educational Effectiveess, Sbi So Notification 2018, Net Computer Science And Applications Mock Test Paper 71
Leave your vote
This post was created with our nice and easy submission form. Create your post!