Writing is difficult for many people and there is no doubt that writing in a new language can be difficult but there are tricks to learn a new language quickly and efficiently. Writing in English is two times more difficult for ESL students from China, UAE, or Korea. Language barrier combined with tough academic requirements – which are way different from local demands – result in a poor academic performance of international students.
On the other side, native speakers also struggle with written assignments and make numerous mistakes too. Lauren Bradshaw from CustomWritings.com helps both native and international students master the writing skills. She identifies the following rules that both categories of students should follow.
Rule #1. Use a Formal tone of voice
Sometimes students forget to write academically. This means that they use informal language, simple vocabulary, and slang. In academic writing, it is necessary to use a formal tone of voice. You cannot use "I", and should not use informal words such as "like", "stuff", "things", etc. Remember: you are writing in English for your professor, not for your friend.
Rule #2. Have Good Grammar
Having good grammar, and checking it before handing in your assignments, is the skill that can always be worked on and improved. Native speakers think that they already know it all, but they don't. The way to write things correctly is something that has to be learned. There are many grammar mistakes that are made by all students. Try your best to avoid them.
Lauren Bradshaw advises paying particular attention to the use of prepositions, articles and auxiliary verbs. 'These are the typical stumbling points of ESL students,' she points out. 'Also, double check the correct usages of tenses and idiomatic expressions. If misused, they will leave you no chances of a good mark.'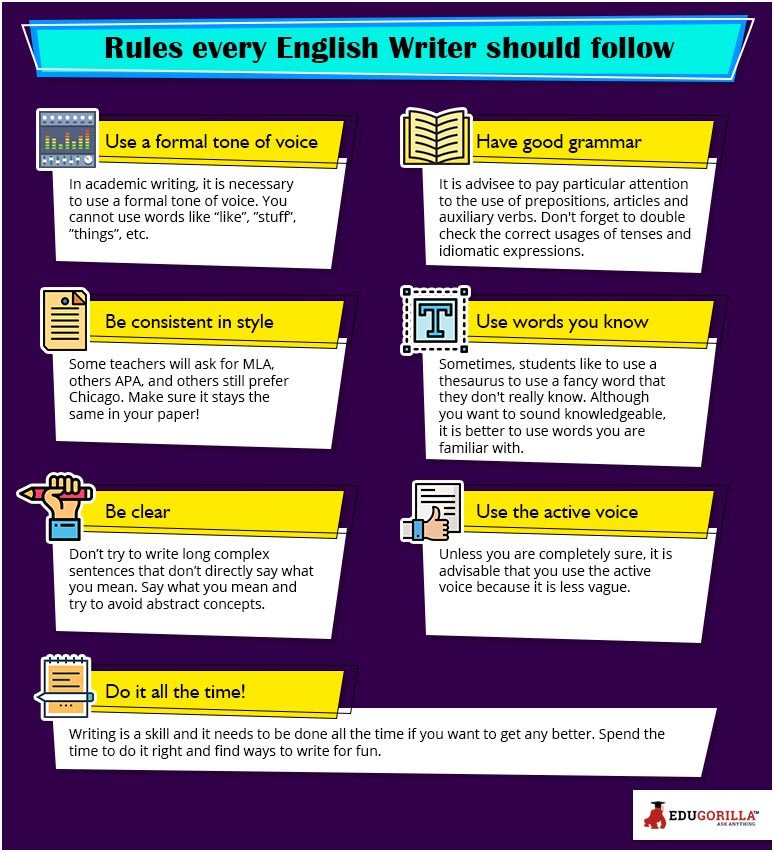 Rule #3. Be Consistent in Style
It can be hard to keep track of the style you need for each class, but you need to remember in order to write successfully. Some teachers will ask for MLA, others APA, and others still prefer Chicago. Make sure it stays the same in your paper!
Rule #4. Use Words you know
Often, ESL students like to use a thesaurus or to copy a big word or fancy word that they don't really know. When this is done, it's very obvious. Although you want to sound knowledgeable, it is better to use words you are familiar with in order to follow this rule.
Lauren adds, 'In an attempt to impress a teacher and avoid repetitions, students use sophisticated vocabulary. There's nothing bad about it, as long as you know the meaning of words and use them in the correct environment. Erroneous, salient, caustic – these are great examples of adjectives to puzzle your teacher, not impress.'
Rule #5. Be Clear
Speaking of trying to be fancy, don't try to write long complex sentences that don't directly say what you mean. You want to be clear. Say what you mean and try to avoid abstract concepts. You will be easier understood in your writing if you do this. Every sentence should have a purpose and be a clear statement.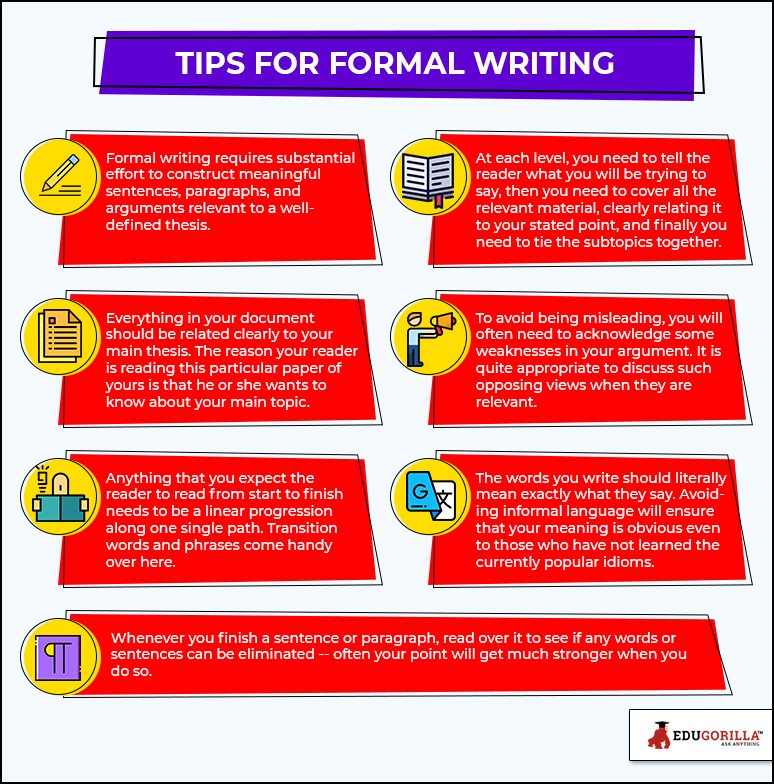 Rule #6. Use the Active Voice
Although there are good situations that call for using the passive voice, unless you are completely sure, it is advisable that you use the active voice because it is less vague. This goes hand in hand with the above-mentioned rule of being clear.
Rule #7. Do it All the time!
Perhaps the most important rule that is forgotten is that writing is a skill. It needs to be done all the time if you want to get any better. You can't just write your assignments and think you will do well. Spend the time to do it right and find ways to write for fun if you are serious about doing well.
You Might Want To Read:
Delhi University M A Post Diploma 1St Year Mock Test Paper 1, 77 Years Of Heritage, Institute Actuaries India Business Economics Mock Test Paper 25, Reaction Mechanism, Endeavour Careers, Learninguru Delhi, Under Graduate Program, Production And Operations Management, Career Launcher Ssc Online Coaching, Ugc Net Prakrit Syllabus 2018 Code 91
Leave your vote
This post was created with our nice and easy submission form. Create your post!