Car design is an exciting field that involves the application of both technical and creative knowledge. While automobile manufacturing in India is picking up the pace, the design is still a distant concept. There are hardly any automobile manufacturers in India who invest in car design. Moreover, most of them depend on their parent companies or American/European studios for design. Recently, India inching to become a key player in the automobile industry. Consequently, there is a tremendous need for home-grown designers to hasten this process.
But, becoming a car designer is a consistent process. Hence, if you want to become a world-class car designer, here are a few tips to help you!
1. Understand How the Automobile Industry Works
You may want to delve into car design and plan to pursue it as a full-time career. It is imperative, therefore, that you understand what it involves. Check out what exactly car makers are looking for! These are, among many, the job roles available in India, design companies that are specifically searching car designers (not engineers). Consequently, this will enable you to shape your career path more effectively and steer it in a favorable direction.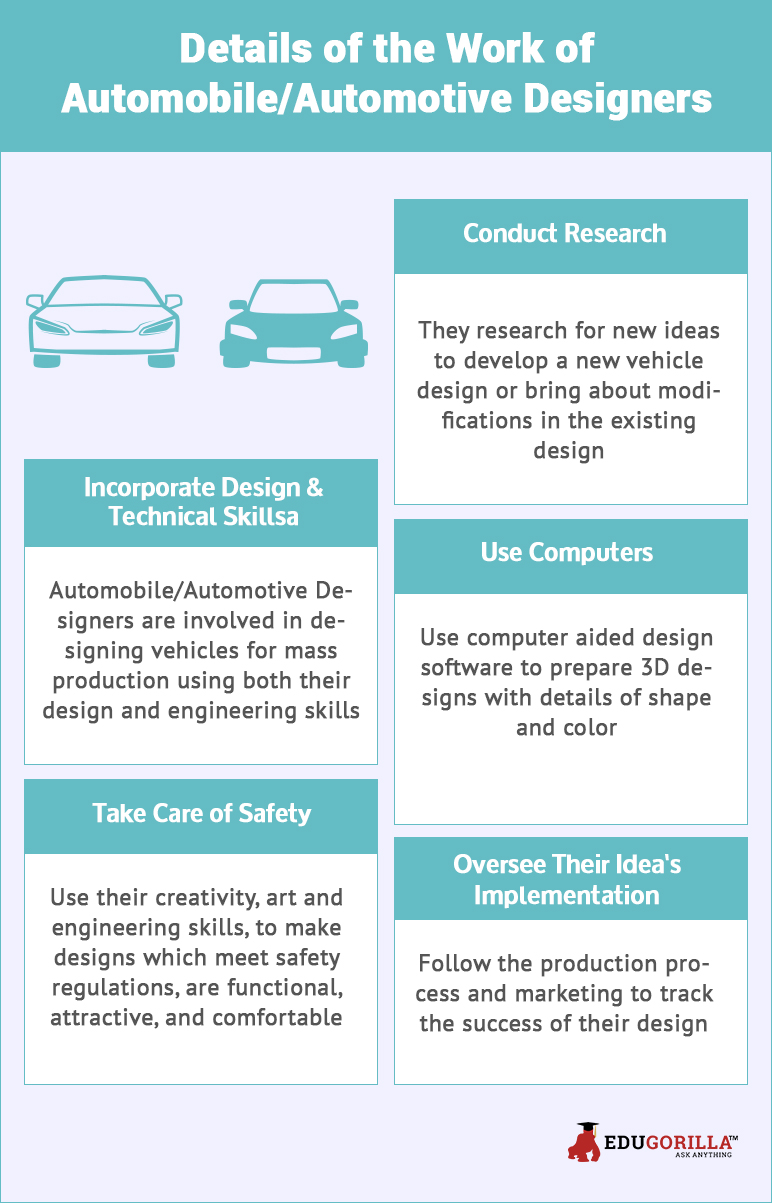 2. Learn the Fundamentals of The Automobile or Car Design
Automobile design is a creative field that involves a high level of attention to details, technical skills, and artistic flair. As an automobile designer, you will be responsible for not just the aesthetic details of the vehicle, but also its functionality. It is not about creating vehicles that look good on paper. It is about transforming the vision on paper to reality. Therefore, it is important that you have a basic understanding of what the field entails before you decide to become a full-fledged automobile or car designer.
3. Decide Which Area of Automobile Design Interests You
Automobile designers work in three main areas of design – interior design, exterior design, or color and trim design. Interior and exterior designers work on making the car aesthetically and functionally viable. Color and trim designers make the vehicle visually appealing by deciding what color, fabric, metal, paint type, etc. should be used. Both interior and exterior designers present their ideas via a 3D model, digital representation, or similar. Color and trim designers, on the other hand, are mainly researchers who share their expertise on visual effects, color, and trim. Understanding which path you want to take can greatly help you become an excellent car designer.
4. Take Up Internships or Apprenticeships with Reputed Car Makers
Do you know what's better than just reading up about car design? Actually working with designers in the field and getting your hands dirty. Many employers prefer candidates who have some sort of experience in automobile design. Take up internships or externships with car designers or automobile manufacturers while studying to get a good grasp of the field. If your college does not provide internships, take them up yourself. Do your research, send out applications, contact the concerned people, and make it happen yourself. Internships are also a great way to build a network. They will help you in the long run with references or even employment.
5. Become Proficient in A New Language
The automobile industry is a global network of designers, developers, and manufacturers. Its base is not limited to a single country or region. Designers will have to work in different countries, interact with diverse clients, and generally be global citizens. The notion that everybody knows or will learn English is unwise. It is always good to learn a new language in order to interact with clients and employers from a different region. There is a lot of demand and value for candidates who are willing to go the extra mile for their career.
6. Get A Degree in Automobile Design
It goes without saying that a degree in car design will greatly improve your chances of getting into the automotive design industry. An undergraduate or postgraduate degree in car design or automobile design will cement your dedication to the craft and make you more likely to find employment with car designers and manufacturers. The demand for car designers and an increasing interest in the field has enabled many colleges to offer courses in car design.
A degree offers, along with classes, a practical approach to design. Labs, projects, workshops, seminars, internships, externships, etc. will give you hands-on experience crucial for a car designer. A degree will also ensure you hone and polish your creativity through 3D and 2D modeling, graphic design, sketching, illustrations, and many more – resources that may not be available to you otherwise.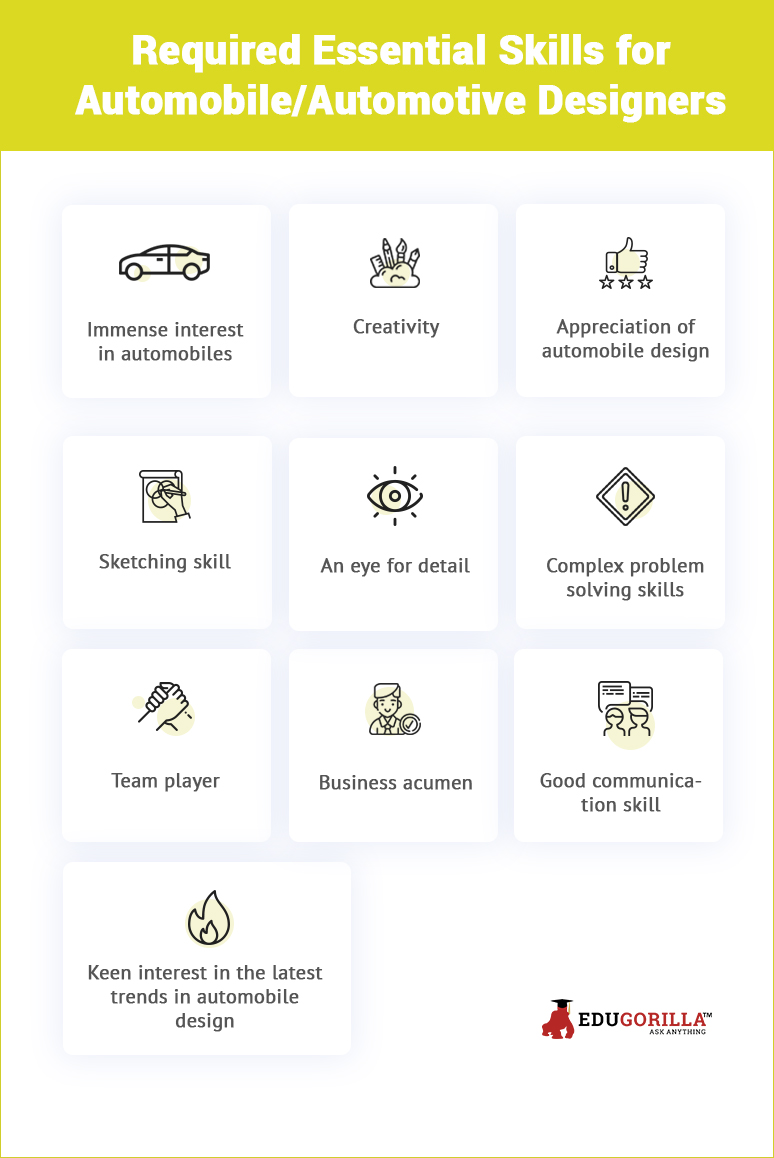 7. Build Your Brand/Portfolio
A professional portfolio is a necessity for a designer. After all, car design is a career that depends largely on visual aesthetics. You have to showcase work that puts you at an advantage, either with employers or clients or even college admissions. A portfolio is always a work in progress as you keep adding on your projects and designs over time. Your portfolio is a reflection of your style, creativity, quality of work, and, more importantly, your passion for the craft. Ensure you start creating and adding to a portfolio irrespective of your academic or employment status.
Car design or automobile design is a career path that only a few people choose. In India, the domain is largely untouched. However, there are plenty of design colleges in India that offer undergraduate and postgraduate courses in automobile design. The field has a lot to offer aspiring candidates. A successful career in car design can mean a lot of perks and global opportunities.
Leave your vote
This post was created with our nice and easy submission form. Create your post!