It is rightly said that making any choice in a lifetime is a critical task to perform and if we talk to choose the right engineering college out of the top engineering colleges in India, the trouble becomes double.
Yes, certainly it is more because along with being the most popular discipline to be followed, engineering is technical too. Therefore, the choosing the engineering college in India becomes difficult for both – students and their parents. Well, I'll be really very true! There is no sure shot way to choose the best engineering college amongst all. This is because instead of one, a couple of colleges may fit into your aspects. So, what we can do for you is showcase a few guidelines and methodologies. Following these will help you in the sorting of the colleges and provide you with a clear vision of the best engineering college out of all the engineering colleges in India. The tactics are as follows:
Choosing Your Direction
We are very well aware of the fact that whatever we choose to do in our lives with our own interest and passion, we are bound to succeed in that rather than any other stream. So, the very first solution towards a better professional life is to make a true decision at the earliest point of your education and that is determining what you want to do in life.
Discover Your Chosen Stream
Obviously, if you are searching for the best engineering college amongst all the engineering colleges in India, you have an interest in following this line. But, one thing which should be clear in your mind is the stream or the branch of engineering. Whatever stream or branch of engineering you wish to pursue, fix it and then explore options around it. It will keep you motivated as well and charged up for discovering the curriculum of different colleges and their courses.
Bunching Technique for Colleges
Once you are clear about your vision about engineering, you should start sorting colleges. Well, this may seem very easy but certainly, it is not. So, a better way of grouping colleges is to create bunches on the basis of an initial but important factor, that is, your eligibility towards the college and the branch you want to opt for. On the basis, one can generate three groups:
Group 1– List all those colleges in group 1 which are highly demanding in terms of ranks and scores. It means they will be the top notch colleges of the nation. They may usually seem like the colleges you will find difficult to get into.
Group 2 – List all those colleges in group 2 which are within your reach in terms of ranking and marks. You will be eligible for the majority of the colleges lying in this group. They should be above average and should have good resources and infrastructural background. In short, these colleges should like, if in case you cannot make to group 1, you would be happy walking to them.
Group 3– List all those colleges in group 3 which will surely let you take admission in them. They will be mediocre and have a regular managerial capability for the students and their benefits.
The bunching technique helps greatly in sorting out colleges at the very initial step allowing you to look for next essential factors in the B.Tech colleges in India.
Jot Down Your Parameters 
It is an obvious fact that choosing the best engineering college out of all the engineering colleges in India is not only about scores, rank, name, and class. It is relatively related to several factors and parameters which you must fulfill to take admission into your desired engineering college. Yes, you should write down every factor which encounters your mind while thinking about the best engineering college. This will definitely help you in reaching a decision considering all the practical aspects of B.Tech colleges in India.
We tend to make this step easy for you by jotting down the possible elements necessary while choosing an engineering college and are as follows:
You should be aware of the engineering entrance exams in India, coursework and the type of degree offered. It includes both – the curriculum study and the duration of the diploma, bachelors or masters degree.
One thing which you should consider is the location of the engineering college or the university. This will make you clear about the commutation time took every day to reach the colleges along with the fare. The geographical location (rural or urban) of the college matters a lot.
Being a government or a private engineering college directly impacts the decision of choosing that college. So, make sure to validate whether the college is private or government.
Financial affordability plays a key role in making the choice of a college. So, try to grab the fee details along with the hostel accommodation charges etc. A number of colleges provide some kind of financial aid or even scholarships to deserving students. Do keep in mind to check the status of your admission in terms of this kind of support.
Some More Elements!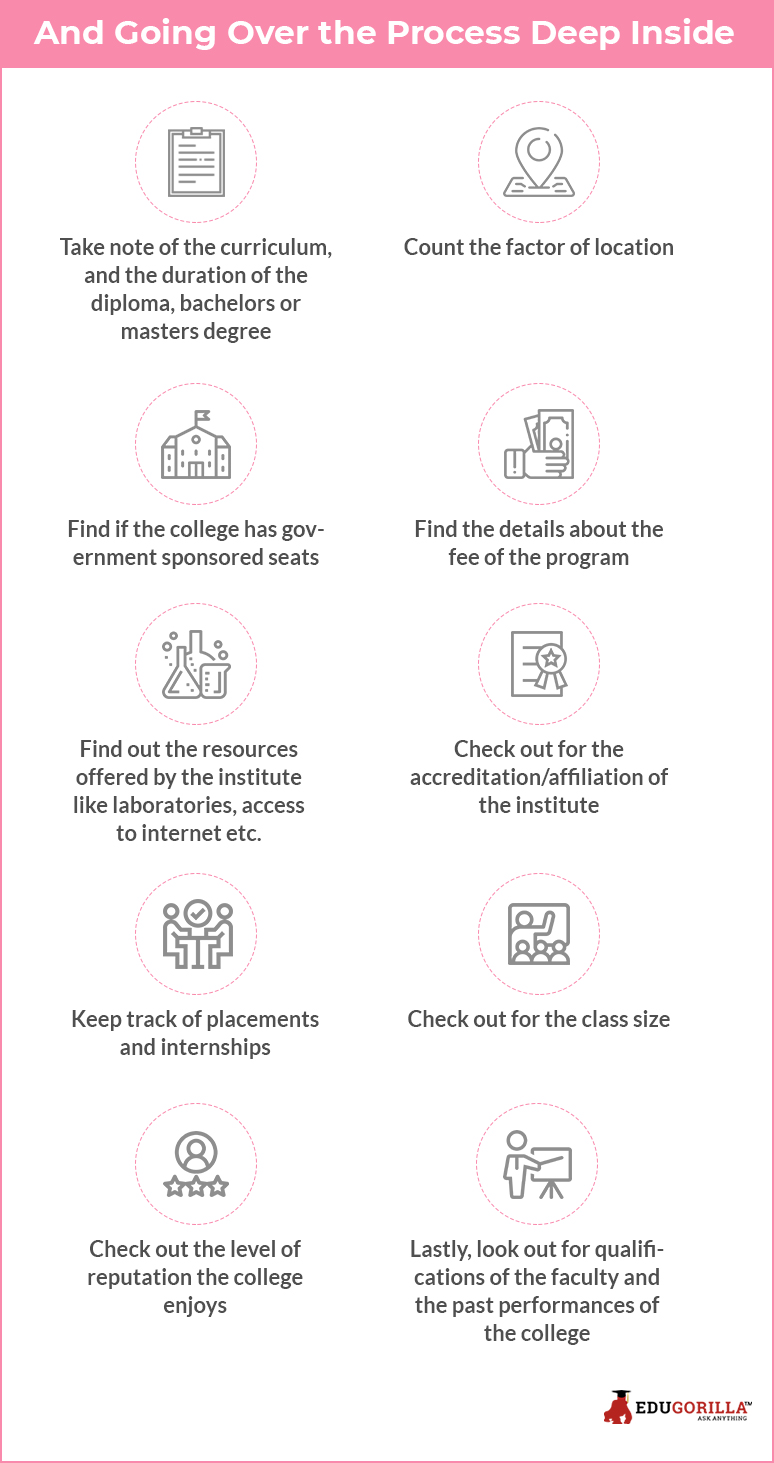 Another aspect which is very essential is the kind of resources a college provides. These can be laboratories, libraries, tools, Internet Access and even health kits. So, make sure to check all these before making a decision.
The accreditation of a college highly impacts and improves the education it provides. It is an essential measure to check the quality of education imparted by the college.
Placements and internships are the main focus of every engineering student. It is better to keep an eye over the same before you may land into a fault promise of job and career scope.
Having a regulated and well to do class size improves the psychological aspects of the education of the students. So, try to get into some of the classes to interact with the students and to see the size of the class.
The reputation of the college is itself a determining factor which directly yields a number of admissions. It is beneficial to be aware of the social status and standard of the college.
Being aware of the type of students studying in the college may seem to be a plus point for many students. Therefore, you can make a check on the factors of gender, community and cultural diversity, also.
How frequently co-curricular activities take place in the college determine the life of the college. It is certainly understood that the college which balances both factors- education and social life leads to brighter and most stable citizens of the society.
The qualification of the faculty and the past performances of the college says a lot about the working style followed in the college, which will directly tell you whether you should be a part of the same institute or not.
Prioritize Your Thoughts
The very best thing to do after following the above tactics is to prioritize your thoughts. Yes, it is not necessary that all the listed techniques will apply to your life as well. So, better is to follow pick and try technique after doing the above. Cut short those parameters which are of no help to you and settle down at those which are exactly what you want. Once you are done with few selected approaches regarding your branch, your type of college on the basis of expected rank and applying the group of parameters, now move on to the next step of digging into the college itself.
Redefine the Brand for Yourself
We have often observed that students are always suggested to stay away from the brands. But, the truth is that brands sell more than other organizations that is why they exist. B.Tech colleges in India and top notch colleges are considered as the brands. Instead of ignoring the standard colleges just because of their big names, you can redefine the brand as per your own set of factors.
Keep Your Mind Open
Don't just overlook those colleges which have good placements but are above average. Don't fall prey to those who have big names but zero markets capturing. So, you have to a bit smart while choosing the college you feel a spark for. Explore a range of colleges with proven placement ratio and affordable fee structure along with a brand like the reputation.
Surpass the Problems 
It is very rare that one can run away from decisions in life. Undoubtedly, there are few who surpass a number of decisions just because of their abilities and excellence. Even they have to make decisions but not all. So, if you want to be the one, improve yourself so much that the highest college itself awaits you. Indirectly, study in such a way that your scores and rank stand out. Practice hard initially and reap the joy later.
You Might Want To Read:
Net Forensic Science Mock Test Paper 148, Apex Education, Icfai University, Himachal Pradesh Technical University Manmade Fibers Paper 1 2012, Hotel Management Institute In Delhi, Cgpsc Question Answer Paper 2015 8, Xat Group Discussion, Mumbai Mirror Features Edugorillas Visionary And Chief Counselor Dr P K Mangliks Views On Why Couples Should Fight Fair August 16 2018, Principle Of Genetics, Best 5 Gate Coaching Institutes In Kolkata
Leave your vote
This post was created with our nice and easy submission form. Create your post!