Kota's 40-odd institutes lure around 1,50,000 students every year to come and get trained for two of the country's toughest entrance examinations- NEET and JEE. Apart from being a coaching hub of the country that produces some of the brightest minds, Kota has also become the suicidal capital of India.
A Thriving Industry with mere 3 percent success rate
As per a report by The Tribune, around 57 or perhaps more students committed suicide in the coaching centers of Kota, an industry that is worth Rs. 1,800 crore. Almost two lakh students enter the city to achieve their goal and fulfill the promises given to their parents. Though they ignore or fail to take little note of the mere 3 percent of success rate caused by the competition and hanker for an IIT or government medical college seat.
The government had foreseen IITs as a part of post-Independence nation-building project. These institutes were established to give birth to well-equipped educational temples of modern India. Today, they have attained an individuality and have also become a victim of flawed education policies and a house for middle-class aspirations.
Forty-five lakh students compete every year for around 9,000 coveted IIT seats. Students aged between 13 and 15 make Kota their home, stay away from their near and dear ones to have an advantage over others.
Allen: The King and The Punchbag
Among the major coaching institutes that house lakhs of students who dream to be engineers and doctors with high packages, Allen acts as the aorta of the whole coaching ecosystem.
Unfortunately, in 2015, Allen witnessed 25 deaths in 12 months. That roughly comes to 12 deaths in 6 months. The biggest player in Kota coaching industry seems to be fed up with hearing its frequent connections with student suicides.
Allen has also been accused many times in the past for monopolizing the coaching industry and buying bright students of other institutes (especially its competitors). Chitraang and Govind Lahoti are the well-known examples. Experts say Allen Kota is not the only one who practices this.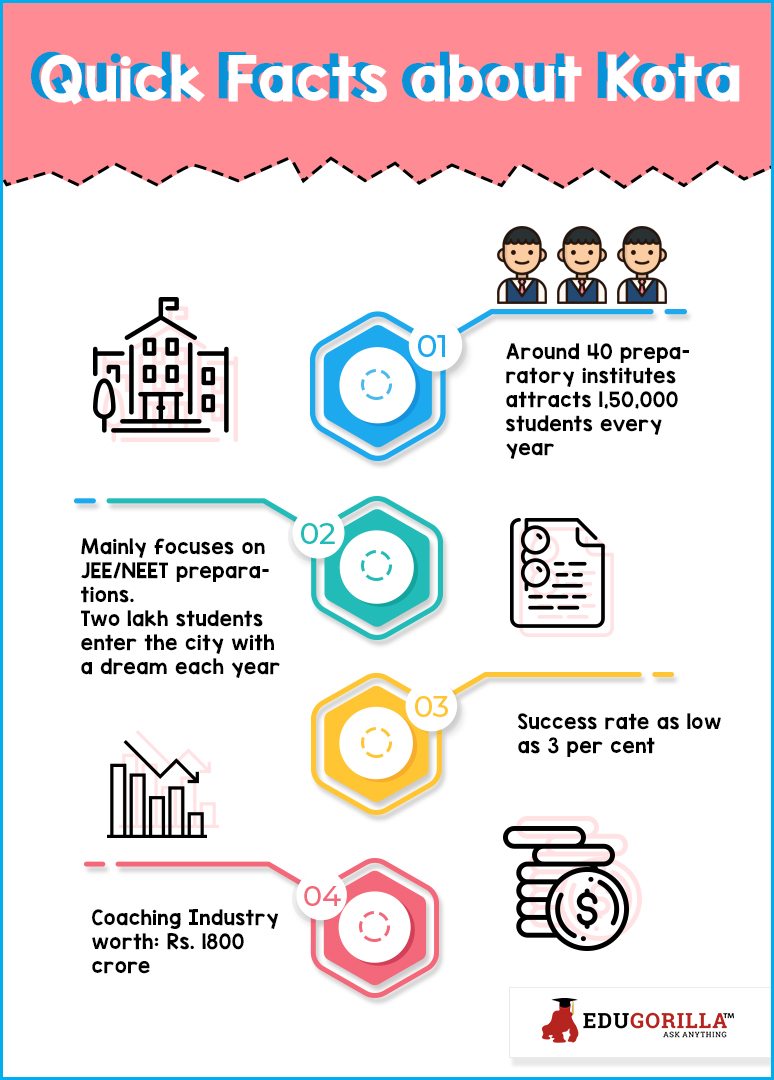 Sharing Maximum Results and Maximum Suicides
Allen, the biggest player in the coaching industry, has 79,000 enrolled students and has been a forerunner in grabbing the topmost positions in NEET and JEE exams. Last year, Allen Career Institute claimed that three of its students, Omkar Manik Deshpande, Rachit Bansal and Lakshya Sharma grabbed AIR 8th, 9th and 10th position respectively.
With every result declared, Allen like other major players came out with full-page advertisements in newspapers highlighting how the toppers made it big with the help of the institute. What they miss and entirely ignore are the stories where students had failed to either make it big or to escape the life of mediocrity their family was tired of living in.
There are others as well who fail to cope with the pressure that the competition puts them through and resort to a heinous crime of committing a suicide. The institutional life in these coaching institutes start and end with classes packed with students from small towns and big cities. Here, a student has to rely on himself, without any help or other interference. Most of the teens are not mentally equipped to deal with the responsibility and the cultural change they come across. This leads them to seek out solace in forging relationships.
Reasons behind students committing suicide
Educationists and Student Counsellors agree on reasons that led some students to take the route of suicide to get rid of their problems, whether it was mental or physical. Some of the major reasons that trigger suicide attempts are parental expectations, lack of screening process where out of 130-odd coaching institutes, not one institute conducts screening or entrance test (as per a 2016 report by The Quint). Many students, who don't even have an aptitude for Maths or Science are given admissions. Other reasons that trigger suicide attempts are unwanted pregnancies, drug habits and the pressure of unpaid loans. While Kota's mainstream industries have seen a decline over the years, its educational industry is deriving huge benefits from people's obsessions with engineers and doctors.
With ruthlessly competitive business among the coaching institutes, there are also those players in the field who say that if they don't admit a child, others will pick the student up. Their reason for not having a screening process is because parents normally dislike hearing that their child won't make it to the IITs. So, the parents request and sometimes beg the institute to give it a shot with the excuse that a precious year of their ward will get wasted.

A recent study on Kota suicides
Recently, Tata Institute of Social Sciences came up with an alarming report revealing reasons for students' suicides. The report said, 'Self-harm, substance abuse, bullying, sexual experimentation and the possibility of pregnancy, sleep-related issues, loneliness, weight loss, acidity, and anxiety which are common among students in Kota' could be mainly or partially responsible for the same. The report also provided some significant solutions for parents who aspire to send their children to Kota.
According to the Times of India, the study asked parents to 'Do an initial recce, if possible, to understand the atmosphere of Kota, to decide if it is right for your children. Kota is not the best place for all children; some find it difficult to adjust to living away from home.'
The Good or the Bad Allen?
Allen is a platform which has mentored students like Chitraang Murdia (JEE Adv. AIR 1, 2014), Aman Bansal (JEE Adv. AIR 1, 2016), Sanjay Shah (NEET, AIR 1, 2016), and Nishita Purohit (AIIMS, AIR 1, 2017). These students are said to be as popular as film-stars among students. Then there are so many stories and anecdotes that are stored in the annals of Allen, which are impossible to share here. These successes have made Allan the undisputed leader in the field, inviting envy and sometimes severe criticism.
It's not hard to find critics on Quora with views that say, 'Don't join Allen. It's a fraud. You will face extreme partiality: eight batches per phase, two top batches for boys and girls respectively. What about the other batches? Don't get misled by advertisements of Allen like 8 ranks in top 10 in AIIMS etc. They are the students of special ranker's batch. They have separate extra classes, special library facilities which an ordinary student doesn't get. Most people praising Allen are the toppers who got special treatment.'
It is wrong to be swayed away by any one of such very-anti or very-pro Allen opinions. The toppers will give it a heaven-like picture and the losers and competitors might tell how the teachers destroyed their dreams with the daggers of their misguidance.
But the fact is that Allen is doing nothing different from its competitors, except that it has seen the biggest success story among all the players involved in Kota. It has achieved greatness in the game of ranks and numbers. Therefore, the more number of students it has attracted, the more has been the number of students who resorted to suicide.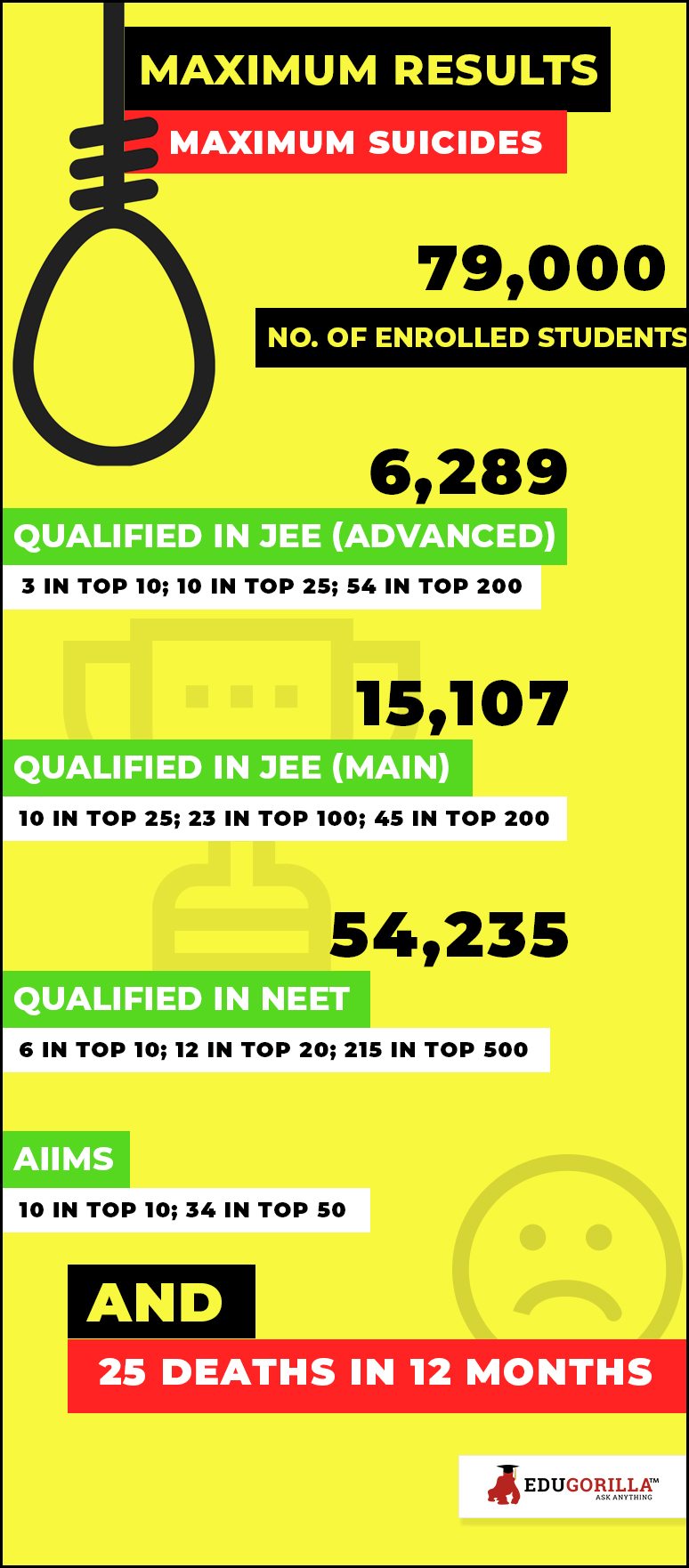 Steps to Stop Suicide attempts at Allen
In 2015, Allen decided to set up a 'distress call center' for its students. Morning yoga and meditation classes were started, and a team of psychological counselors was hired to hear out the "advanced cases.'' It followed up with a couple of psychiatrists to help the institute with decreasing the unexpected mental cases that it had been witnessing.
But the experts suggest that until the education system lays emphasis on aptitude tests and the sufficient number of IITs and medical colleges are opened, some oversensitive students will keep on ending their lives in these prison camps in Kota.
However, no one can directly accuse any coaching center of any kind of frauds. There are no substantial proofs but simple hearsay from which this is deduced.
As far as Allen is concerned, if a student is looking forward to joining it, there is absolutely no fraud he/she might face and the institute fulfills all the commitments that it makes.
Also, there is no certainty whether the allegations of buying the toppers is true or false, but that shouldn't dissuade any student from joining Allen. An intelligent student should not be influenced by how many toppers an institute has produced but by the overall ratio of students selected. As a matter of fact, a topper could actually manage to do that from any good institute.
You Might Want To Read:
Pioneer Tutorials, Experiment, International English Language Testing System I E L T S General Training Reading Question Paper 3 2013, Nat Punjabi Language Question Paper 1 2013, Ugc Net Chinese Mock Test Paper 8, Future Job Trends, Bitsat Brochure 2011, Brooklyn Review, Anthropology Question Paper 1 2004, Civil Services Main Examinationassamese Mock Test Paper 23