What is Anesthesiology?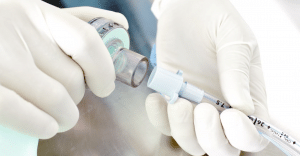 A surgery may involve anesthetic techniques which mean being put into a drug-induced sleep. This is where we come into contact with an Anesthesiologist. These specialist physicians are also associated with numerous other medical procedures that you can find out below.Anesthesiology is a field of medical science that specializes in the administration of Anesthesia. It focuses on pain management and provides comfort to the patient in a clinical setting.  By reducing the pain through proper anesthesia, the patient is prepared for further treatment.
What does an Anesthesiologist do?

An Anesthesiologist, or anesthetist, ensures that the patient is supplied with proper medication during or after an operation, or diagnostic procedure. The Anesthesiologist helps in keeping the patients in a stable condition so that proper examinations or operation can be done by the operator doctor without any hindrance. They are also responsible for the patients' safety before, during, and after the medical procedures to be performed on the patient. The responsibilities of an Anesthesiologist doesn't end here; he is also supposed to study the conditions of the patient to determine if any particular thing(s) can complicate the surgery. If he finds any, proper steps are to be taken with care. With all these (and more) significant procedures to perform, an Anesthesiologist counts as an important member of the surgical team.
Courses offered in various institutions:
Diploma in Anesthesia
Bachelor of Science in Anesthesia
Post Doctoral Certificate Course in Cardiac Anesthesia
Doctor of Medicine in Anesthesiology
Fellowship in Cardiac Anesthesiologist
Pre-requisite educational qualifications:
To build a career in Anesthesia, one has to start with an MBBS Degree. For a bachelor's degree in Anesthesia, one must enroll in an MBBS course after their 10+2. A bridge course of one year is necessary if one wants to do MD (Doctor of Medicine) in Anesthesiology. There are other courses as well, which can be done without MBBS as the base. The career opportunities then limit to being an assistant to the main Anesthesiologist. There are several nursing courses as well, which specialize in Anesthesia. The nurses trained under these courses earn the capability to assist the Anesthesiologist with the medication.
Personal Attributes:
The profession requires a natural desire in self to help out the patients. You need to be calm and prepared for the worst of situations. As the work hours can be long, you should build up strong stamina and personal motivation for work. Emotional stability is what is required, as in the medical field; there can be very serious cases that will impact the working of sissy hearts.
The ability to understand what the patient is going through and what kind of support he requires is a must. An Anesthesiologist will need to make critical decisions in emergency situations. The desire to learn constantly is what makes an Anesthesiologist aware of the latest anesthetic techniques which further help him with his work.
Specializations
Within the respective field, you can go for the following specializations:
Neuro Surgery –– The Anesthesiologist specializing in this field learns to provide anesthesia to people undergoing brain and spinal cord surgery. The Anesthesiologist needs to be very careful while providing medication to these patients as it can have a major effect on the operation of the brain and spinal cord. The blood flow dynamics and metabolism are to be studied with utmost care.
Cardiac and thoracic surgery – The Anesthesiologist specializing in this field needs to provide anesthesia to patients undergoing cardiothoracic surgery and other procedures related to it.
Maxillofacial surgery – This specialized sector deals with patients who undergo surgeries for injuries and defects in the head, neck, jaw, or soft tissues of the oral. The surgeries are mostly traumatic in nature and therefore, special training is provided to the Anesthesiologists specializing in this field.
Pediatric surgery – In this case, the professionals deal with the surgeries related to fetuses, infants, children, adolescents, and young adults. The cases are abundant in number and require special training for providing anesthesia to young patients.
Obstetrical and Gynecology surgery – These surgeries are performed on female reproductive organs. It also included the complicated procedures that might need to be done at the time of pregnancy, childbirth, and the post partum period.
List of Entrance Examinations for Anesthesiology
All India Common Entrance Test
Entrance examination conducted by All India Institute of Medical Sciences. (AIIMS)
Entrance examination conducted by Postgraduate Institute of Medical Education and Research. (PGIMER)
Common entrance tests conducted by various states.
Some of the Institutions in India that offer Anesthesiology
Ajeenkya DY Patil University, Pune, Maharashtra
Amrita Vishwa Vidyapeetham University (AVVU), Coimbatore
Aryabhatta Knowledge University (AKU), Patna
Assam Medical College (AMC), Dibrugarh
R.D Medical College (BRDMC), Gorakhpur
Bangalore Medical College and Research Institute (BMCRI), Bangalore
Bharath University, Chennai
Bharati Vidyapeeth Deemed University (BVDU), Pune, Maharashtra
BLDE University, Bijapur, Karnataka
Burdwan Medical College, Burdwan
Darbanga Medical College (DMC), Laheriasarai , Bihar
Datta Meghe Institute of Medical Science, Nagpur
Dayanand Medical College & Hospital (DMCH), Ludhiana
B.R. Ambedkar Medical College, Kadugondanahalli
D. Y. Patil Vidyapeeth (DPU), Pune
D.Y.Patil Medical College, Navi Mumbai
Panjabrao Deshmukh Memorial Medical College (PDMMC), Amravati, Maharashtra
Rajendra Prasad Govt. Medical College (RPGMC), Tanda, HP
S.N. Medical College & Hospital (SNMCH), Jodhpur
Era's Lucknow Medical College & Hospital (ELMC), Lucknow
Father Muller Medical College (FMMC), Mangalore
S.V.M. Medical College, Kanpur
Gajra Raja Medical College (GRMC), Gwalior
Gandhi Medical College (GMC), Bhopal
Gandhi Medical College & Hospital (GMC), Hyderabad
Career Prospects
The requirement of Anesthesiologists can be estimated from the rate of progress in the medical institutions. The medical industry is growing at a surprising pace. For every surgery that goes on in any of the medical institutions, a team of Anesthesiologists is mandatory. The importance of experience and dedicated Anesthesiologists makes the requirement graph favorable for those getting a career in Anesthesiology.
Work Hours
Like in any other medical field, the work hours of an Anesthesiologist aren't that flexible. As there can be emergency cases as well, the work can be a bit stressful as you may have to stand for hours during a surgery. On the other hand, you don't have to be always present at the hospital, and can be called up whenever a need arises. It provides flexibility in this case.
Salary Structure
An Anesthesiologist makes an average salary of Rs 994,998 per year. Anesthesiologists holding more than 10 years' experience in this field move to other jobs. Experience strongly matters for this field. For a fresher in the field, the minimum pay scale in India is 20,000 to 30,000 INR. It keeps on increasing along with your experience in the field. You might get a handsome offer in one of the corporate hospitals than in the government aided ones. Once you get established in the field, you can also work on hourly basis. It will surely make a rewarding package for you after that.
Important Questions
Does the need of an Anesthesiologist limits to the operating room?
No, the Anesthesiologists are also required in the Intensive Care Unit (ICU), to help the patients restore to normal health. They are required in pain management clinics as well, to recommend proper dose of drugs to the patients. There are also attractive openings at health centers, laboratories, and nursing homes. You can also work as a special consultant at various private practice clinics.
How can we grow as an Anesthesiologist?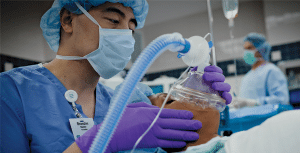 Hard work and dedication facilitate growth in any sector and for an Anesthesiologist, there are abundant ways to grow in the sector.  You can start with general anesthesia, and as you gain experience and education, you can move to more specialized and intricate fields. Starting from normal surgeries, you can gain experience to be an eminent part of the team that performs complicated surgeries. The pay scale obviously increases with the delicateness of the work.
What are the alternative career options in the field of Anesthesiology?
AAs or Anesthesiologist Assistant – You can work as an assistant under the supervision of an Anesthesiologist. The work includes primarily of helping the Anesthesiologist while he is preparing a patient for Anesthesia. The job responsibilities differ in different clinical settings. In India, the scope for an Anesthesiologist Assistant is very restricted.
Certified Registered Nurse Anesthetists (CRNA) – A certified nurse who assists the Anesthesiologist with the medication
Anesthesia Technician (AT) – They are responsible for the proper setup of the equipments required for providing anesthesia to a patient.
Summary
This is a border outline of what is in bags for an Anesthesiologist.
Career prospects for Anesthesiologists are always flourishing, since every hospital will require a team of Anesthesiologists who are experienced and committed.
Besides Pros involved such as high salary, job security and professional respect, the career has cons too. To excel in the field of Anesthesiology, an individual need to do hard work, handle high level of responsibility, potential stress and most importantly requires dedication other than the courses and specializations mentioned above.
You Might Want To Read:
Uppsc Block Education Officer Beo Online Test, Star Minds Educations Vs Academy For Fashion Studies, Madurai Kamraj University M Sc In Physics Optics And Spectroscopy Mock Test Paper 5, Vmou Bachelor Journalism Paper 2, Symbiosis Institute Of Media Communication Pune, Upsc Ese Civil Engineering Question Paper With Solutions 2018, Learn New Job Skills Together With The Current Job, Ca Ipcc Advanced Accounting Nov 2016, Vajiram And Ravi, Fellowship Examination Marketing And Public Relations Mock Test Paper 36