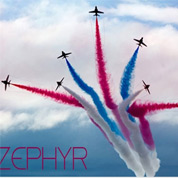 The aviation festival showcased air shows, design challenges and workshops for aero-enthusiasts, the two-day annual aviation festival of the Indian Institute of Technology began on 4th February 2012.
Titled 'Zephyr', the 10th edition of the festival is organized by the Aerospace Engineering Association of IIT-Bombay.
The Aerospace Engineering Association, or AEA, is an organization of the Aerospace Engineering Department at IIT Bombay, revived with the intention of increasing intra-departmental interaction and developing relations with external aerospace organizations. It was revived on 5th August 2002, with the new executive committee taking the charge.
AEA organizes the annual aviation department fest, Zephyr, a conglomeration of Aerospace-related events like workshops, competitions, panel debates and guest lectures. It is also responsible for releasing Airspace, the annual magazine of the Aerospace Department, and supporting Udaan, a student outreach program. Apart from these main functions, it holds discussions and workshops and interacts with other aerospace associations in India and abroad to promote enthusiasm and co-operation in the department. Clubs like the Aeromodelling club also come under the AEA.
AEA is headed by the Department General Secretary and is open to all the faculty, students, staff and alumni of the Department.
"Zephyr-2012 will be showcasing breathtaking air shows by hosts of autonomous MAVs (Micro air vehicles) and UAV aerobatics (unmanned air vehicles) and "Star Gazing"," said organiser Pranusha Manthri.
"Over 3,000 students will attend the fest that has been sponsored by over 30 corporates including Boeing and GE, establishing itself as India's largest aviation festival," she added.
You Might Want To Read:
Presents For Students, Cgpsc Agriculture Syllabus 2017, Global Market, Nalanda Open University B Public Administration Part Iiiiii, Kcolumbus The Merchant Navy Institute, Exam Csp Ic, Vidya Mandir Classes Surat, Nucleus Education Jee Main And Advanced Fee Structure Admission Procedure And Review, Jam Physics Question Paper 1 2006, Ignou Certificate Primary Teaching Teaching Mathematics Mock Test Paper 5