Learning to master the art of writing essays is something that every student in college or university simply has to do if he or she wishes to attain the dream grades. However, as students faced with essay writing tasks know, it is so much easier said than done. Having a great command over the language is one of the primary criteria for being able to compose an essay that leaves its mark for sure.
Not many of you may know this, but the secret to writing a spectacular essay lies in following the accepted essay format and sticking to the instructions of your professors regarding the word count and such technicalities. Despite receiving clear instructions and guidelines for composing their essays, students quite often falter at the very beginning of composing one, and that is when self-doubt and fear start creeping into their minds. Quite often, that results in a not-so-impressive essay, average grades, and a ton of disappointment on the part of the student.
If you want to steer clear of such disappointments and setbacks, maybe it is time you take a close and hard look at how you are beginning your essays. Here goes a list of the 5 commonest mistakes that students are prone to making when beginning their essays. They are accompanied by suggestions from professional essay writers on how to avoid making those mistakes. Check to find out how many you have been making and follow the expert suggestions to improve your writing style today! Click here if you want to know 10 Plus Ways to Create Cool Essay Topics.
Failing to have a Regular Writing Routine
Many students are guilty of not incorporating enough time into their daily routines to establish a proper writing habit. As experts opine, it is best to be in regular writing practice whenever you are assigned with a writing task in college or university. This keeps your language skills updated, and you will be on your toes to face the essay challenge way better.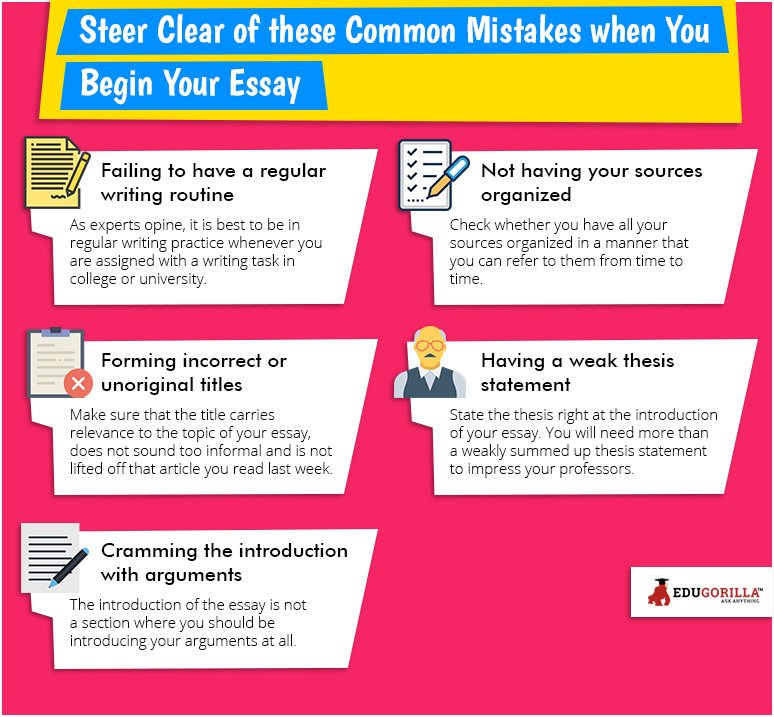 Not having your Sources Organized
One of the essential things to do when you are about to start writing your essay is to check whether you have all your sources organized in a manner that you can refer to them from time to time. The leading essay-help websites suggest that using a reference organizer like Evernote that helps you keep all the external sources in one place.
Forming Incorrect or Unoriginal titles
The title of the essay carries a lot of significance, but the students are often unmindful about this matter. Make sure that the title
carries relevance to the topic of your essay
does not sound too informal
is not lifted off that article you read last week.
Having a Weak Thesis Statement
The perfect thesis statement continues to elude a large section of the students. You need to state this right at the introduction of your essay. And you will need more than a weakly summed up thesis statement to impress your professors. Try framing the thesis statement as a combination of
The topic
Your opinion or stance on it
Highlighting reasons for your stance.
Cramming the Introduction with Arguments
The introduction of the essay is not a section where you should be introducing your arguments at all. In case you have found relevant arguments that must be mentioned in the essay, try increasing the number of paragraphs in the body of your essay (but do not go overboard). The introduction of your essay should contain a brief overview of the topic, your thesis statement and a transition sentence.
Summary
The next time that you are about to write an essay, try keeping in mind these simple tricks. Not only will these tips help you have a more organized outlook towards the essay, but they will also help you frame a fabulous introduction that does not fail to impress. Happy writing!
Also read, 6 Best Essay Editing Websites for Students
You Might Want To Read:
Ssc Cgl Complete Details, Forestry, Eduzphere Vs Engineers Career Group, Gatebiotechnology Mock Test Paper 4, Navarachna University Varodara Gujarat, Edurite, Ugc Net Jan 2017 Paper 2 Population Studies, Bank Of Baroda Agriculture Officer Exam Solved Question Paper 2 2014, Icai Mock Test Paper 4, Sahil Publication
Leave your vote
This post was created with our nice and easy submission form. Create your post!