Training in an organization is a process of acquisition or enhancing the skills, capabilities, and knowledge of employees for doing what their job demands. It generally takes place after their orientation or can even take place during mid-job if it is concerned with the improvement of existing skills.
Training Methods
There are primarily two methods of training:
On -job training: On job training methods are those which are imparted to employees within the everyday working of the firm. It is a simple and cost- effective method which can improve the productivity of both inproficient as well as semi- proficient employees. The employees are trained in the actual working scenario. The objective of such training is "learning by doing." Instances of such on-job training methods are job-rotation, coaching, and temporary promotions.
Off-job training: Off job training methods refer to those wherein training is provided away from the actual working condition. It is generally used in case of new employees. Instances of off the job training methods are workshops, seminars, conferences, etc. Such method is costly and is effective if a large number of employees have to be trained within a short time period. Off the job training is also called as vestibule training meaning the employees are trained in a separate area (a hall, entrance, and reception area known as a vestibule) where the actual working conditions are replicated.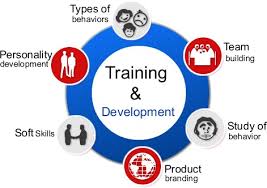 Benefits of Training
For employees
Familiarizes the employees with the organization: Training familiarizes the employees with the organization's mission, vision, goals, rules and regulations and working conditions.
Enhances skills and competencies: Training helps to bridge the gap in employees' skills. It contributes to the upgrading of skills of employees. It also helps the employees to cope with the new technological development which might have taken place.
Enhances chances of promotion and pay hike: Training increases chances of promotion of employees and thus hike in their salaries. By upgrading their skills, it helps them cope with the responsibilities of higher posts.
Boosts morale: Training boosts the morale of employees by creating avenues for their promotion and better career growth. It helps in creating job satisfaction to the employee.
Boosts productivity: Training improves efficiency and productivity of employees. Well trained employees show both quantity and quality performance.
For organizations
Ensures safety at the workplace: Imparting training to employees ensures that they are fully acquainted with using the equipment correctly. It also helps them to observe accurate safety and health practices in an organization.
Improves performance of staff: A key factor in the importance of training is that it improves the performance of the staff and helps create satisfaction in them. Satisfied employees are less likely to leave the organization. It thus helps to increase chances of employee retention especially the star players.
Boosts customer satisfaction: Training helps upgrade the skills of employees. Highly skilled workforce delivers high levels of customer satisfaction. It also boosts organization's reputation in the market and can lead to greater customer retention.
Ensures compliance with best practices: Training is a pivotal way to share best practice within your organization, develop common working procedures and strengthen internal relationships
Fosters growth of the organization: Training of employees helps in the growth of the organization. The bottom line of any business is its financial growth. Better the training prospects in the organization, better are the chances of growth. By giving them training opportunity, organizations may achieve even its distant goals easily.
Enhances organization's reputation: Not only can training help you retain your best employees but by being an employer that demonstrates a commitment to staff development makes your organization more attractive when it comes to recruiting top talent.
Reduces turnover: Employee training can improve their confidence in their abilities. They are less prone to making mistakes. By promoting staff retention, it helps the organization develop a team of experts.
Ensures competitive advantage: Training your employees can give you a genuine competitive advantage over your competitors. The only way an organization can perform better than your competitors is by its employees being better than the rest and training is a direct route to achieving this
Helps workers respond to changes: Training helps workers respond to the changes that come from organizational restructuring.
Turns employees into an asset: Training and development can give your employees an increased and more diverse skill set. As a result, they can take on additional responsibilities while supporting their own career progression.
You Might Want To Read:
Learn To Simplifying Square Root, Community Rural Development Dept Meghalaya Jr Rdo Mock Test, Ugc Net German Mock Test Paper 37, Comparative Literature, Civil Services Main Examinationhindi Mock Test Paper 9, Cell Structure And Function, Mhcet Genetic Engineering Genomics Notes 2017, Sat Practice Test Question Paper 2 2013, Vidya Ias Vs Excellent Ias Academy, Delhi Institute Of Heritage Research And Management