About NEET
Youngsters look forward to cracking NEET to be a doctor. NEET or National Eligibility Entrance Test is conducted by the Central Board of Secondary Education. it has replaced AIPMT (All India Pre Medical Test) which was an annual medical entrance examination in India. Before NEET came into the picture, aspirants used to take AIPMT to grab 15 % of Central seats and 85% of State seats in medical and dental colleges run by Central Government, State governments, municipal/local authorities in India (except in the states of Andhra Pradesh, Telangana and Jammu and Kashmir).
NEET vis-à-vis AIPMT
The Government, in the spirit of one-country one-test, introduced NEET with the purpose of replacing a number of different medical examinations across the country (including AIPMT). First held on May 05, 2013 it was canceled later as per the order of Supreme Court. A number of colleges and institutes, however, took a stay order and conducted their private examinations. The last NEET exam held on May 07, 2017 was of 3 hours. 11 lakh Aspirants have the option of 10 languages to take this exam to get access to 90,000 MBBS and BDS seats in all Government, Private and Deemed Medical colleges across the country. Clearing NEET is required for admission in the below courses:
MBBS (Graduate Medical Course)
BDS (Dental Course)
PG Course in a Government/Private Medical Colleges in India
However, the undergraduate courses run by the below colleges have separate examinations for entrance as these institutes were set up by separate laws: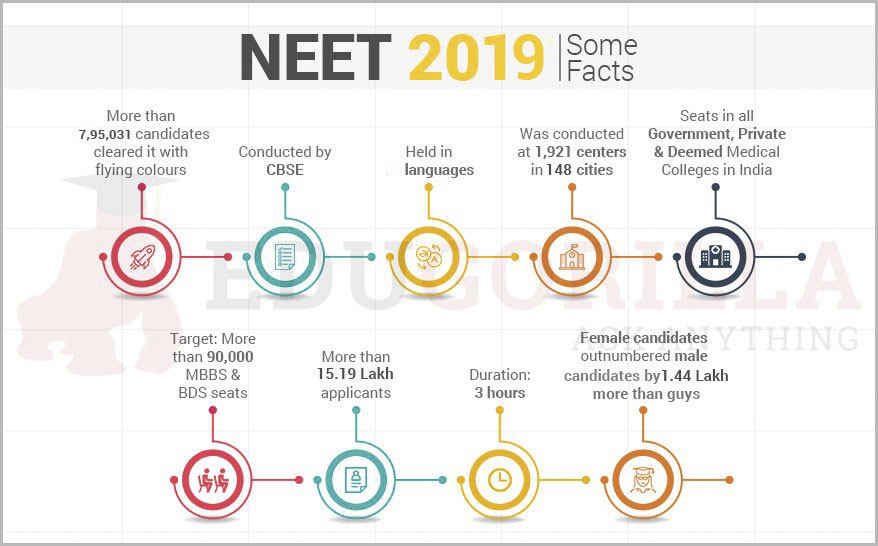 Some Facts
There are a number of medical colleges in India having more than 92,000 seats. We have listed the Best colleges below:
An average of 11,00,000 students competes with each other for these seats.
Coaching institutes have mushroomed across the country to help and facilitate students crack NEET.
A majority of coaching institutes have courses in place to start guiding students when they are in class XI itself. This is to ensure that they are completely prepared to face the medical exams when they are appearing for class XII. This optimizes the time spent students spent on their studies.
With these many coaching institutions and their different courses, aspirants face a dilemma in deciding which coaching institute to pick. After all, their career is at stake. We did a thorough analysis on the coaching industry and have handpicked the best institutes in the country. This analysis involved the countrywide data, so we can't pinpoint the institution's performance in a particular city.

Best Coaching Institutions
Toppers Academy is the most preferred online training platform for the preparation of top medical entrance examinations to fulfill the needs of expansive aspirants willing to set a career in the medical field. Toppers Academy provides standard education for the NEET, IIT-JEE exam domains in India. Being former coaching established 20 years ago with a sole competence to bring the world's best doctors who will be curing patients with proficient expertise skills.
Aspirants looking to get through top medical colleges in India must acquire knowledge and training from the best coaching i.e. Toppers Academy to crack the top medical exams like NEET, IIT-JEE, etc. It has been live now due to covid-19 pandemic situation bringing up the change to match the latest trends of education so far. Medical is considered to be the most esteemed domain operated by the masterful people in the world. The Uniqueness of this coaching is to Motivate students, channelize them to stand out in the crowd.
| | | | |
| --- | --- | --- | --- |
| Courses | Duration | Admission mode | Fee (INR) |
| NEET | 6 Months Subscription | Direct admission | 70,800 |
| NEET | 1 year Subscription | Direct admission | 1,41,600 |
| NEET | 2 year Subscription | Direct admission | 3,54,000 |
| NEET | 3 year Subscription |  Direct admission | 4,72,000 |

Aakash has a very good pan-India presence coupled with excellent results in medical examinations. 52 NEET aspirants who joined Aakash made it to the list of Best 100. 24 AIIMS aspirants have made Aakash proud by being in the Best 50 list. These numbers are the reason why we have put Aakash on the number 1 spot. It boasts of coaching centers in New Delhi, Mumbai, Kolkata, Bangalore, Pune, Hyderabad, Chennai, Ahmedabad, Vishakapatnam, Surat, Kota and in many other cities. So no matter which city you are in, an Aakash center will not be very far from you.
There is a high probability that if you prepare in Kota, you may bump into a prospective topper. After all, 6 out of 10 toppers and 12 out of 20 toppers are from Allen Career Institute, Kota. 39 NEET aspirants were able to make it to the All India Ranking of 100. Talking about AIIMS, 34 aspirants made their way to Best 50. The number does the talking; we don't have anything further to say. Headquartered in Kota, Allen has centres at Jaipur, Mumbai, Surat, Ahmedabad, Indore, Chandigarh, Bengaluru, Vadodara, and Ranchi. Below are the details of the different courses offered there.
| | | | | | |
| --- | --- | --- | --- | --- | --- |
| Courses | Duration | Eligibility | Teaching hours/week | Admission mode | Fee (INR) |
| NURTURE | 2 year | X passed/ XI appearing | 20-25 hours | Direct admission and ASAT | 97,400 (First year fee) |
| ENTHUSIAST | 1 year | XI Passed/ XII appearing | 20-25 hours | Direct admission | 98,500 |
| LEADER | 1 year | XII appeared / passed | 20-25 hours | Direct admission | 1,02,500 |
| ACHIEVER | 1 year | Ex-ALLEN / XII Passed in 2016 or before Students i.e. Repeaters | 20-25 hours |  Direct admission | 1,02,500 |
Narayana has been serving students for the last 38 years. 23 NEET aspirants who took help of Narayana Institute for Correspondence Courses were on the Best 100 list. If you are planning for a Distance Learning Program, we have the benefits listed for you. Apart from the correspondence courses, this Andhra Pradesh based coaching institution has opened several centers in cities like Aligarh, Aurangabad, Bhubaneshwar, Dhanbad, Faridabad, Gurgaon, Jamshedpur, New Delhi, Noida, Patna, and Surat. Join Narayana if you want to go for classroom coaching and for some reason you are unable to make it to Allen and Aakash. You can take their correspondence course as well if you aren't comfortable with classroom coaching. Below are the details of different classes run here:

Ever since it got established on Apr 11, 2001, Resonance has benefitted more than 4 lakh students by delivering outstanding results. There are over 800 faculty members out of which 28% are IITian's/NIITians or Doctors from the Best Medical Colleges. We'll let the numbers do the talking by showing the selection from Resonance till date in medical examinations:
| | |
| --- | --- |
| Exam | Students selected till date |
| NEET | 6,322 |
| AIIMS | 420 |
It offers regular classroom programs, distance learning, and E-learning programs to crack NEET. The courses are long-term and short-term courses.
Resonance got 2 of its NEET aspirants and 3 of its AIIMS aspirants in the Best 100 list. They have their centers spread mainly in North India in cities like Agra, Ahmedabad, Allahabad, Aurangabad, Bhopal, Bhubaneswar, Chandrapur, Delhi, Gwalior, Indore, Jabalpur, Kolkata, Kota, Lucknow, Mumbai, Nagpur, Nanded, Nashik, Patna, Raipur, Rajkot, Ranchi, Surat, Udaipur and Vadodara. The courses offered here are:
| | | | | | |
| --- | --- | --- | --- | --- | --- |
| Courses | Duration | Eligibility | Lectures/Week | Admission mode | Fee (INR) |
| SAKSHAM | 1 year | X to XI moving students | 3 to 4 lectures per subject per week | ResoNET | 92,860 |
| SAMARTH | 1 years | X to XI moving students | 3 to 4 lectures per subject per week | ResoNET | 92,860 |
| SANKALP | 1 year | XI to XII moving students | 4 lectures per subject per week | Direct admission | 95,563 |
| SAMBHAV | 1 year | XI to XII moving | 4 lectures per subject per week | ResoNET | 98,760 |
| SAMPOORN | 1 year | XII passed/appeared | 4 to 5 lectures per subject per week | ResoNET | 98,760 |
| SAFAL | 1 year | XII passed/appeared | 5 to 6 lectures per subject per week | ResoNET | 98,760 |
| VIRAAT- 1 Year | 1 year | XI to XII moving | Correspondence Course | Direct Admission | 14,300 |
| VIRAAT- 2 Years | 2 years | X to XI moving | Correspondence Course | Direct Admission | 15,960 |
MOTION IIT-JEE was started in Dec 2007 at Kota, also known as the coaching hub. The number of selections has been quite increasing since 2008.
The number of staff members has also seen a hike from 4 in 2008 to 253 in 2016 justifying the success of MOTION's students. Equipped with the latest technologies, they develop a video copy of all the lectures so that any student who has missed the class can avail it and get the essence. MOTION also features Practical Labs where the experts explain the critical concepts of science in a practical manner for the students to understand it easily. Talking about results: 1 student was there in Best 100. 24.81% students are under 50,000 rank and 131 out of 528 students have made Motion proud by getting more than 95 percentile. You can find a Motion Study Center at any of these cities: Allahabad, Amravati, Banswara, Bhilai, Bhopal, Buldhana, Dholpur, Gorakhpur, Gurugram, Guwahati, Kolkata, Jaipur, Jhansi, Jodhpur, Kakrapar, Kota, Kathua, Latur, Nagpur, Nanded, Narnaul, Neemuch, Patan, Raipur, Sagwara and Udaipur.
Below are details of different courses offered at Motion:
| | | | | |
| --- | --- | --- | --- | --- |
| Courses | Duration | Eligibility | Teaching Hours / Session | Fee (INR) |
| GENE | 2 years | X & XI Studying / Passed Students | 1.5 hours | 78000 |
| DNA | 1 year | XI Passed / XII appearing | 1.5 hours | 82000 |
| GENOME | 1 year | XII passed | 1.5 hours | 82000 |
Conclusion
Kota was in the limelight when NEET results were declared (6 out of Best 10 students and 12 out of Best 20 students were from Kota). Multiple coaching institutions have multiple centers in Kota for students' convenience making the atmosphere suitable for medical entrance preparation. It's said that a coaching institution can only guide you to a certain extent, the remaining path you have to tread yourself. So no matter which coaching institution you join, success will be a direct resultant of the efforts put by you. Each coaching institute has its own set of correspondence courses but seeing the phenomenal results of 23 students of correspondence courses in Best 100, our recommendation would be Narayana Correspondence courses. The second choice for correspondence course would be Aakash because of its most vast network and amazing results.
Hope you enjoyed reading this article! Let us know in the comments if you want to share any experience of your medical entrance preparation. Meanwhile, check out our tips to crack CBSE NEET examination.
Please note that the total of all the aspirants (who appeared in the Best 100 list) may exceed 100 as some of them might have enrolled in more than one coaching.
Must Read : NEET UG 2019 – Eligibility, Syllabus, Exam Pattern
You Might Want To Read:
Icai Mock Test Paper 24, Agriculture Question Paper 1 2013, Upsc Ifs Zoology Paper Ii Question Paper 2013, Net English Paper Iii Sample Paper 3 2013, Gre Assigning Variable Video, G M Momin Womens College Thane, Making Gre Fee Payment In India, Polylines, State Psc Prelims Mock Paper, Ibt