Do you possess the creative talents or the passion for clicking photos? If that's the case, you can turn your passion into a successful career. When a clicked picture translates the message of the photographer, it attracts a thousand words, ideas or imaginations. And that is what is aimed to teach in a course in Photography.
It is among those few artistic disciplines where the emphasis is laid more upon learning to maintain a good eye and producing a quality product, than just learning photography techniques, methods and theories for getting a degree.
There are many premier institutes that offer tailor-made courses covering the basics of the photography and which later diverts into specialization.
Here are the Best colleges for photography courses in India:
Check out Best 5 Colleges Offering Advertising Courses in India.
World's First Photography Gurukul, Creative Hut Institute of Photography was established in December 2007 and is located in the lap of Mother Nature in Mattakkara, a part of Kottayam district of Kerala, God's own country. This institute of Photography offers many specializations. These range from the fundamentals of DSLR camera and photography to various photography specializations such as Wildlife, Wedding, Fashion, Architecture, Landscape, Product, Macro, Candid, Food, Portrait, Travel, Street photography, and Photojournalism. In addition to these, the course also covers DSLR cinematography as well as photo & video editing. Creative Hut has always been known for its creative education, historic tradition, and lush eco-friendly campus.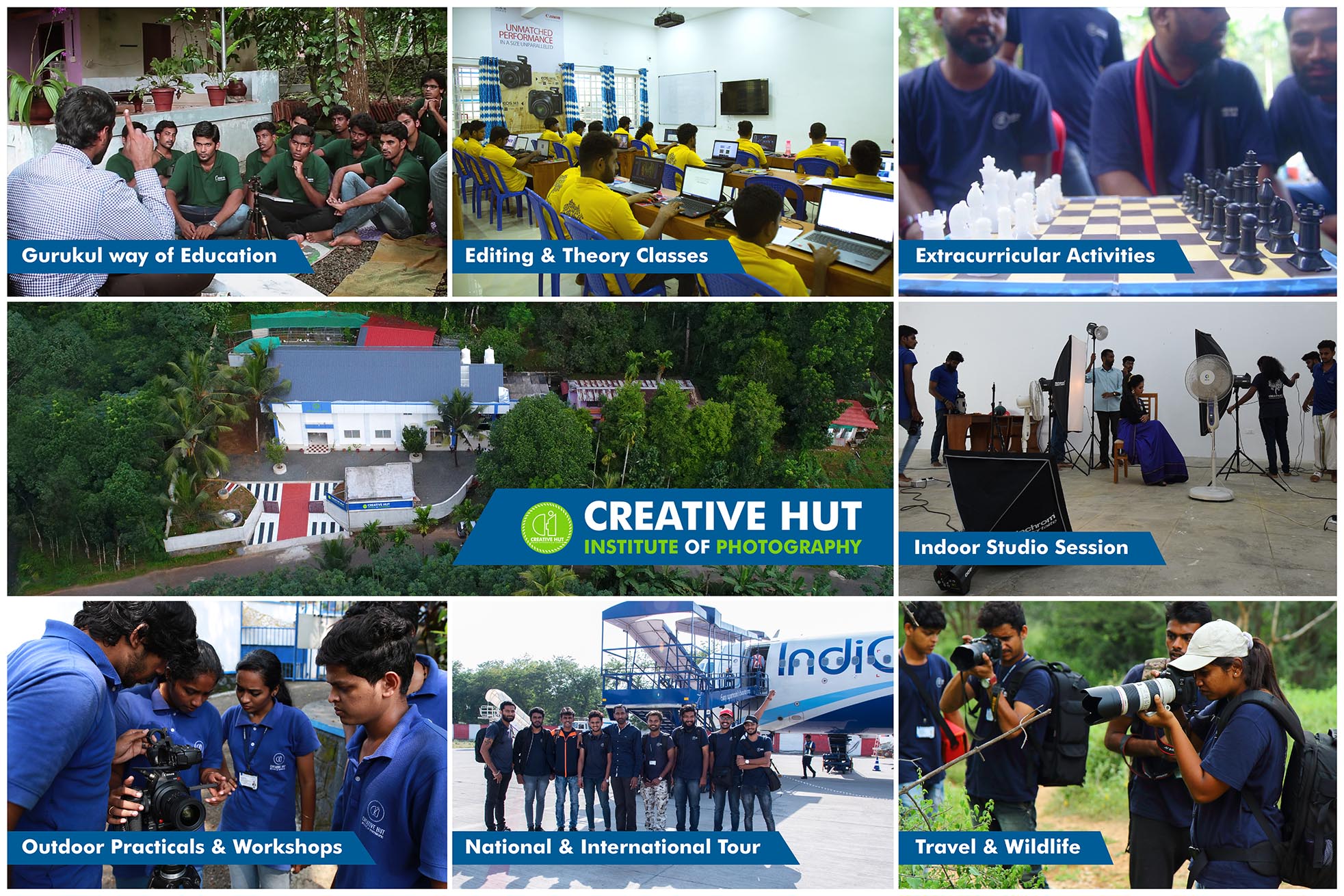 Notable Features of the Institute:
Having produced a glimpse of the capabilities that the institute is adorned with, here are some of the viable features that it hosts:
World's First and only Residential Photography College, Gurukul way of learning. It provides a regular and residential program with staying and food facilities on the campus for all students and faculties.
A robust faculty graced by eminent and experienced mentors and 24 hours of faculty guidance with Classes instructions in English, Hindi, and Malayalam.
Students from different parts of the Nation with a different culture, language and approaches pursue the course here
The institute, since its inception, has been awarded for more than 40 times for the innovations and contributions to the sphere of photography
It has been named for umpteen number of times for the Limca Book of records, Asia Book of Records, India Book of records, National Book of records, Asian World Records, World Records India, Miracle World Records, Champions Book of World Records, Supreme World Records, etc.
Innovative campus and class sessions, outdoor practical, field visits, live projects and assignments, National and International photography outdoor tours.
Provides internship and placement assistance for all students.
The institute helps in preparing the unique portfolios for all its students.
Exclusive Photography magazine called PhotomentorPro for Students work for worldwide reach
The location of the institute can be a great source of inspiration to future lensmen.
Courses Offered by the Institute:
Dual Certificate Program Professional Diploma in Art of Photography & Kerala Government Technical Examinations for Photography (1 Year)
Professional Diploma in Nature and Wildlife Photography (1 Year)
Professional Diploma in Travel and Photojournalism (1 Year)
Professional Diploma in Wedding and Fashion Photography (1 Year)
Professional Diploma in Videography and Video Editing (1 Year)
For Course Details: www.creativehut.org
Delhi College of Photography
Over the past few years, Delhi College of Photography has become a mark of reputation. It is as one of the premier photography schools in India that produces quality photographers. It offers a variety of long-term and short-term courses with specializations in creative, organizational and commercial photography. These courses fall under the basic, advanced and foundation levels. The courses are designed to cater to the demands of both the students beginning their education in photography and for those who want to brush up or enhance their skills to advance their careers.
The college offers some exciting courses in:
Fashion Photography
Wildlife Photography
Candid Wedding Photography
Apart from photography, the college also offers courses in make-up and film-making DSLR.
AJ Kidwai Mass Communication Research Center
AJ Kidwai Mass Communication Research Center (MCRC) is one of the most prestigious mass communication institutes in India. It was founded in 1982 by Anwar Jamal Kidwai who was the former VC of Jamia Millia Islamia. It is renowned for its aesthetic and technical guidance from world-class instructors. AJ Kidwai established the MCRC in collaboration with York University. The CIDA provided the MCRC with a range of sophisticated production equipment while York University sent the first generation of teachers.
MCRC offers courses like
PG Diploma in Still Photography
Visual Communication programme
Other Courses
MA in Mass Communication
Postgraduate Diploma Programmes
MA in Visual Effect and Animation
PG Diploma in Acting
MA in Convergent Journalism
MA in Development Communication
PG Diploma in Broadcast Technology
National Institute of Photography
National Institute of Photography was founded by the Late Prof Manohar Desai in 1983. It provides certificate and diploma courses to interested candidates. The Programmes offer foundation training for various genres of photography like bird photography, press, sports, wildlife, macro photography, nature, and others. The curriculum includes theory as well as practical classes that are designed to inculcate in-depth subject knowledge to candidates.
The Programmes offered at the college include:
Foundation course
Crash course
Basic course
Advance course
Diploma in Fashion Photography
Videography
Diploma in Tabletop photography
Diploma in Wedding and Events Photography
Digital Photo-Editing Techniques
Workshop on Fashion Lightings
The College offers the following courses in Photography:
BFA Photography
MFA Photography
Bridge Course (Photography)
MFA Photography (PTPG)

Asian Academy of Film and Television
Established in 1993, Asian Academy of Film & Television (AAFT) is affiliated with International Film & Television Research Center as well as the Marwah Films & Video Studios. The Aspirants are given admissions in the programs on the basis of their performance in an entrance exam, followed by the personal interview round. AAFT offers a 3-Month programme in Still Photography and Journalism, which is more specific to Photography. (This is a full-time course, with a fee of Rs. 54,000.)
Some other courses
Bachelor of Fine Arts
Diploma in Acting for Film and TV
Bachelor in Performing Arts (Music Production)
Diploma in Camera and Lighting Techniques
Bachelor in Performing Arts (Dance), BSc Cinema
Diploma in Post Production
Diploma in Visual Communication
PGD in Film and TV Production Direction, MSc Cinema
Production Direction & TV Journalism
Video Editing & Sound Recording
Camera & Lighting Techniques
Acting & Presentation
Screenplay Writing
Master of Fine Arts
Mater in Performing Arts (Music Production)
Master in Performing Arts (Dance)
Light and Life Academy
Light and life Academy was established by a famous advertising photographer named Iqbal Mohammed. The institute is equipped with all the modern techniques of teaching the art of Photography. Besides, it has a well-structured curriculum with a good student to teacher ratio. As per its official website, Light & Life Academy is a not-for-profit education trust, which was set up with the initial support of Kodak India & Eastman Kodak, USA. The college is spread across three acres of land and is supported by more than 40,000 sq. ft. of campus that is custom designed by Mr. Jaisim, a celebrated architect.
Some notable Courses taught at the college include:
PG Diploma in Professional Photography
Diploma in Professional Photojournalism
Short duration workshops
The role of Internship or apprenticeship
A candidate with a degree or course in Photography can further propel his career after doing an internship with a professional photographer. An intern or apprentice gets a sense of running a photography business. It can also give a fresher a good idea of the "big picture" of running a photography business.
You may also like to read Best Mass Communication Institutes in India.
Leave your vote
This post was created with our nice and easy submission form. Create your post!