There is a proverb that often erupts around the IT corners. It says- 'If engineering was a religion in India, it would be 5th most popular religion.' India is a factory that produces about 1.5 Million Engineers every year, twice the total population of Iceland. It is, in fact, more than the total Engineers produced by U.S and China put together. In 2014, this figure surpassed those of people appearing in GMAT and GRE across the world. It's even said that India's coaching industry earns more than the lucrative Bollywood industry. And Engineering Coaching Institutes share a major part in it. Plus, the fact that a number of renowned Engineers in the Silicon Valley are of Indian origin also acts as a motivational magnet for the aspirants. Engineering today is offering students the opportunity to revolutionize the way we live our lives every day.
The most important decision in life is your choice!
Students who have just finished their 12th standard, often get confused when it comes to selecting an Engineering College. There is no doubt that better colleges have a better education system, infrastructure, better professors, and better classmates. It also offers a better resume value and better industry network.
How to choose an Engineering College?
The IITs are better than other engineering colleges in various academic aspects, whereas best state colleges (like COEP, VJTI, PICT) are better than the second-tier engineering colleges. According to a report by National Employability Report 2015-16, conducted by a job skills matching platform called Aspiring Minds 80% of engineers in India are unemployable. Most of these engineers come from average and below average Colleges. So, choosing a good institute paves the way to a good future. Hence, you should keep in mind all those parameters by which you can judge a good institute most suited to you.

Here are the Important Parameters which are considered while awarding the College Rankings       
Learning Experience– It includes Pedagogy, Quality of Faculty, Student Connect, Internship, Innovative Teaching Methods, and Industry Connect.
Living Experience– It includes Knowledge Facility, Resource on Living, Sports Facilities (like Swimming, Gym, Sports Ground, Recreation Rooms and the likes) and the Physical Infrastructure of the institute.
Placement Performance– It includes Quality of Placement and Quality of Recruiter.
Selection Process – It includes Intake Quality.
Establishment-Establishment and Accreditation, Governance of the institute.
Future Orientation– It includes Global Exposure and Creating Managers for tomorrow.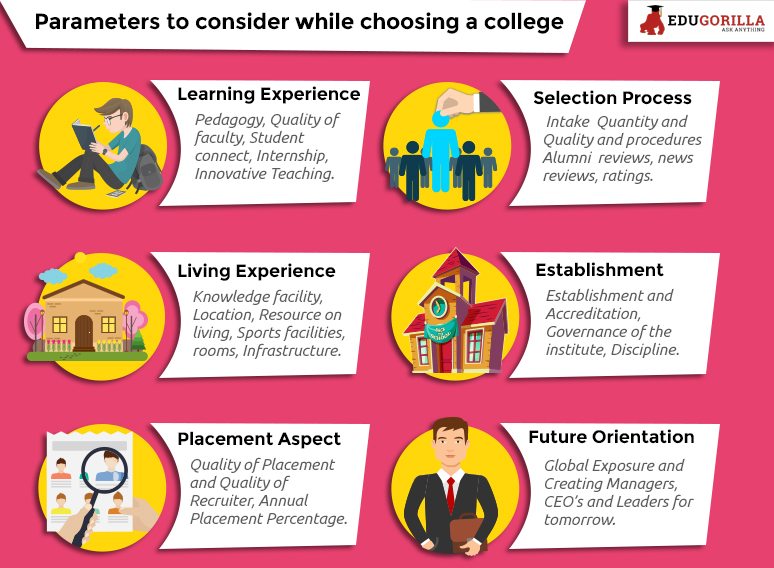 Considering the above-mentioned factors, we share with you a list of best 50 Engineering Colleges in India. This list includes both privately and government-owned Engineering Colleges in India. The rankings are determined by an exhaustive research with a due focus on a lot of aspects and standard guidelines. Comparisons were also drawn between previous years' rankings published by India Today, The Week, and National Institute Ranking Framework (Ministry of HRD), before coming to a conclusion. Consequently, this year again, IIT Delhi, Mumbai, and Kharagpur have topped the charts, as always, whereas some other colleges have replaced their counterparts based on current year's performance.
Best 50 Colleges
Here is a list of best 50 Engineering Colleges that have a variety of specialized courses on offer
| | |
| --- | --- |
| 1. | Indian Institute of Technology (IIT-D), Delhi |
| 2. | Indian Institute of Technology (IIT-Bombay), Mumbai |
| 3. | Indian Institute of Technology (IIT-KGP), Kharagpur |
| 4. | Indian Institute of Technology (IIT-Madras) Chennai |
| 5. | Indian Institute of Technology (IIT-Kanpur), Kanpur |
| 6. | Indian Institute of Technology (IIT-BHU), Varanasi |
| 7. | Birla Institute of Technology and Science (BITS), Pilani |
| 8. | Indian Institute of Technology (IIT-G), Guwahati |
| 9. | National Institute of Technology (NIT), Tiruchirappalli |
| 10. | National Institute of Technology (NIT), Surathkal, Mangalore |
| 11. | National Institute of Technology (NIT), Rourkela |
| 12. | National Institute of Technology (NIT), Warangal |
| 13. | Indian Institute of Information Technology (IIIT), Hyderabad |
| 14. | Netaji Subhash Institute of Technology (NSIT), Delhi |
| 15. | PSG College of Technology, Coimbatore |
| 16. | College of Engineering, Pune |
| 17. | Indian Institute of Information Technology (IIIT), Allahabad |
| 18. | Jawaharlal Nehru Technological University Hyderabad (JNTUH) |
| 19. | Manipal Institute of Technology Manipal |
| 20. | Delhi Technological University (DTU), Delhi |
| 21. | Birla Institute of Technology (BIT), Ranchi |
| 22. | National Institute of Technology (NIT), Hamirpur |
| 23. | MS Ramaiah Institute of Technology, Bangalore |
| 24. | National Institute of Technology (NIT), Durgapur |
| 25. | Birla Institute of Technology (BIT), Sindri Dhanbad |
| 26. | National Institute of Engineering (NIE), Mysore |
| 27. | Visvesvaraya National Institute of Technology (VNIT), Nagpur |
| 28. | Institute of Technology Nirma University Ahmedabad |
| 29. | Zakir Husain College of Engineering &Technology, Aligarh |
| 30. | University College of Engineering Hyderabad |
| 31. | SGS Institute of Ted & Science Indore |
| 32. | VIT University Vellore |
| 33. | Thapar University Patiala |
| 34. | Guru Nanak Dev Engineering College, Ludhiana |
| 35. | Chaitanya Bharathi Institute of Technology Hyderabad |
| 36. | DJ Sanghvi College of Engineering, Mumbai |
| 37. | MIT College of Engineering, Pune |
| 38. | Thiagarajar College of Engineering, Madurai |
| 39. | Kongu Engineering College, Erode |
| 40. | Government College of Engineering, Amravati |
| 41. | Government Model Engineering College, Kochi |
| 42. | Bannari Amman Institute of Technology, Erode |
| 43. | Mepco Schlenk Engineering College Sivakasi |
| 44. | Rungta College of Engineering, Bhilai |
| 45. | BMS Institute of Technology 8 Management, Bangalore |
| 46. | KLE Dr. MS Sheshgiri College of Engineering, Belgaum |
| 47. | PES University, Bangalore |
| 48. | KL University, Guntur |
| 49. | BMS College of Engineering, Bangalore |
| 50. | BVU College of Engineering, Pune |
The above list might help you to form a clear picture of the best engineering colleges in India and further assist you in making the right choice while looking up for admissions in order to fulfill your career dream.
How these rankings help you?
The ranking of Best engineering colleges helps a candidate in knowing which institute stands where. It helps him in pipelining the chosen ones that suit his demand, for the scrutiny and selection.

How best Engineering Institutes take candidates in?
The Indian Institutes of Technology (IITs) (23 in number)
To get into IITs, a candidate must first qualify JEE (Main) which is conducted in the 1st week of April every year. It is followed by qualifying JEE (Advanced), through which the admissions are finalized.
National Institute of Technology (NIT) (31 in number)
NITs, IIITs, and a few other deemed universities offer admission through JEE(Main) exam.
BITS Pilani, Goa and Hyderabad are the elite institutions which take admission through BITSAT. The admissions are offered based on the student's performance in the all-India entrance examination, the BITS Admission Test (BITSAT). BITSAT is an online entrance exam which is considered comparatively easy when compared to JEE Main.
Vellore Institute of Technology (VIT) and SRM Institute of Science and Technology
Institutes like Vellore Institute of Technology (VIT), SRM and Manipal conduct their own entrance exams viz. VITEEE, SRMJEE, and Manipal online entrance respectively. According to the industry experts, VITEEE is considered to be an easy exam than other engineering entrance exams like JEE Main (formerly AIEEE) and JEE Advanced (formerly IIT-JEE). These exams are conducted during the months of April and May every year.
Note– Students who are well-prepared for JEE Mains may not have to put any extra effort into the entrance exams mentioned above. All these exams are based on the NCERT textbooks of intermediate level.
A Piece of Advice
There are also some inspiring stories of bright engineers who passed out from tier 3 engineering colleges, like E. Sreedharan. He is popularly known as the 'Metro Man' for his groundbreaking work in transforming public transport in India. There are also many more examples to prove that good, sincere, and motivated students can reach anywhere. Even if you get into in a which is neither in Tier 1 nor in Tier 2, you must try as hard as you can to follow your dreams. In the end, the choice is always yours!
You Might Want To Read:
Exam, Top Ias Coaching Centers In Lucknow, Buddhist Jain Peace Study Question Paper 4 2008, Ugc Net Bengali Mock Test Paper 5, Dipiete Control Engineering Question Paper 1, Bachelor Of Computer Sciencebcs Mock Test Paper 1, Net Tribal And Regional Language Literature Mock Test Paper 274, Tet Tuition Centers In Lucknow, Mock, Best Testing Traps Overcome
Leave your vote
This post was created with our nice and easy submission form. Create your post!