For those who have been strapped for cash before, it isn't news that banks offer a wide range of loans to help you make ends meet. Common types of loans that most banks or similar institutions like credit unions offer include:
Personal loans
Mortgages
Refinance loans
But, one of the most common loans applied for is student loan. In fact, student debt is among the most common, and highest, in America. This is mainly due to higher college fees and interest rates, as well as a rise in the number of struggling students. So, a student loan may seem appealing to aspiring students who often struggle to pay high college tuition.
Unlike the above loans though, student loans are specific to fees required by students to attend college. This means that they go through a stricter process than regular loans. Namely, they will often ask for proof of registration and attendance with your college.
This isn't where the differences between student loans and other lending stop either. Student loans are one of the most unique types of loans you can get. This brings with it a list of benefits and drawbacks that should be carefully considered by anyone considering applying for a student loan. Do you want to know How to Manage Your Student Loan Debt: Help & Advice? Click here.
So, we review the six biggest things you need to think about before applying for a student loan.
There is more than one type of Student Loan
Many people are often surprised to find out that there are two main types of student loans:
Private student loans, which are given out by institutions like SoFi, banks or credit unions.
Federal student loans, which are issued by the Department of Education and are guaranteed by the federal government.
There are a lot of noteworthy differences between the two of these that may decide which one you want to go for. Firstly, the interest rates set by private loans are set by the institution and can have a variable rate. This means the interest rate can change over time. Meanwhile, federal loans have a set rate, and usually a lower one too.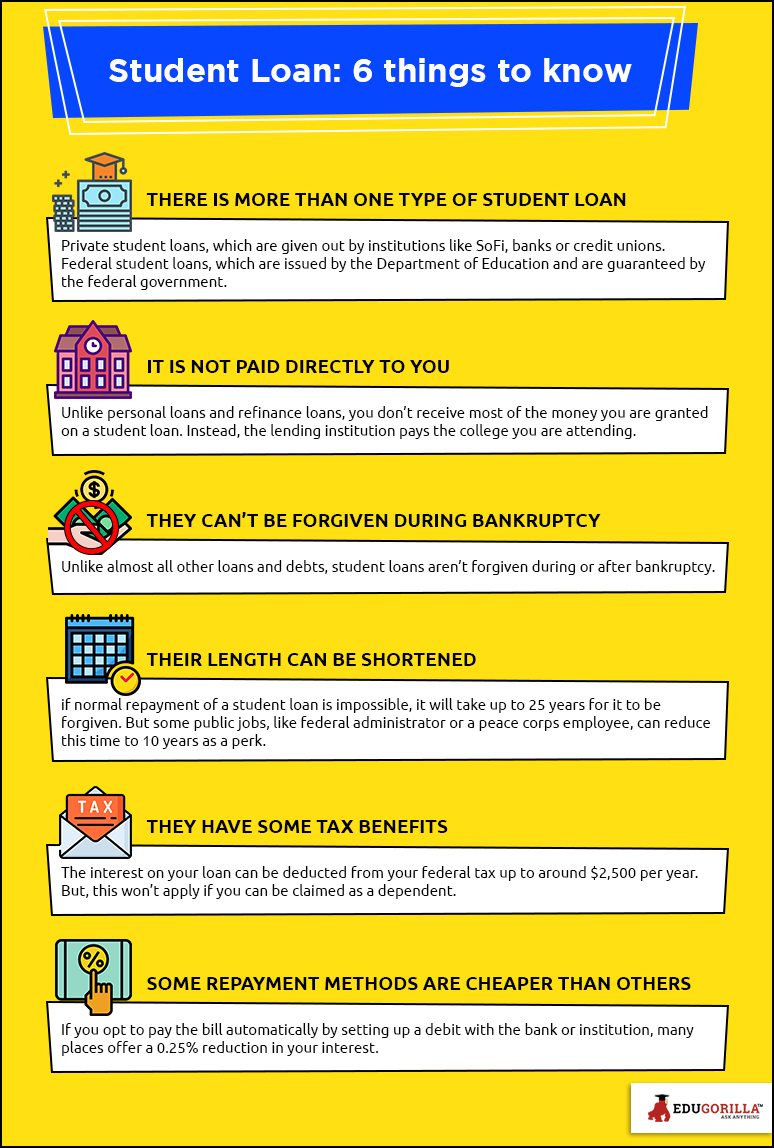 Secondly, federal loans often have the option for you to start making repayments only after graduation, or after a short grace period from graduation. Private loans usually look for immediate commencement of repayments.
Another big difference is federal loans don't take into account your credit rating or history, whereas private loans usually do. This makes it easier to get a federal loan. But, federal loans can often be harder to default on. So, you will need to decide which type of loan would best suit your financial situation.
It is not paid directly to you
Unlike personal loans and refinance loans, you don't receive most of the money you are granted on a student loan. Instead, the lending institution pays the college you are attending.
The college then covers your fees and transfers any remaining funds over to you for you to pay for expenses. This is an inconvenience that many may not want with a student loan and, if possible, may cause them to opt for a more direct personal loan.
They can't be forgiven during Bankruptcy
 This is one of the most publicized, and controversial, aspect of student loans. Unlike almost all other loans and debts, student loans aren't forgiven during or after bankruptcy.
This means that, even if you go bankrupt, you'll still have to pay the loan off after you come through it. This is a serious consideration, as it means that if you get a student loan you can't repay, you'll likely have it for life. So, it is important you know how to repair your credit and make sure your debts and loans are being paid to keep the chances of this to a minimum.
Their length can be shortened
Some public institutions and job positions come with the perk of reducing your student debt through loan forgiveness. Usually, if normal repayment of a student loan is impossible, it will take up to 25 years for it to be forgiven.
But some public jobs, like federal administrator or a peace corps employee, can reduce this time to 10 years as a perk. This may be worth considering if you're looking for a job when you're out of college if you get the loan.
They have some Tax Benefits
 Elements of your student loan are tax deductible. The interest on your loan can be deducted from your federal tax up to around $2,500 per year. But, this won't apply if you can be claimed as a dependent.
You can also deduct purchases like school supplies that you purchased with the loan. These can be a big help for many students who are cash-strapped or struggling with debt.
Some Repayment Methods are cheaper than others
If you're willing to make your repayments in certain ways, it can work out cheaper for you. For example, if you opt to pay the bill automatically by setting up a debit with the bank or institution, many places offer a 0.25% reduction in your interest.
When you consider that many people end up repaying their student loan over decades, this reduction stands to save you a lot of money in the long run.
Also read, Watch out before applying loan for your Studies in Abroad.
You Might Want To Read:
Engineering Examination, Indian School Of Design And Innovation Mumbai, Gate Production Engineering Question Paper 2 2008, Vectors And 3 Dimensional Geometry, Test Series, Doeacc B Level Internet Technologies And Tools Mock Test Paper 194, Ugc Net Indian Culture Question Paper 2 2011, Upsc Csmains Assamese Language Paper I Ii Question Paper 2012, Endeavor Careers Mukherjee Nagar, Delhi University L L B 3Rd Year Mock Test Paper 6 2
Leave your vote
This post was created with our nice and easy submission form. Create your post!