Students get different kinds of assignment writing activities in their schools and colleges such as case studies, questionnaires, research papers, essays, and reports. Assignments are a great way to make them acquire a profound knowledge of the subject and expand their learning sphere. Assignments not only help in improving their writing skills but also enhance their thinking capabilities. Students develop the research skills as they explore different theories and examples about the assignment topic. They learn how to put their own arguments and relate the theoretical and practical concepts together. Click here if you want to know Some Secrets to Enlarge Your Poise as a Creative Writer
But students often face difficulties in completing their assignments efficiently on their own. Whether it is their writing skills, lack of practice, low confidence or poor content, there are several factors that affect their performance. Today, we will discuss some of those challenges that students face while writing assignments.
Lack of Language Proficiency
It doesn't matter how great your idea is if you cannot present it proficiently. Assignment writing is a task that relies majorly on impressive writing. Students often lack this skill which reflects directly in the assignments through misleading language, grammatical errors and misplaced punctuations. Sometimes students use too difficult words in an impression that this would amplify the quality of their assignment but, it is not so actually.
Your answers must be easy to understand and clear. One can impress the readers by using simple English words also if the ideas are stated properly. You may also seek guidance from an assignment writing service. It would assist you in enhancing your writing skills and overcome the problem of inefficient writing.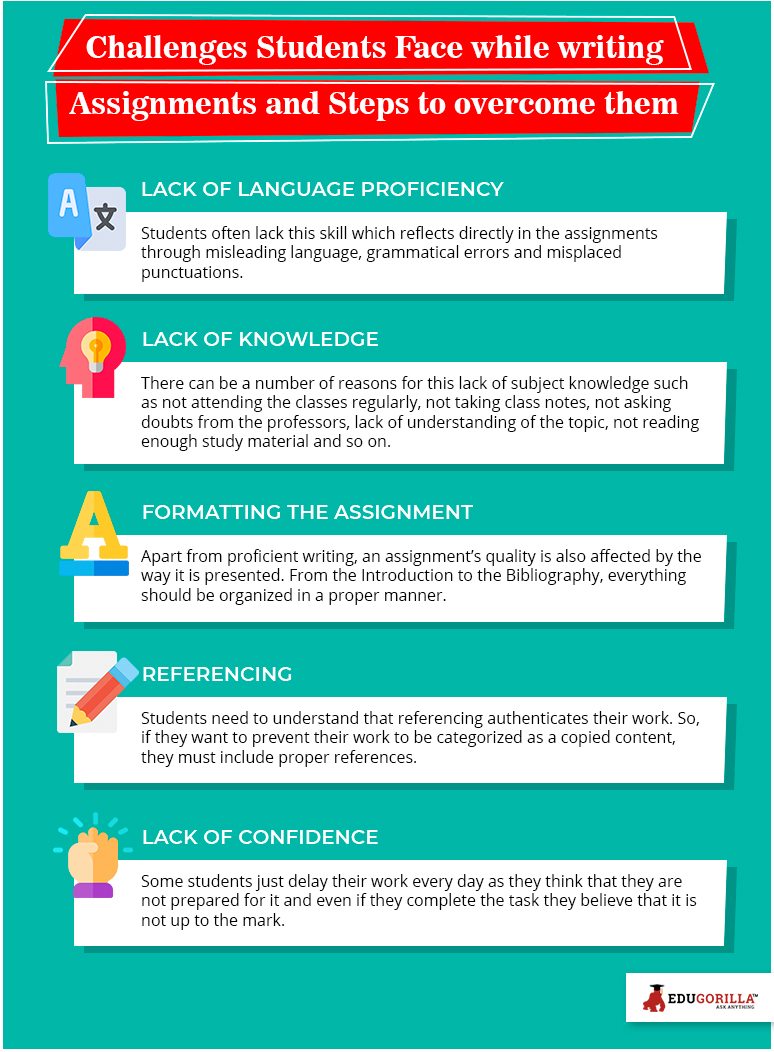 Lack of Knowledge
Many times students complain that they do not have enough content to write in the assignments. Due to insufficient knowledge about the subject students get short of words, ideas, and arguments while writing the answers. There can be a number of reasons for this lack of subject knowledge such as not attending the classes regularly, not taking class notes, not asking doubts from the professors, lack of understanding of the topic, not reading enough study material and so on.
A simple way to counter this challenge is to take out time for self-study and clarify your doubts as early as possible. Plan your time in such a manner that you don't have to rush at the last moment in completing the assignments quickly. Start early and seek help whenever possible.
Formatting the Assignment
Apart from proficient writing, an assignment's quality is also affected by the way it is presented. From the Introduction to the Bibliography, everything should be organized in a proper manner. Students often do not pay attention to the formatting of the assignment and lose marks.
An easy way to counter this problem is to create an outline of the assignment before you start writing. Decide every heading in advance and then write accordingly. Make sure you frame your answers in different paragraphs to enhance their readability. Stick to the specified word limits. You can also seek help from an assignment editing service. It would assist you in editing and proofread the assignment to improve its presentation.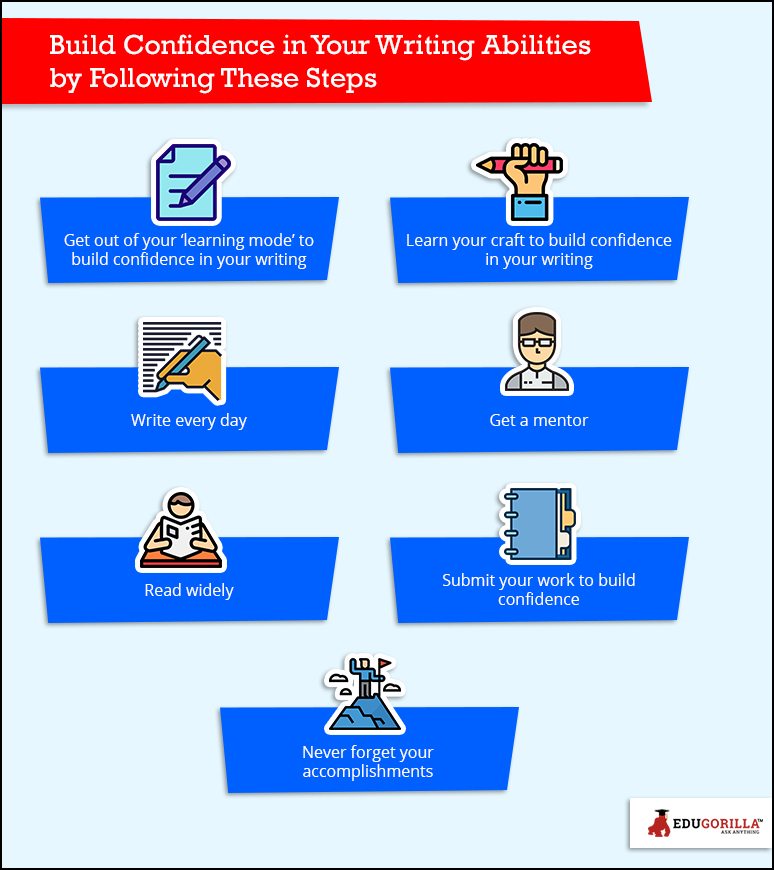 Referencing 
When you prepare an assignment, it is natural that you would gather information from various sources. As you include that information in your assignment a need to reference the same arises. Many universities prescribe a referencing style to the students and they are required to work according to that format itself. Sometimes students do not understand the importance of referencing and skip this part. They are often unaware of the referencing styles and face difficulties in this task. Students need to understand that referencing authenticates their work. So, if they want to prevent their work to be categorized as a copied content, they must include proper references. Also read, How to write a Paper with Good (Enough) Referencing.
Lack of Confidence
Some students believe that they just cannot write the assignment. They often doubt their capabilities whether they can really complete the whole assignment on their own or not. And, in this self-doubt, they never try and start working. Students often hold back themselves from performing. They just delay their work every day as they think that they are not prepared for it and even if they complete the task they believe that it is not up to the mark.
Instead of doubting their skills, such students must work on enhancing them. Remember, you can correct your mistakes and learn from them only when you would commit them. So take time and study before you start, work in groups, seek guidance but, do not restrain yourself.
Assignment writing is no less than an art and art needs to be performed with courage. You might face numerous problems in writing your assignments. But you cannot overcome them until you do not identify their cause. Once you have the knowledge nothing can stop you from performing well. With these little tips and advice, I am sure that you would never go wrong while writing your assignments going forward. You may like to share in the comments below if you encountered any problem while working on your assignments and how did you overcome them?
You Might Want To Read:
Net Museology Conservation Paper Ii Sample Paper 9, Ims Learning Center, Ugc Net Library Science Question Paper 3 2014, Act Science Question Paper 2, Allen A Suicide Den Why So Many Students Commit Suicide, Indian Institute Of Fashion Design Iifd Chandigarh, Cbse Sample Test, Upsc Cisf Notification 2018, Upsc Cse Notification 2018, Electronics Theory
Leave your vote
This post was created with our nice and easy submission form. Create your post!