Best 5 Cloud Computing Training Institutes in Chennai
Date : November 18, 2019
Cloud computing is a new paradigm in software development and a trending buzzword in today's world. It is one of the fields which are attracting a high number of employees. So let us take a dive into the concept of it and some Cloud Computing training institutes in Chennai, a metropolitan city of India.
Cloud basically refers to resources and services like software development platforms, software, data storage and servers over the internet. And cloud computing is the use and delivery of these services. Using Cloud computing, users can store their files on a remote software rather than a proprietary hard drive. These files or software or applications can then be accessed from wherever the user is if there is access to the web. Cloud computing is a big shift from the traditional way of storage and sharing.
A decade-old technology, Cloud computing has spread its wings to almost all spheres of the modern world. Whether you are editing documents, or watching movies online, or sending emails, it is likely that cloud computing is working behind all that. Almost all organizations, from government agencies to non-profit organizations, and from startups to global organizations, are embracing cloud computing technology. it brings with itself, several benefits and advantages. Improved productivity, cost savings, increased security, enhanced performance, and better speed and efficiency are a few of them.
Due to such a wide expansion of Cloud computing services, the demand for cloud professionals has also been on a rise. The field has opened unlimited career opportunities for the youth. As such, various techies have brought up training centers to educate the youth about the same.
As a metropolitan city, Chennai catches up on all the latest fields and trends at a very swift pace. The same happened in the case of cloud computing training institutes. Chennai houses a number of training centers providing cloud training and certifications. These institutes provide hands-on training on major Cloud products like Salesforce, Amazon web services, Google Cloud, IBM Cloud, Microsoft Azure, etc. Let's have a look at the prominent ones amongst them. Here are the best 5 Cloud Computing training institutes in Chennai producing market-ready Cloud professionals.
Besant Technologies provides practical, real-time and placement-oriented training for cloud computing in Chennai. The institute provides a structured course module which concentrates on both basic level training and advanced level training. The panel of instructors comprises cloud computing certified professionals with real-time experiences. Their experience helps the students in gaining conceptual clarity and creativity. The course material is so designed that the students explore the subject in an innovative way. Besant technologies is accredited with lots of good reviews and placement records. The institute charges nominal fees for its services and offers online and fast track cloud computing training as well. There are modules for AWS, VMWare, Salesforce, and OpenStack with live examples and practical exercises.

Features
Practical (hands-on) training experience.
00% placement assistance.
A panel of expert professionals.
Easy to access locations.

FITA is one of the best Cloud Computing Training Institutes in Chennai. Their programs cater to both, the students who seek a new career in Cloud computing and the professionals who seek advancement in their career. A popular training center of Chennai, FITA offers versatile instructor-led classes with tailor-made courses designed to cater to the individual needs of the students. A friendly in-class atmosphere is maintained to ensure more convenient interaction and smooth flow of knowledge. The training programs of FITA are customized and flexible so that the individuals can reap maximum benefits out of it. It is an adept destination if you are searching for some good cloud computing training in Chennai.

Features
More practical and lesser theory sessions.
Training by passionate Cloud professionals.
Practical assignments and real-time case studies.
Optimum batch size for personalized attention.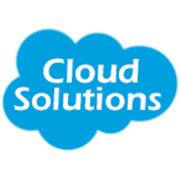 Cloud Solutions India is a dedicated training center offering technical certifications in the city of Chennai. One of the major courses it offers is Cloud Computing Training. The institute is stacked with profound industry know-how and technical expertise. A team of Cloud computing experts grooms the students to become responsive to different individual and business requirements. They take the technical skills of the students to the next level and transform them into certified professionals. Whether you are looking for an individual course or a full certification program, Cloud Solutions India has everything to offer. It is one of the best Cloud computing training providers of Chennai. The institute offers everything from an open classroom and company-specific user end training to an official course for system administrators and developers. Here, one can learn all the skills and tools of cloud computing and accelerate one's career.

Features
Performance-oriented training program.
Qualified and experienced instructors.
High professional standards.
Flexible learning options.
Innovative learning methods.
Fill this form and get best deals on " Coaching classes"
100% genuine institutes aiming to help you ace studies
Get immediate response from the institutes
Compare institutes and pick only the best!
Feel free to choose the institute you like, and rest will be taken care of

ACTE is a premier software training institute in Chennai providing training for technical and cloud certifications. The institute has a crew of dynamic and skillful tutors working for premier organizations and MNCs. The batch sizes are restricted to an optimum level to ensure efficient and interactive training. The training programs of ACTE are not based on in-class lectures but on exposure to real-time experiences. There are interactive sessions as well as mock interviews to give a simulated interview experience to students. The grooming that students receive at ACTE, Chennai is not just limited to technical skills related to Cloud computing. There is due prominence on enhancing communication skills, problem-solving skills, teamwork and interpersonal skills required to fit in the industry. The institute promises of a better tomorrow and fulfills it.

Features
One-on-one feedback sessions with students.
Practical training experience.
Career-oriented training.
Soft skills enrichment sessions.
Assistance for jobs after course completion.

IICT Chromepet has a vast domain experience in cloud computing training is an adept IT training institute of Chennai. The training institute is equipped with excellent features and a good infrastructure. The curriculum is so designed and executed that the students get placement in top MNCs right after the completion of their course. The instructors who take up the classes are certified cloud computing professionals who cater to all the educational needs of the students. There are day time classes, evening classes, weekend batches and fast track classes depending upon the needs and requirement of the students.

Features
A range of customized training programs.
Flexible training schedule.
Advanced training resources.
Cloud computing software is provided.
Facility of video lectures.
This post was created with our nice and easy submission form. Create your post!
Comment