Best 5 GATE coaching institutes in Indore
Date : August 22, 2019
Deriving its name from the very famous Indreshwar Temple, Indore is known as the cleanest city of India. It also holds the tag of being the largest and the most populated city of the country. The city hearts in itself two of the most prestigious institutes of the nation, namely IIT Indore and IIM Indore. It is also a hub of some very famous coaching institutes, imparting training and guidance for different competitive exams taken up in the country, including GATE. But before we discuss the GATE coaching institutes in Indore, let us see what GATE is.
Conducted by IISc and seven IITs, GATE is an aptitude test in the field of engineering. It is taken for admissions to postgraduate engineering programs and Public Sector Undertakings' (PSU's) recruitment. GATE scores are also considered by some foreign universities for admission. The Nanyang Technological University of Singapore is one of them. The question paper of GATE consists of a list of 65 MCQ and Numerical Answer Type questions covering different topics like Verbal ability, Verbal analogies, Engineering Mathematics (not for all papers) and Technical Ability. The preparation for these topics includes a rigorous study of over 30 subjects at the undergraduate level. The varied range of the subjects makes GATE difficult to qualify.
Yet, there have been many candidates who have come out with flying colors and have become the pride of the city. To name a few, Rahul Kashyap and Manoj Dixit are amongst the many meritorious GATE qualifiers from Indore. These students have become a source of inspiration to many GATE aspirants. While some students excel in GATE on the basis of self-study, others seek guidance from coaching institutes.
Over the years, there has been a tremendous growth of the GATE coaching institutes in Indore. These institutes have guided many GATE aspirants towards the successful achievement of benchmark percentiles. And to enrich you with information about the same, we have shortlisted the best 5 GATE coaching institutes in Indore.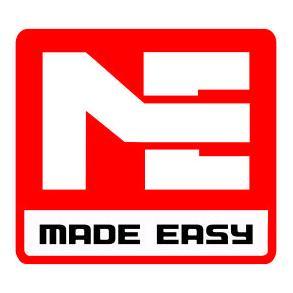 Made Easy has been instrumental in empowering students to sail through GATE. It is one of the leading GATE coaching institutes in Indore and has set benchmarks for its competitors. Through its tireless striving, it has become a successful partner of many GATE aspirants. It has polished many brilliant minds and has lived up to its motto of 'Big Learnings Made Easy.' This coaching institute develops a competitive attitude in its students through dynamic leadership quality. The main focus of the faculty is to bring about the overall development of the students so as to help them become better individuals.

Features
The staff here is highly experienced
Regular classes are conducted so that the continuity is maintained.
Frequent doubt sessions are taken.
An updated study ware for guidance is prepared.
The teaching pattern is student friendly.

Recognized as the fastest growing GATE coaching institute in 2016, The Gate Academy has approximately 57 branches across the nation. It provides guidance to GATE students at affordable prices becoming one of the best GATE coaching institutes in Indore. At GATE Academy Indore, the directions are given by former toppers to ensure the relevance of the study material. The GATE Academy has provided excellent guidance to many students in effective ways. It is also assisted by the World Bank to improve the quality of technology-based education in India. They have intelligently tabulated lessons to make learning student-focused. There is a facility of correspondence courses and teaching through USB video tutorials for distance learners.

Features
The mock test series are regularly updated.
Innovative and informative study guides are available to the students.
Subject-based tests are conducted to monitor the growth of the students.
There is a provision of E-classes.

GATE Forum has had a journey of 5 years in the field of GATE coaching institutes. In the year 2019, 25 students of GATE Forum achieved scores above 850 and secured its place in the list of best GATE coaching institutes in Indore. Their trained personnel comprise postgraduates from IIT and IISc. There are facilities of scholarship and mock tests for the students. Their website has over 72 tests and a discussion of the previous year's papers on its website. GATE Forum has guided many students in preparing for GATE and has become one of the best GATE coaching institutes in Indore. They also have recorded video lectures and live video classes to facilitate learning for distant learners. In order to make classes interactive and student-focused, the batch sizes are kept compact.

Features
There is a provision of preparatory guides for GATE aspirants.
A wide range of books available to the students.
Compact teaching manuals are available.
Interesting learning methods are provided at affordable prices.
The study material is properly tabulated.
Fill this form and get best deals on "GATE Coaching classes"
100% genuine institutes aiming to help you ace studies
Get immediate response from the institutes
Compare institutes and pick only the best!
Feel free to choose the institute you like, and rest will be taken care of

With a successful journey of 8+ years of training students for GATE, GATE Gurus has become one of the premier GATE coaching institutes in Indore.it provides guidance to the students through their online portal. It has helped pupils of all intellectual levels in becoming better at their subjects of study. GATE Gurus aspires to promote smart work to fulfill the aspirations of the GATE students. Teachers constantly strive for making the online learning patterns easier to grasp and longer to retain. At GATE Gurus, the online faculty tries to offer quality education at reasonable prices and this makes it one of the best GATE coaching institutes in Indore. In the result of 2019, 17 top rankers from GATE Gurus maintained the remarkable history of consistent results over the years.

Features
The learning pattern is conceptualized and targeted.
Teacher-students interactive sessions are held.
Doubt classes are conducted for attending to the queries of the students.
Brainstorming sessions are held regularly.

Engineer's Circle was established with the view of imparting excellent knowledge using new trends for GATE. It presently has branches in 10 cities of the country and a team of 50+ trained teachers to provide guidance to GATE aspirants. It has had very high selection rates in the past years and has become one of the best GATE coaching institutes in Indore. There have been 200+ meritorious students from the institute. There are sectional online tests to track the progress of students to train them accordingly. The aim of the faculty is to provide modern solutions to modern problems in order to teach the students all that they need to excel in GATE.

Features
Scholarships are given to financially weak students.
Topic-wise, as well as random subject tests, are conducted.
Test series are a replica of the actual exams.
Report cards of the tests are made to maintain a record of the progress of the students.
Proper analysis of the result is given.
This post was created with our nice and easy submission form. Create your post!
Comment