Best 5 IAS coaching institutes in Agra
Date : August 27, 2019
The city of Taj, Agra is famous across the globe due to one of the seven wonders of the world that it houses. The Taj has made people come to Agra and wish to settle down and prosper here. But there was a time when the city was not very rich in the field of educational institutions. Some teaching enthusiasts came up with a solution to this problem and established many educational bodies over the city. The list of these bodies of education includes coaching institutes as well. A significant part of these institutes are the IAS coaching institutes in Agra. These institutes have led many candidates proficiently towards the successful completion of the IAS exam.
One of the various important exams conducted by UPSC is for the IAS or Indian Administrative Service. This exam is conducted in three stages namely – Prelims, Mains and the personality test/interview. In the first round, there are two papers upon clearing which the candidate can appear for the second round. In the second round, each candidate must give seven papers to prove his/her thoroughness in their opted subject. The question paper of IAS is bilingual in nature and the duration of the rounds and papers vary from one another.
Any candidate aspiring for IAS should be above or of 21 years of age as on the 1st of August, of that year. There is an upper limit for each of the social sections. Only the citizens of India can appear for IAS. Each candidate should hold a graduation degree from a recognized university or an equivalent degree from a recognized university. The students in the last year of their graduation are also eligible for the same.
Over the years Agra has had many qualifiers and toppers of IAS. These toppers have set up benchmarks for their competitors. In order to help candidates in performing well, the IAS coaching institutes have played a major role. Let's dive in to see what makes some of them the best 5 IAS coaching institutes in Agra.
Plutus IAS is the coaching institute that provides a platform for the students who want to succeed in competitive exams like UPSC IAS. It renders an environment for each aspirant where they could trigger their mind and build the right path towards success. Here, the candidates devote their complete time to studies. The online course module is for those students who cannot go to the institute to study. Efficient software for learning is used so that students can begin with their studies as soon as they purchase a course. The dedicated faculty of Plutus Academy remains ready round the clock to discuss the doubts of the students. This academy also has a Daily Vocabulary module wherein the students learn new words every day and their vocabulary is enhanced up to a great extent.

Features
Pre-recorded video lectures facility
Discounts to students and female candidates
Feasible batch size of about 15 students
Book issue facility from library

With an experience of over 30 years, the Vajirao & Reddy institute has helped many IAS aspirants in qualifying it. The highly qualified faculty aims at providing an adequate amount of guidance required for the successful completion of IAS. They work to make the concepts crystal clear for each of the candidates. In order to maintain a competitive environment, regular mock tests and interviews are conducted. The performance of each IAS aspirant is then analyzed and discussed for improvement. The faculty works actively to ensure that students should be accustomed to newer technologies and current affairs. They organize various quizzes and interactive sessions for the enrichment of knowledge. This also helps the candidates in clarifying their doubts and open about their queries.

Features
Various modules are available online.
Well-designed mock test series for Prelims.
Postal facility for distant learners is available.
Weekend courses to maintain the flow of information.

Since its inception, the Center for Ambition has always guided students to bring out the best in them. This has made the students develop themselves in all the fields and qualify IAS successfully. This effort at the all-round development of students has led them to be known as one of the best IAS coaching institutes in Agra. Center for Ambition has various kinds of programs for IAS aspirants to choose from. These programs are available at an affordable rate so that students from all backgrounds can benefit from their services. The faculty makes sure that all these programs are managed proficiently. There are regular sessions by guest speakers to motivate students to work better.

Features
Highly-experienced and committed faculty.
Facility of a library to help students gather additional information.
Provision of correspondence courses.
Hostel facility for outstation students.
Fill this form and get best deals on "UPSC (Civil Services - Prelims/Mains) Coaching classes"
100% genuine institutes aiming to help you ace studies
Get immediate response from the institutes
Compare institutes and pick only the best!
Feel free to choose the institute you like, and rest will be taken care of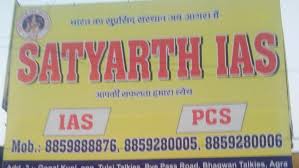 Backed up by an erudite panel of teachers Satyarth IAS aims at being a premier IAS coaching institute in Agra. The faculty here has been making dedicated efforts over the years to deliver quality study material and adequate guidance. The students of this IAS coaching institute have always given remarkable performances. This has served as a motivation for the faculty to work better. The teachers aim at providing education in such a way that it is easy to learn and retain for a long time. The faculty designs exclusive notes for a better understanding of the students. The teaching methods are innovative and interactive so that students can clarify their queries just when they arise.

Features
There are frequent mock tests and quizzes to test the growth of the students.
Comprehensive teaching guides.
Emphasis on the clarification of concepts for better performance.
Regular tests based upon the previous year papers.

Established with a view of acing all the fields that they take up in education, ATS Academy has come a long way since its inception. They have designed comprehensive study guides for students and have made sure to implement their strategies in a professional manner. Their dedication towards making the students worthy of qualifying the exam has led them to be known as one of the best IAS coaching institutes in Agra. In order to instill confidence in the candidates, ATS Academy conducts various mock interviews. These mock interviews are then evaluated and discussed individually to make sure that all the weak areas are worked upon.

Features
The study guides are designed in a professional manner making them easily comprehensible.
Valuable guidance for writing answers proficiently.
Attention is given to developing the speed and accuracy of the students.
Special emphasis is given to increase the general knowledge of students.
Over the years, Viraat IAS has risen to become one of the most desirable IAS coaching institutes in Agra. The reason behind this achievement has been the devoted efforts of the faculty to polish the personality traits and knowledge of the students. Their constant efforts at making these students become IAS qualifiers and toppers has led them to become great mentors. Their excellent faculty comes up with various ways in which the subject matter can be retained for longer periods of time. They have given the nation various IAS officers who have helped the nation in becoming a better place to live.

Features
General Knowledge capsules are available.
Individual attention to the students if required.
This post was created with our nice and easy submission form. Create your post!
Comment