Best 6 IAS Coaching Institutes in Bareilly
Date : August 22, 2019
Bareilly is a beautiful city of Uttar Pradesh located near the Ramganga River. It is among the fastest-growing cities of the state. Bareilly is also one of the 100 cities mentioned in the PM Narendra Modi's list of Smart Cities in India. This city is also known by the name of 'Nath Nagri' due to the presence of seven Lord Shiva temples. Moreover, Bareilly has become the education hub of the Western region of Uttar Pradesh in recent years. A lot of schools, colleges, and coaching institutes existing in Bareilly provide quality education to the students. Countless students aspiring for various competitive exams search for efficient coaching institutes to prepare for them. On realizing this, a huge number of coaching institutes got established in Bareilly for training youngsters for the competitive exams. Talking about Civil Services exams, various IAS coaching institutes in Bareilly have mushroomed in recent years.
Bareilly offers a lot of educational assistance to the students who are on the journey of building their careers in Civil Services. Numerous IAS coaching institutes are present here and are constantly providing guidance for its preparation. Bareilly has become the epicenter of various coaching institutes. Therefore, the young students of the city and nearby region need not flounder for getting efficient guidance for the preparation of IAS exam. The population of Bareilly is inclined towards getting a high-quality education so that they achieve success in their chosen field of career. Building a career in Civil Services is fascinating. Many students of Bareilly are attracted to this and work in the direction of becoming an IAS officer. A huge number of coaching institutes operate in Bareilly for IAS preparation. Before we discuss the coaching institutes in Bareilly, have an overlook at the following information about the IAS exam.
IAS is one of the toughest exams to crack in our country. The conducting body of the IAS exam is the Union Public Service Commission. It is one of the most prestigious exams in India that recruits eligible candidates at the post of IAS officers. They become Civil Servants responsible for creating policies to govern all the spheres of the Indian Government. The IAS exam comprises of three extreme competitive stages- Prelims, Mains, and a Personal Interview. It is one of the most difficult exams in India to crack. Qualifying the IAS exam required a thorough knowledge of current affairs and General Knowledge. Writing skills and logical thinking are also very important for qualifying IAS. Time management is also an essential skill to ace this exam. All these things can be improved under the able guidance of good IAS coaching institutes.
Bareilly has shown a praiseworthy performance in IAS in past years. Even after IAS being such a difficult exam to qualify, many students from Bareilly have been cracking the IAS exam. Every year, there is a rise in the difficulty level of the Civil Service Examination to keep the competition strong and fierce. Well, the one thing that strikes the mind of every Civil Service aspirant is how to tackle the competition and excel in the exam. Different people give different advice, but the best way to prepare for this exam is to join an efficient IAS coaching institute. The coaching institutes provide the most comprehensive resources for exam preparation. Hence, for the students who are at a lookout for an efficient guide, we are listing the best 6 IAS coaching institutes in Bareilly.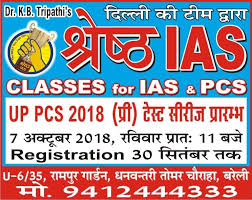 Shreshth IAS Classes is one of the well-known IAS coaching institutes in Bareilly. Since its inception on 2nd October 2012, this coaching institute is nurturing the students aspiring for the Civil Services exam. Led by the able guidance of K.B. Tripathi, this prominent IAS coaching institute in Bareilly has been producing unparalleled results year after year. The students of Shreshth IAS Classes have secured praiseworthy positions in the IAS exam. The faculty members of this coaching institute are highly-qualified with a rich teaching experience of years. The institute has appointed separate teachers for each portion of General Studies and other optional subjects so that the subject experts guide the IAS aspirants. Moreover, this IAS coaching institute in Bareilly enables the students to realize their potential and overcome their weakness.

Features
Interactive learning environment
Lectures by senior academicians
Regular tests and group discussions
Periodic motivational sessions
Special focus on writing skills improvement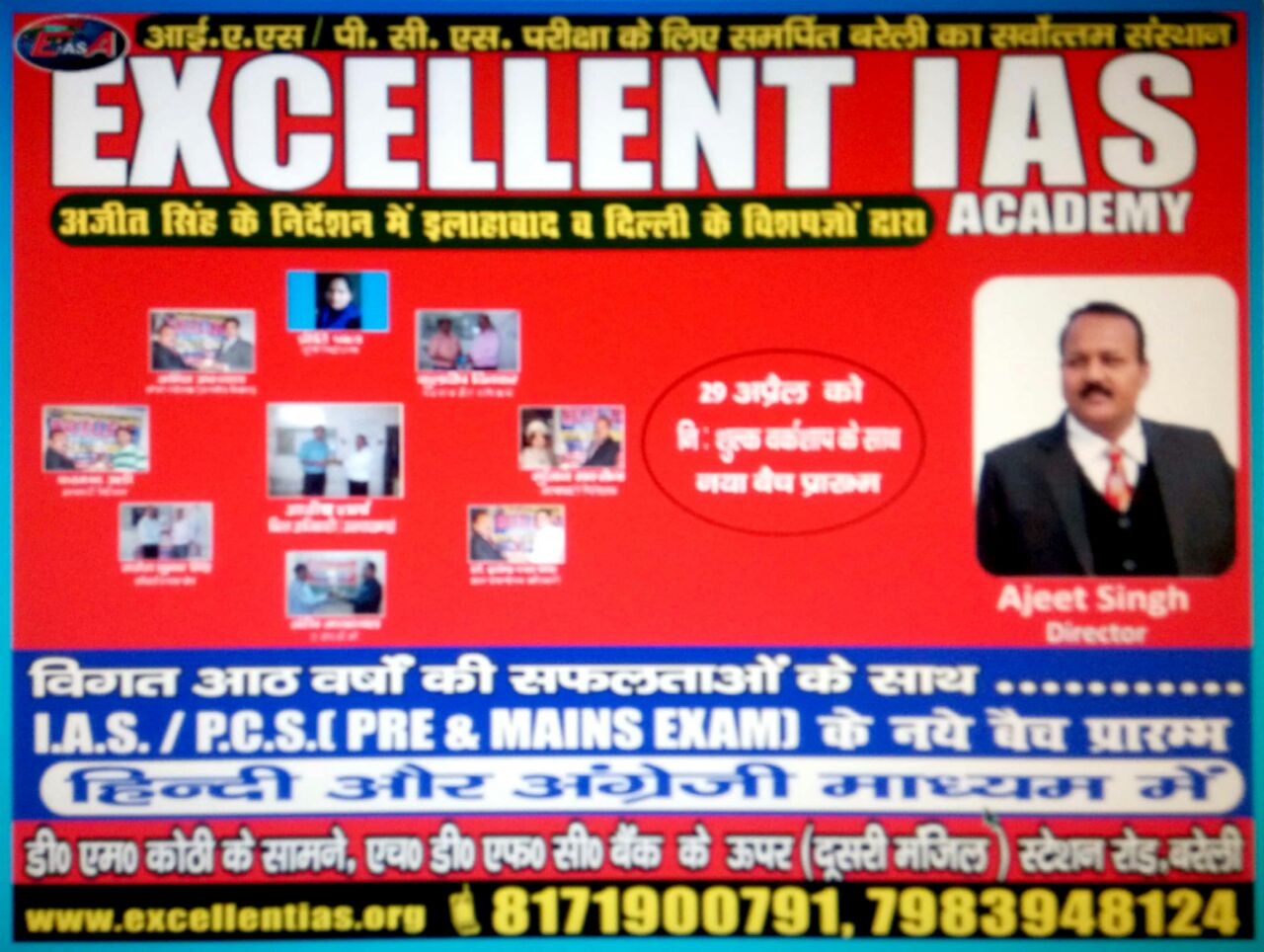 Born in Allahabad, Excellent IAS Academy got established in Bareilly in the year 2010 under the leadership of Mr. Ajeet Kumar Singh. At that time, he realized the scarcity of IAS coaching institutes in Bareilly and decided to gift this city with an efficient guide for mentoring the IAS aspirants. The establishment of this coaching institute was also important to prevent the students from migrating to Delhi or Allahabad to get IAS preparation guidance, that too, at a high cost. So, Mr. Ajeet Kumar Singh got a branch of Excellent IAS Academy set up in Bareilly for the betterment of the IAS aspirants of the city. This eminent IAS coaching institute in Bareilly has also emerged as firm support for the students belonging from the lower-middle-class section of society and villages. They are also achieving their dreams under the efficient mentorship of experienced subject experts of this IAS coaching institute.

Features
Well-trained and qualified faculty
Well-equipped library facility
Plutus IAS is the coaching institute that provides a platform for the students who want to succeed in competitive exams like UPSC IAS. It renders an environment for each aspirant where they could trigger their mind and build the right path towards success. Here, the candidates devote their complete time to studies. The online course module is for those students who cannot go to the institute to study. Efficient software for learning is used so that students can begin with their studies as soon as they purchase a course. The dedicated faculty of Plutus Academy remains ready round the clock to discuss the doubts of the students. This academy also has a Daily Vocabulary module wherein the students learn new words every day and their vocabulary is enhanced up to a great extent.

Features
Pre-recorded video lectures facility
Discounts to students and female candidates
Feasible batch size of about 15 students
Book issue facility from library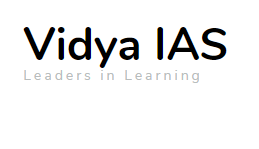 Vidya IAS is one of the reputed IAS coaching institutes in Bareilly. Running under the efficient guidance of Adv. Gajendra Yadav, this coaching aims to become a one-stop destination for the IAS aspirants floundering in the search of an exam preparation guide. It equips the students with all the necessary resources for IAS preparation. This coaching institute has appointed a team of highly- qualified faculty members who guide the students at every step. Here, students get well-researched study material and updated General Awareness notes regularly to speed up their IAS exam preparation. Moreover, this IAS coaching institute in Bareilly equips the aspirants with rigorous mock tests and practice exercises that match the difficulty level of the actual IAS exam paper. Here, students also get guidance for the interview rounds.

Features
Exclusive course material
Frequent doubt-solving classes
Exhaustive practice exercises
Fill this form and get best deals on "UPSC (Civil Services - Prelims/Mains) Coaching classes"
100% genuine institutes aiming to help you ace studies
Get immediate response from the institutes
Compare institutes and pick only the best!
Feel free to choose the institute you like, and rest will be taken care of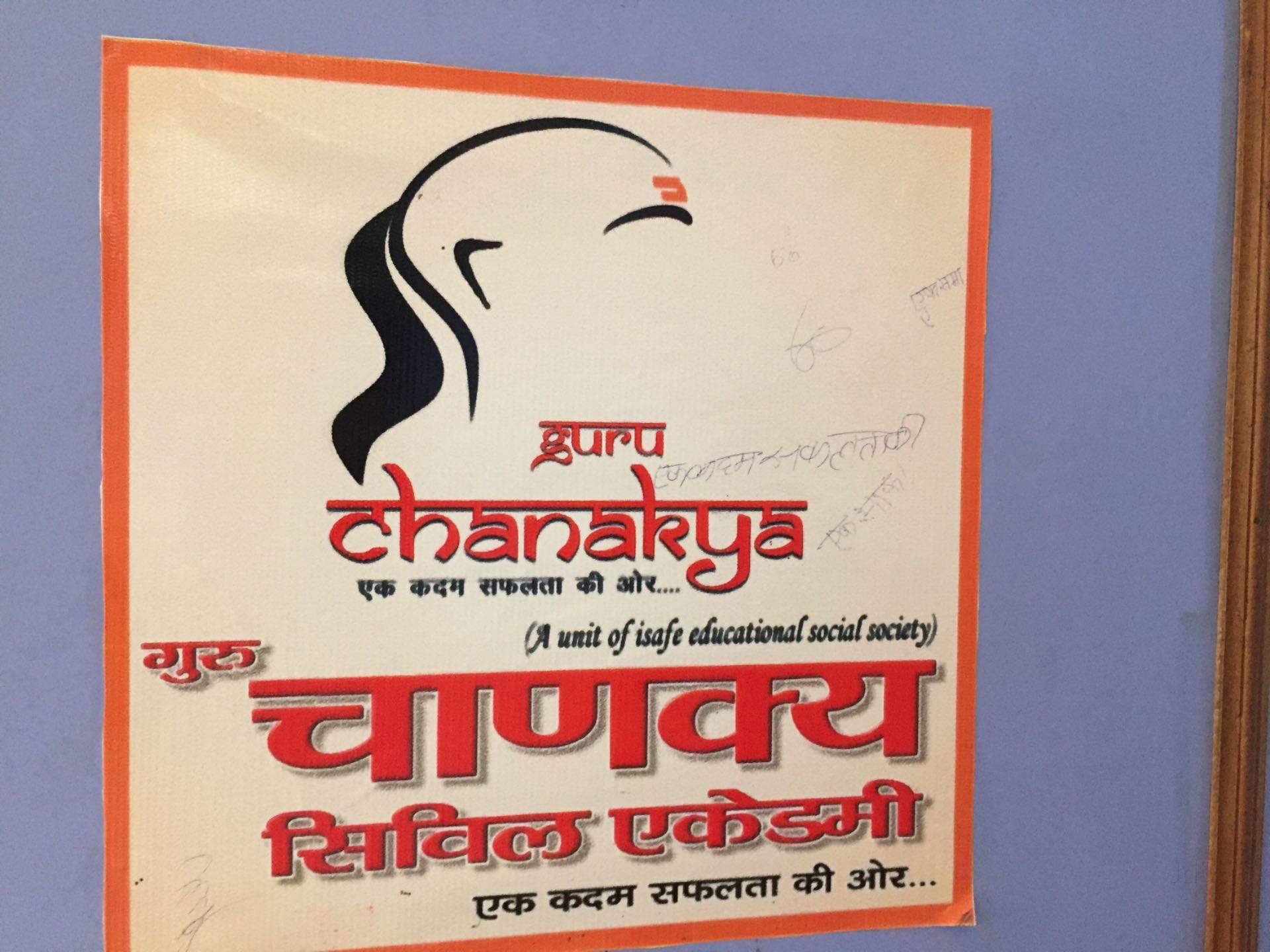 Chanakya Civil Academy is a trusted coaching institute for the Civil Services exams. It runs with an aim to provide proper guidance and high standard education to the IAS aspirants of Bareilly and nearby areas. This prominent IAS coaching institute in Bareilly is completely dedicated to the betterment of the students aspiring for Civil Services exams like IAS. Chanakya Civil Academy has successfully created its recognition amongst the young IAS aspirants of this city in a very short period of time. Furthermore, this coaching institute has brought the most experienced faculty team from Mukherjee Nagar (Delhi) and Allahabad to Bareilly. These mentors leave no stone unturned in fulfilling the dreams of innumerable IAS aspirants. This IAS coaching provides General Studies notes, NCERT material, mock interviews, and GD classes for the students to ace the IAS exam.

Features
Test series and mock interviews
Essay and current affairs classes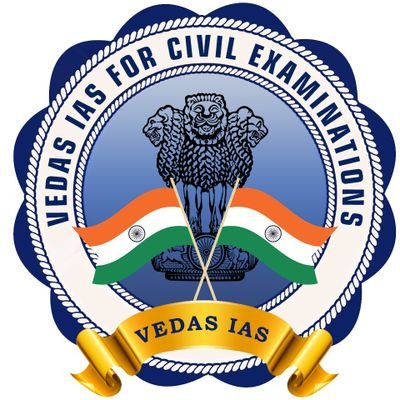 Vedas IAS is counted amongst the best IAS coaching institutes in Bareilly. It trains the students aspiring for the most prestigious Civil Services examination. This IAS coaching begins with instilling the fundamental knowledge to the aspirants and ends up making them confident IAS candidates. Led by a team of expert educators, Vedas IAS provides the complete IAS exam preparation guidance to the students. Here, the subjects are taught in basic and easy language so that every student gets a crystal-clear understanding of the concepts. Moreover, this IAS coaching institute in Bareilly equips the students with pre-written notes of every topic discussed. Besides this, performance tests are conducted after the completion of every topic and past years' question papers are also discussed. Regular current affairs classes, Editorial Discussions, seminars, and group discussions are also conducted for the students.

Features
Talented and committed teachers
Regular performance evaluation
Reasonable fees of courses
Stress management and motivational classes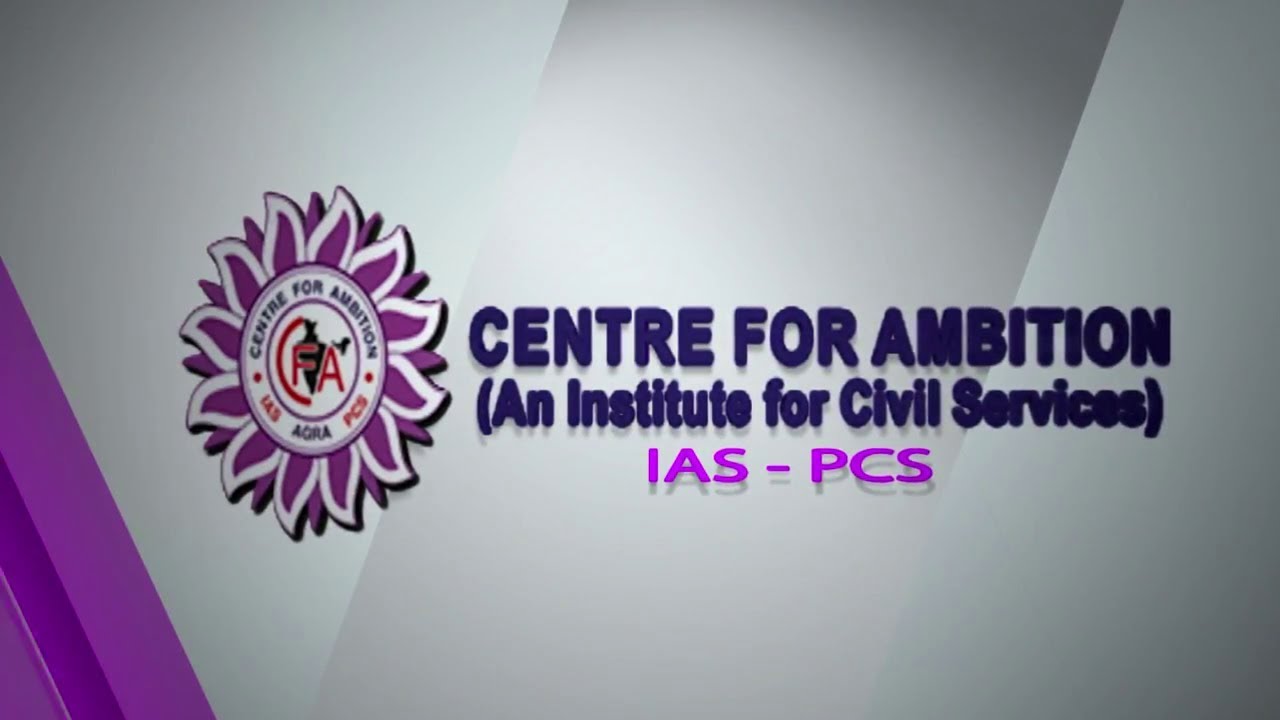 Centre for Ambition is a well-known IAS coaching institute in Bareilly. Here, students get preparation guidance for all the three levels of the IAS exam namely, Preliminary test, Main examination, and the Personality test. Since its establishment, this institute has trained more than 2000 students for appearing in the Civil Services exams like IAS. Moreover, the students of this IAS coaching institute in Bareilly have secured top ranks year after year in IAS. It is so because the students of this coaching get trained from the experienced and highly-qualified faculty drawn from the Central Universities and other reputed institutes. It's here, in this IAS coaching institute in Bareilly, that a minimum of two mentors are engaged for every subject. Additionally, the expert team of this coaching institute prepares the reading material for the students.

Features
Highly-qualified teachers
Distance education courses available
High-quality course material
This post was created with our nice and easy submission form. Create your post!
Comment