Law Colleges in India
Law has gained immense popularity and has also emerged as one of the sought after career options these days. Schools teaching law in the country have become the centers of distinction and excellence in professional higher education in the recent past.
You can find some of the best universities in India for 5 year integrated law programs. There are law colleges which are universities in themselves like National Law Universities or State Law Universities set up by state governments. Each of them is set up under a separate Act of State Legislature.
There are also Departments, Faculties and Schools of Law in the Central, State, Deemed or Private Universities. Moreover, there are a number of aided and unaided government and private law colleges affiliated to these universities. You may like to read 5 Interesting Law Case Studies: A Takeaway of Knowledge for Students.
5-year Integrated LL.B Course
With passing of each year, law entrance examinations are gaining increasingly popularity and becoming competitive as well. The number of applicants for Common Law Admission Test (CLAT) is on the rise every year.
Research suggests that the Indian legal education experienced significant developments after the establishment of National Law School of India University (NLSIU) Bangalore in 1986 and the introduction of 5-year integrated LL.B course after Class XII.
Students can now avail the LL.B course in two formats- 5-year integrated LL.B course for Class XII pass-outs and a 3-year LL.B course for graduates of any stream. Individuals who couldn't join LL.B after class XII due to various reasons can now avail the opportunity after their graduation.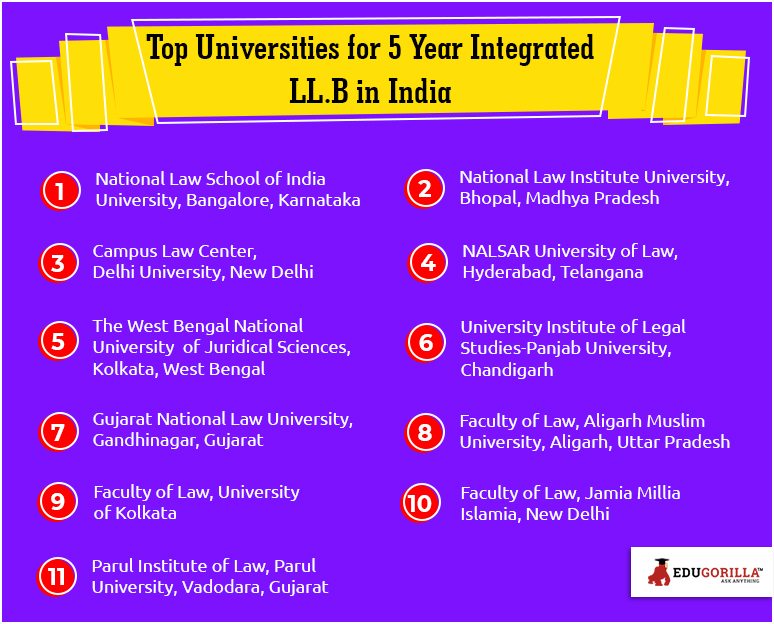 Best Universities to pursue 5-year Integrated LL.B in India
Here, we have listed some of the best universities for 5-year Integrated LL.B in India:
All the above listed Universities provide 5 year integrated law courses where one could select a specialization into one of the various branches of law such as: corporation law, civil law, criminal law, international law, labor law, patent law, tax law and so on. These 5 year integrated courses can be pursued after class XII and can become a successful lawyer in the future.
An individual who is enthusiastic towards the world of law and fascinated with the system of justice can easily take up law as a professional career. However, the fast growing demand of the legal profession has made it one of the most lucrative and the most respected careers in India today. To make a professional in law, one will need to pursue a professional law course.
Also read, How to Prepare for Legal Aptitude for Clat 2018.
You Might Want To Read:
Class Vi Practice Test, Computer Science Question Paper 2 2012, Ugc Net French Mock Test Paper 10, Prosthodontics Question Paper 4 2007, Ugc Net Environmental Science Question Paper 3 2009, Beating Hardships, Baba Farid University Orthodontia Question Paper 4 2007, Bitsat Enrollment Form 2018, Russian Language Question Paper 1 2013, Physics For Neet Vol 2 Set Of 4 Books By Career Point Class Xii
Leave your vote
This post was created with our nice and easy submission form. Create your post!