Civil Services still hold the enviable stature of being the best jobs available in the country. Even in the times of heavy privatization, civil services like IAS, IPS, IRS, and IFS remain appealing and attractive. Great executionary powers, constitutional immunity, and awe-inspiring social status offered by civil services make thousands of Indian youngsters yearn for it. Aspirants spend every drop of their sweat, blood, and life for CSE preparation. But the online courses for Civil Services have brought them a sigh of relief.
How? Well, you will get to know that in this article. Here you will find answers to many questions.
Why is the trend of taking online courses for Civil Services picking up?
There are lakhs of aspirants who take Civil Services exam every year and even ore who prepare for it. And every aspirant comes with own set of choices and preferences. Some prefer to sit in the 'brick and mortar' institutions and study while others find their quiet and solitary study room better for exam preparation. They prefer staying in their homes to study as opposed to the harsh living conditions of hostels. And that is perhaps the major cause behind the growing trend of online courses for Civil Services. They save the students from the lethargy to commuting to the coaching institutes and traveling in overcrowded buses. Many toppers of Civil Services Examination like Ilma Afroz and Saumya Sharma have themselves favored online coaching for exam preparation.
Why do students prefer online courses for Civil Services instead of regular coaching?
The online courses for Civil Services have become quite popular and stand at par with offline coaching institutes. The reason for this can be attributed to the following advantages that online programs have as compared to their offline counterparts:
Online courses can be accessed anytime and anywhere
Video lectures are recorded and be replayed multiple times
The students can study at their own pace and speed
It saves the traveling time and expenses
The online courses are usually cheaper than regular coaching and equally efficient
It cuts down the pain of relocation to other cities

The Best 10 Online Courses for Civil Services an aspirant should choose from
We have presented the list of the best 10 online courses for Civil Services for you to choose from. Explore the list and pick out one for yourself.

Through its online courses for Civil Services, Unacademy brings some of the best educators of the country on the laptop screens of the students. It is one of India's largest learning platform and all the more awesome when it comes to Civil Services preparation. There are full-fledged courses, crash courses, and videos for almost every topic. And not just that, Unacademy has in store thousands of questions for practice.
The online courses for Civil Services available here are specialized and have already benefitted hundreds of aspirants. It is one of the leading educational channels on YouTube. Unacademy ensures that the aspirants get everything they need on a single platform and they don't have to run anywhere for the exam guidance. Here they get robust content as well as the right preparation strategy to crack Civil Services entrance.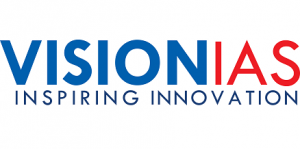 A force to reckon within the sphere of Civil Services coaching, Vision IAS is one of the pioneers in Civil Services guidance. The practical, simple, and the watchful methodology of the Vision IAS helps aspirants in understanding the requirements of the Civil Services / UPSC exams effectively. Vision IAS constantly innovates for keeping the process of preparation dynamic and giving individual attention to each aspirant. This, the online wing of the Institute achieves keeping factors like availability of time, core competence, resources, and the needs of Civil Service Exam, in mind.
Vision IAS' online courses for Civil Services / UPSC entails attractions more than one. Its online alternative classroom program takes around 180-200 classes to complete. This program, one of the best online courses for Civil Services, comprehensively covers the entire topics falling within all the four sections of GS Prelims, GS Mains, and Essay. This classroom program provides access to the aspirants, to the recorded classroom videos at their own convenience. The alternative program entails All India GS Prelims, GS Mains, CSAT & Essay Test Series of previous years. Also, the students avail comprehensive notes on current affairs and similar other relevant and updated study material.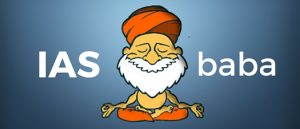 IASbaba is one of the fastest growing online platforms for Civil Services preparation in India. It was born with the vision of enabling the people from even the remotest places of the country to crack IAS, IPS, and IFS exam. The online courses for Civil Services offered by IASbaba follow an innovative, analytical, and smart approach for learning.
The platform was initiated by a team of IIT and IIM graduates to support Civil Services aspirants by providing smart and qualitative ways of learning. Here, students get access too daily current affairs, All India Radio discussions, monthly Yojana, motivational articles, and a lot of relatable content. IASbaba's online courses for Civil Services are ideal for those who don't have access to classroom coaching and lack strategic competitive guidance. The website offers complete guidance for the exams, right from Prelims to Mains.

Study IQ is another online platform dedicated to providing online courses for Civil Services and other government jobs. It offers a variety of study programs to both English and Hindi medium students within the comfort of their homes. These online courses comprise pre-recorded videos that can be accessed even without an internet connection.
Study IQ offers pen drive courses, android courses, tablet courses, current affairs, and a lot many modules in its online courses for Civil Services. The course content is based on the latest syllabus and covers all the relevant topics and areas. The portal also offers test series programs to test and assess your preparation level.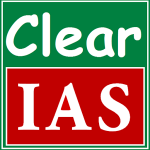 ClearIAS is a self-study package offering high-quality online courses for Civil services to millions of students. It hosts an app, a portal as well as a mock test engine devoted to the Civil Services exam. ClearIAS is a solution for those who look for guidance outside the regular classroom coachings. It offers online study material, mocks, toppers' interview, preparatory guidance, and a lot more.
ClearIAS's online courses for Civil Services are comprehensive, polished, superior, and affordable. The portal was established in 2012 to enable the best brains of the country to access the resources they need and lack. It is dedicated to all those who fail to attend regular classes due to financial, geographical, or time constraints. The online courses bring all the essentials available there at the click of your mouse. These essentials include previous years' papers, eBooks, and notes covering important topics and questions.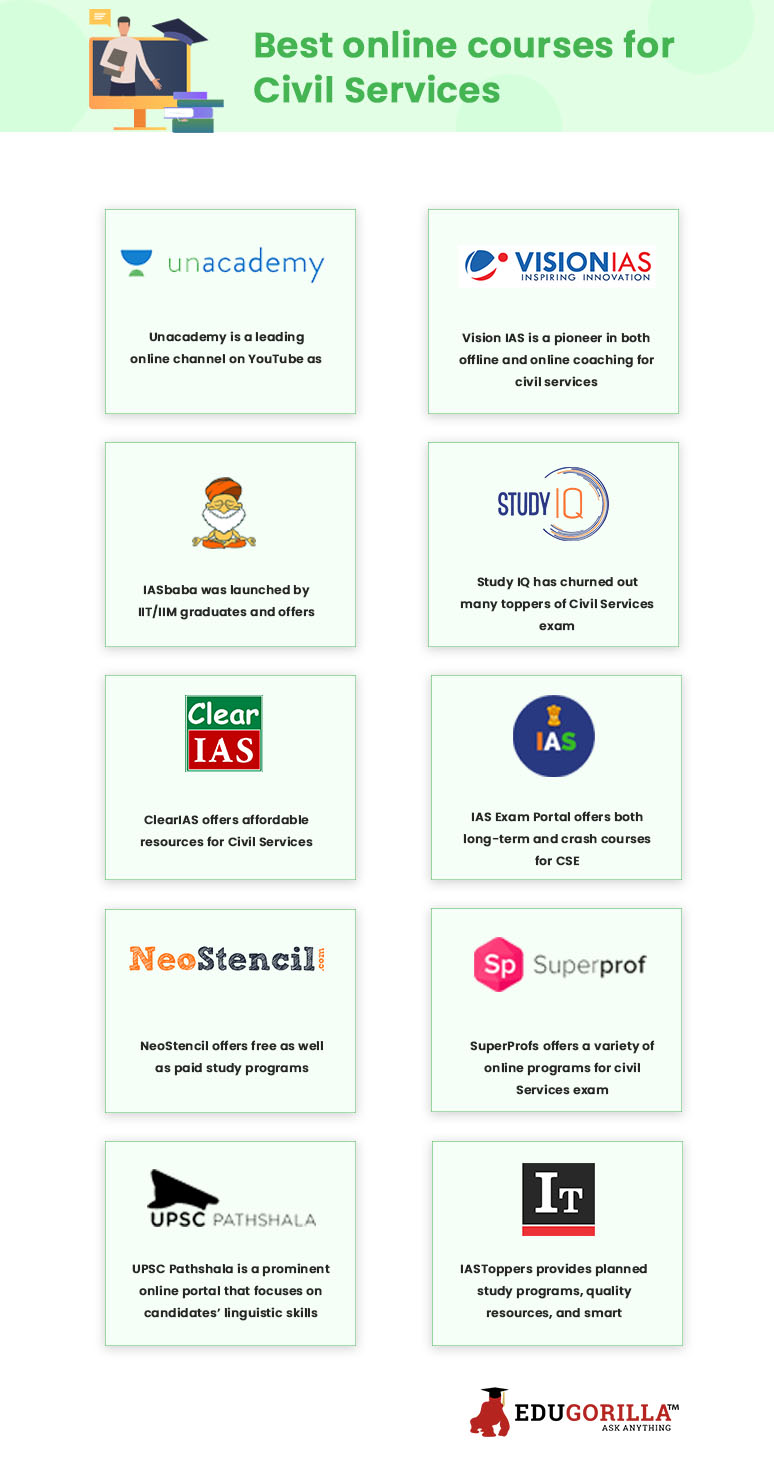 IAS Exam Portal is one of the largest online community for Civil Services preparation. It provides the best tools and online courses for Civil Services. These lessons and courses guide the students through the entire intricacies of these entrances. The website is managed and run by a team of dedicated educators who offer a mine of information for all the stages of the exam.
The website is updated frequently, and new and updated resources are added to it. Thus, students get to discover updated and regulated content on IAS Exam Portal. In addition to online courses for Civil Services, the portal also offers currents affairs, news updates, and quizzes. It is entirely dedicated to the students, especially the ones from rural areas.

If you are looking for reliable online courses for Civil Services preparation, then NeoStencil can be an ideal destination for you. NeoStencil solves the problem of accessibility to education by providing live streaming of regular IAS classes. Thus, the students need not quit their jobs or relocate to metros for getting a good quality education.
NeoStencil offers free as well as paid online courses for Civil Services exam. The free version includes study material, free coaching, current affairs, important questions, workshops, videos, mocks, quizzes, and a lot more. The paid packages are available in a variety of modules and include foundation courses, general studies, optional, current affairs, and test series. NeoStencil's online courses for civil Services have churned out a lot of toppers and is one of the most reliable online study platforms.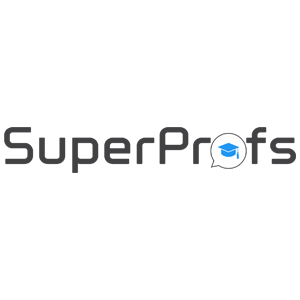 Founded in 2014, SuperProfs is one of the most popular providers of online courses for Civil Services preparation. It brings one of the best online classes from coaching centers to smartphones. SuperProfs provides on-demand as well as live videos with an ample number of solved questions and PDF notes. Their quality of content is supreme and is based on the prescribed syllabus.
Besides, the students also get access to Q&A and live chat sessions to interact with the faculty. SuperProfs also gives the students the facility of clearing their doubts through calls, emails, and WhatsApp. The instructors carry years of experience and are available 24*7. These online courses for Civil services are available in a variety of modules like current affairs package, optional subjects' package, CSAT package, comprehensive plans, etc.

A prominent leader in the sphere of online Civil Services coaching, UPSC Pathshala runs a variety of online courses for Civil Services / UPSC exams that have been developed to cater to the students, in the best possible manner. UPSC Pathshala's online courses for Civil Services / UPSC range from the Foundation Course, Inception Course, to Mains Rank Booster Course, and a customized course for focussing on improving candidate's linguistic skills in Hindi, by the name of UPSC Hindi. Moreover, there are customized courses for Sociology and Geography.
UPSC Pathshala also hosts an online test series that entails different revision and mock tests, prelims test series, and mains test series. Similarly, UPSC Pathshala's reservoir of videos contains highly educative study material for disciplines like GS I, GS II. GS III, Current Affairs, Preparation Tips, CSAT, UPSC Hindi, and others.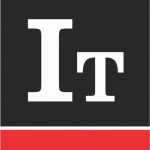 IASToppers is an authenticated online platform dedicated to the preparation of Civil Services exam. The portal provides online courses for Civil Services as well as a series of highly useful resources at affordable prices. The courses follow a comprehensive and result-oriented approach to study and simplify the rigorous CSE syllabus.
The website offers a host of study programs for Civil Services like Gist of Magazines, Current Affairs analysis, weekly debates and essays, video summaries, flashcards on current and conventional topics, simplified editorials, and a lot more. The Civil Services exam requires a planned study, quality resources, and smart guidance. The online courses for Civil Services offered by IASToppers provide it all.
Why are online courses for Civil Services the 'need' of the hour?
Times are changing and so is the lifestyle of the people. Students nowadays don't prefer spending lakhs of rupees on food and accommodation just to access quality coaching. The online courses save these unnecessary expenses. The online courses are cost-effective, time-saving, and comprehensive at the same time. They harness technology to provide the best quality education and conveniently fit into the pocket. In a time when you can order even a cup of tea online, why not access education through it?
Also check : The best 5 IAS coaching institutes to aid your preparation
Frequently Asked Questions (FAQs) about Online Courses for Civil Services
What is meant by the validity of Online Courses for Civil Services?
The online courses for Civil services come with a defined validity. The videos are encrypted according to it and don't play once the validity is over.
Is it actually possible to crack IAS and IPS through theses online courses for Civil services?
None of the coaching institutes and online courses are solely responsible for your selection in a competitive exam. It majorly depends on your hard work and determination. So, the online courses for civil services are as efficient as any regular classroom coaching.
Are short-term online courses for Civil Services as useful as the year-long programs?
The different modules of online courses for Civil Services cater to different categories of students. The ones who start from scratch should enroll for year-long programs and those who need just practice and brushing up can go for short-term courses.
Do these online courses for Civil Services offer previous years' UPSC papers?
Different online courses for Civil Services offer different features and inclusions. it depends on the course and program you are opting for. However, most of them provide previous years' papers in the package.
Can a student pay the fee of the online courses for Civil Services in installments?
Most of the portals have the option of fee payment in installments. However, you should confirm it before subscribing to an online course.
You Might Want To Read:
Sathyabhama University B Tech Applied Physics Mock Test Paper 13, Problems Faced When Studying Outside Hometown, Ignou To Launch Culinary Institute By 2012, Banaras Hindu University Premedical Test Bhu Pmt Sectional Test, Advanced, Nvs Pgt English Sample Paper, Top It Conferences In Canada For It Students For The Year 2019, Sof National Science Olympiad 5, Ugc Net July 2016 Paper 2 Archeology, Udaan School Of Photography Mumbai Bombay