Best 5 SSB coaching institutes in Kanpur
Date : July 27, 2019
Being a Defence officer in any country is the most respectable job one could opt for. The selection to the Defence forces becomes difficult as the candidates have to qualify various stages of examination. There are two stages of selection to the Defence forces in India first is the written exam and the second is the SSB interview. Previously, there have always been many Defence aspirants from Kanpur who have helped in making the country a safer place. In the process of nurturing them and making commendable candidates, the SSB coaching institutes in Kanpur have played a major role. They have guided them appropriately paving way for their selections.
Selection Service Board or SSB is a screening test for candidates aspiring to enter the Defence services and is held over a time span of 5-7 days. It is a compilation of a series of intelligence tests, interviews, and personality tests. The vast range of challenging tasks that a candidate could be faced with. These tasks are given to check various attributes of the candidates including the physical aspect. All the candidates aspiring to enter the Indian Armed Forces, except for the medical corps, are required to qualify SSB. The various rounds of this interview are taken by people like psychologists, GTO's and interview officers.
Now, let's move on to learn about the details of SSB and know why it is a 5-7 day process -
Day 1 – the candidates are called in with their documents for verification. There is a verbal and non-verbal reasoning test followed by a Picture Perception and Description Test (PPDT). after the result of the first day, some candidates are disqualified.
Day 2 - a Thematic Apperception Test (TAT) or picture story writing is conducted which is like PPDT. There is also a Word Association Test. there is also a self-description test wherein questions about the candidate's family are asked.
Day 3 and 4 – there are tasks involving group activities to assess leadership and fellowship qualities. A GTO conducts an interview of each candidate based on the personal information sheets they fill on the 2nd, 3rd and 4th day.
Day 5, final assessment and results are announced, and all the remaining supposed to be in their proper uniform.
These SSB coaching institutes have made sure to keep in mind that there should be no compromises when it comes to educating the youth aspirants for Defence. There are some coaching institutes which constantly make efforts for upgrading their facilities so that the candidates are not let down. This has made them rank amongst the best 5 SSB coaching institutes in Kanpur.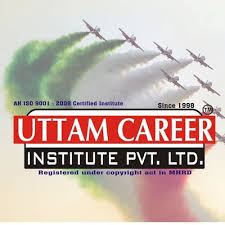 Accompanied by highly trained personnel, Uttam Career Academy has become the success partner of many meritorious SSB qualifiers. The faculty members have previously been SSB presidents and GTO's, they have been aiding for all the phases of SSB including the ones concerned with physical training. They come up with new ways of guiding the student to do better every day. Many students have been selected in the institutes of their choice consistently over the years. As a result, they have become one of the best SSB coaching institutes in Kanpur.

Features
Various outdoor tasks for better development.
Small batches for better attention and understanding.
Provision of outdoor training.
With an experience of many years, this SSB coaching institute aims at becoming your success partner. They also aid in exams like NDA, CDA and Bank PO. Over the years they have given the country various members of the Defence. This has led them to be counted as one of the best SSB coaching institutes in Kanpur. The faculty for SSB at Global Career Academy comprises the Ex-assessors from different SSB offices in the country. The faculty make sure of providing expert training which makes their students hit the bullseye in one go. In fact, they are famous for the same.

Features
The medium of instruction is bilingual.
Regular conduct of doubt classes
Facility of physical training.
Organization of free workshops.
Various tasks to develop the qualities of fellowship and teamwork.

Offering a result driven approach for courses like SSB, CDS and bank exams, Zentex has guided many students through the gates of their desired institutions. The assistance that they have provided the scholars has made them rank amongst the best SSB coaching institutes in Kanpur. The reason behind this mention is the tireless striving of the faculty panel. They aim at providing such excellent study material and training that the students should achieve their aim at once. There have been many selections in the previous years which have boosted the confidence of the teachers to work better.

Features
Regular doubt classes to ensure no one is left behind.
Small batch sizes to give individual attention.
Various group tasks are given to boost teamwork.
Fill this form and get best deals on "SSB Coaching classes"
100% genuine institutes aiming to help you ace studies
Get immediate response from the institutes
Compare institutes and pick only the best!
Feel free to choose the institute you like, and rest will be taken care of

Established with the view of providing education for the Defence forces to the financially backward sections of the society New Defence Academy has come a long way. Since its inception, it has given quality guidance to all its pupils impartially and has become one of the best SSB coaching institutes in Kanpur. The highly experienced personnel focus on the all-round development of the candidates. This has led them to become one of the most desirable SSB coaching institute in Kanpur. They provide special guidance for English proficiency. They also aid in NDA, CDS and Airforce entrances.

Features
Weekend batches are available.
Technologically updated classes.
Personality development classes.
Regular monitoring of the candidate's health.
With a professionally designed study material, Accord Career Institute aims a being a pitstop for SSB aspirants. Time and again, the students of this SSB coaching institute have given remarkable results. These constantly increasing results have led them to be acknowledged as one of the best SSB coaching institutes in Kanpur. at Accord Career Institute, the main aim is to make sure that they provide the country with disciplined and organized Defence officers. In order to make sure that the students are not demotivated at any time, there are various motivational lectures.

Features
Affordable fee structure.
Various opportunities to develop one's personality.
Regular mock tests are conducted.
Different tasks to instill confidence and a feeling of individuality in the students.
Strict policies regarding discipline.
This post was created with our nice and easy submission form. Create your post!
Comment