How can we forget the cute and charming characters of Beauty and the Beast, Finding Nemo, The Little Mermaid, Shrek, A Bug's Life, The Incredible, and so on? Yes, we are talking about the exciting world of multimedia and animation. It won't be wrong to say that a good animated movie or an appealing animated ad attracts the eyeball of not only children but also their older counterparts.
Multimedia and Animation Industry
The multimedia and animation industry is growing by leaps and bounds, and today a career in multimedia and animation is one of the most sought-after career options for those who love to create magic by adding life to images and turning them into living characters. With competitive salaries, exciting career growth and an amazing opportunity to showcase your creativity and skills, a career in this field could be a good choice for today's youth. With movies like Kung Fu Panda, Ice Age, Baahubali, Sultan, Fan, Shivaay, M. S. Dhoni and others becoming a rage among kids and youths alike, the prospects of the industry look bright. Get to know the creative potential of animation in education.
A career in Multimedia and Animation
A job in multimedia and animation can be described as the art of giving images new dimensions and meaning or adding life to images and turning them into real characters. In other words, you can say that it is a blend of the technology and entertainment industries, and is mainly concerned with layout, drawing, design, and creation of graphically rich and appealing multimedia clips.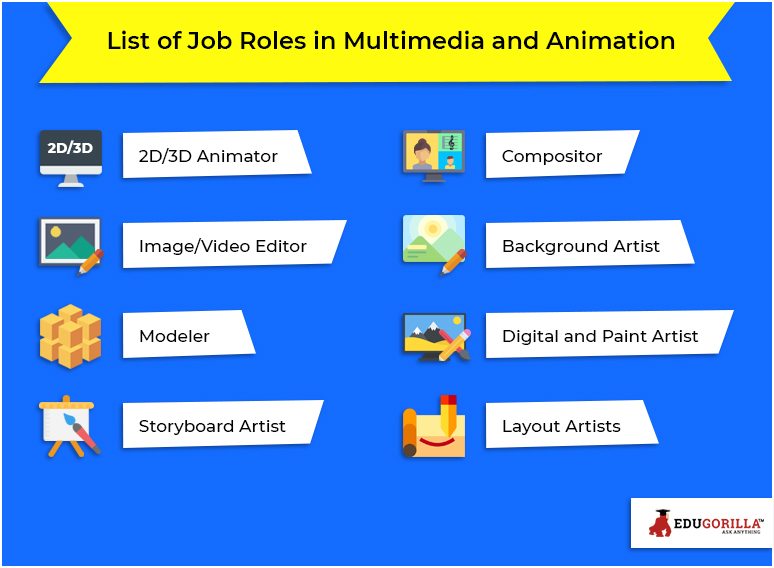 Here's a Complete List of Job Roles in Multimedia and Animation:
2D/3D Animator
Compositor
Image/Video Editor
Background Artist
Modeler
Digital and Paint Artist
Storyboard Artist
Layout Artist
Skills and Aptitude Required for Getting a Job in Multimedia and Animation 
You should have some good sketching skills and an insatiable passion for multimedia and animation. For better job prospects, learning animation & multimedia from any good institute would really help.
Courses in Multimedia and Animation
Here are some popular courses you can opt for to step into the world of animation. Kindly note that different institutions have different eligibility criteria for multimedia and animation courses. We always suggest that young aspirants confirm their eligibility criteria with the institution concerned before applying.
Advance Program in Animation Film Making
Professional Programs in 3D Animation
Advance Program in Animation & VFX
Certificate Courses in Multimedia
Salaries of Animators 
Trainees or junior animators could get a salary between INR 10,000 and 15,000 per month, while professionals having three to five years of experience could earn between INR 30,000 to 55,000 per month. A person proficient in multimedia and animation could easily get a salary package of INR 8-9 lakh per annum. Also read, The new generation films– VFX, CG & Animation.
If you are planning to step into the amazing world of multimedia and animation, there is no better time than now to enroll for multimedia and animation courses from a good institute.
You Might Want To Read:
Bachelor Of Computer Sciencebcs Mock Test Paper 7, Upsc Ies Iss General Economics Paper Iv Question Paper 2015, Ugc Net Telugu Mock Test Paper 9, Ssc Je Exam 2017 18, Fashion Designing Definition Career Path Colleges Jobs Salary, Physiology Question Paper 6 2007, Coach In Life, Biochemistry, My Dream World, Aeee 2018 Eligibility Criteria
Leave your vote
This post was created with our nice and easy submission form. Create your post!