The job of a psychologist is one of the most significant professions of the society. People are often vulnerable to various adverse psychological factors like stress, anxiety, depression, and other mental disorders. Study of Psychology helps people to effectively deal with all these issues, enabling them to find solutions to their personal, mental, and social problems.
There are two educational qualification levels of this job, namely Bachelor's and Master's degrees. Master's Degree implies a complete post-graduate-level degree that can be gained only after three or four years of studies, after completing bachelor's. Master's Degree enables graduate students to successfully grow along with their career paths in this field and hold senior positions in companies. Students can also opt for higher degrees at the doctorate level.
Learning program of Psychology
In order to reveal where Bachelor's graduates in Psychology can work in the future, first, it is necessary to highlight what they can study in Psychology. Specifically, the learning program of this department is focused on major psychological and scientific concepts, developing critical thinking, and mastering the industrial-organizational psychology. This program also involves learning of human relationship and well-being, and it is aimed at developing the employability of its graduates.

Psychology as a Social Science
As a social science, Psychology is based on scientific methods. In essence, learning program of Psychology Faculty implies numerous theoretical and practical researches that consequently enable students to effectively investigate, analyze, and evaluate the set issues and interpret statistical outcomes. These skills are extremely useful to each graduate student since they foster their future career success. In particular, scientific methods of this discipline are divided into correlational, descriptive, experimental and archival researches, case studies, computer simulation, event sampling methodology, content, and meta-analysis.
Descriptive Psychological Research
The focus is on developing the image of the human feelings, thoughts, and behaviors. The experimental study implies the examination of the psychological hypothesis. The archival research is based on the data collection from archives to implement required psychological research. Having mastered major psychological research methods, the student gains important skills in analyzing and evaluating human identities and discovering required actions for treating therapies.  The study consists of conducting and writing a lot of research work and papers. However, if you found it difficult to complete writing assignments, then visit the artscolumbia.org to find or order a lot of essay samples.
Critical thinking
It is the next important aspect that the Psychology Department tends to develop in its students. All psychological research methods and principles are focused on making the investigator think critically. A specific case requires critical thinking. This helps to accurately evaluate the specific case and develop its appropriate resolution.
Industrial-organizational Psychology
The course of the industrial-organizational psychology teaches students organizational behavior. They learn to comprehend the personal features and behaviors of employees in the workplace. Understanding the psychology of the individual's behavior enables graduates to successfully pass a job interview and gain the desired position. Also, this knowledge helps future psychologists to evaluate the personal ability of the employee to hold a specific position. It also helps to identify whether a worker is mentally prepared to perform the role of a manager or supervisor.
There is quite a popular assumption that graduates of Psychology can work only as psychologists. On the contrary, this course is so versatile that people with this qualification can successfully work in fields such as law, commerce, education, social services, and other business activities. By behavior analysis of people, one can easily get along with them, which is an important aspect of almost every prestigious profession.
Career Opportunities or Psychology Jobs

The Bachelor's degree in this area of expertise also offers numerous career opportunities.  A large number of students who complete their studies in educational institutions being undergraduate, start wondering "What can I do with a Bachelor's Degree in Psychology?".
Social Service Specialists
Social service positions closely relate to Psychology field since they imply a direct work with people of distinct age, personalities, and physical abilities. These jobs include important skills as keeping records about clients, addressing their needs, and expressing empathy for them. These are the major professional skills of each psychologist. Undergraduate students can regularly improve these skills working in the field of social services.
Teachers
The majority of primary and secondary schools require a Psychology Degree from the applicants on teachers' positions. That is because teachers with psychology degree are qualified enough to find an individual approach to each student. It is easy for them to operate disciples' behaviors, and organize the learning process in the classroom.
Child Care Workers
Degree in Psychology is also critically important for jobs involving children and toddlers.  While working with toddlers child care workers have to foster their intellectual development and provide them with mental support.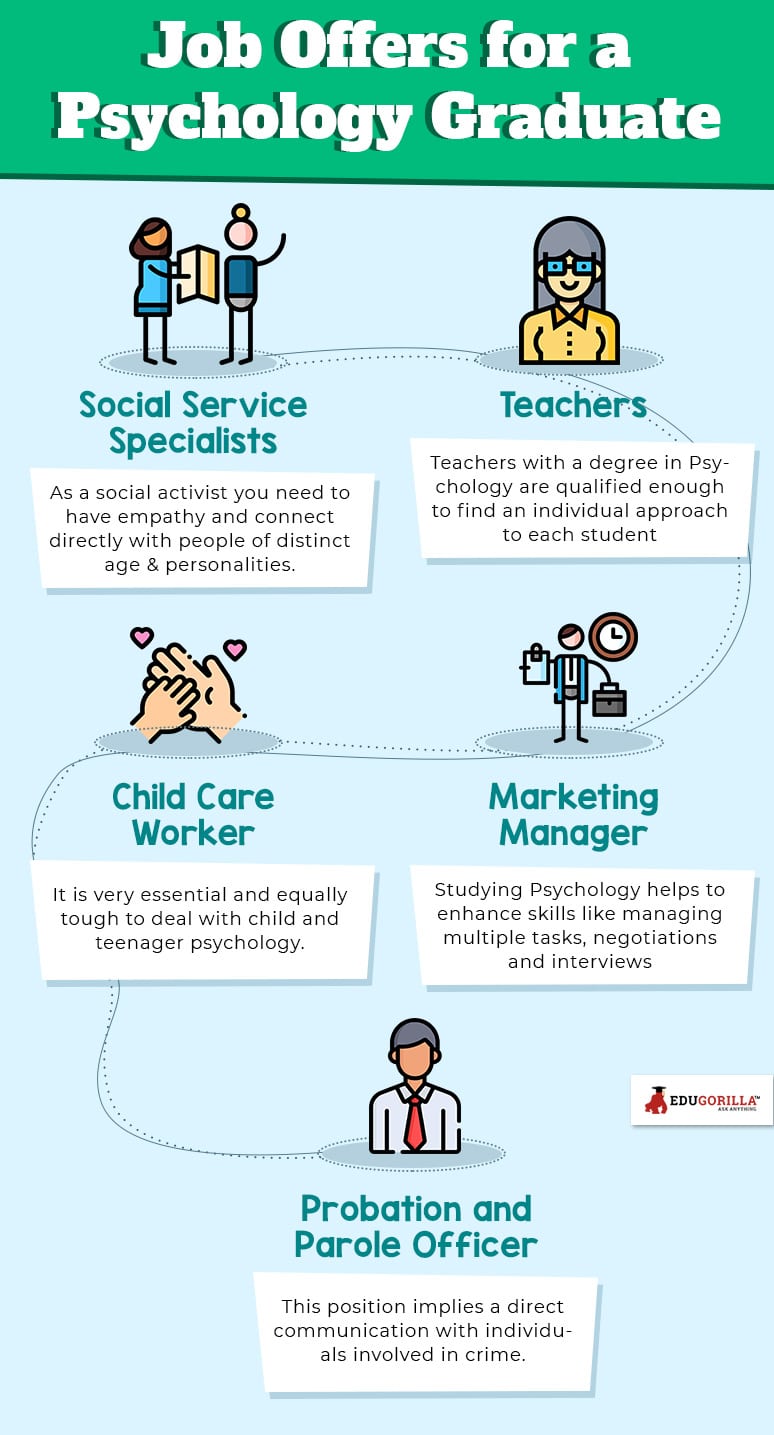 Marketing Manager
This position also completely fits the skills of students with a Bachelor's Degree in Psychology. Marketing Specialists are responsible for multiple business tasks. Hence they have tasks such as performing opinion polls, conducting negotiations, interviews, collecting data and handling results. Studying Psychology offers training to undergraduates in all these areas of work.
Probation and Parole Officer
Parole officers directly communicate with individuals of difficult behaviors involved in committing criminal acts. This profession strictly requires specialists with major knowledge of Psychology. The probation and parole officers are responsible for observing offenders' behaviors at home, work, school. On the basis of this, they give recommendations to the courts and negotiating with therapists.
You Might Want To Read:
Madhya Pradesh Pre Agriculture Test Mppat Practice Test, Net Konkani Question Paper 2, Aipmt Physics Mock Test Paper 6 2012, Chemistry Question Paper 2, Types Of Exams Conducted By The Staff Selection Commission Ssc, Rao Iit Syjc Xii Appearedpassed Students, Sub Inspector Physical Test, Mhcet Human Health Diseases Notes 2017, Cgpsc Question Answer Paper 2014 38, Really Works Will Way
Leave your vote
This post was created with our nice and easy submission form. Create your post!