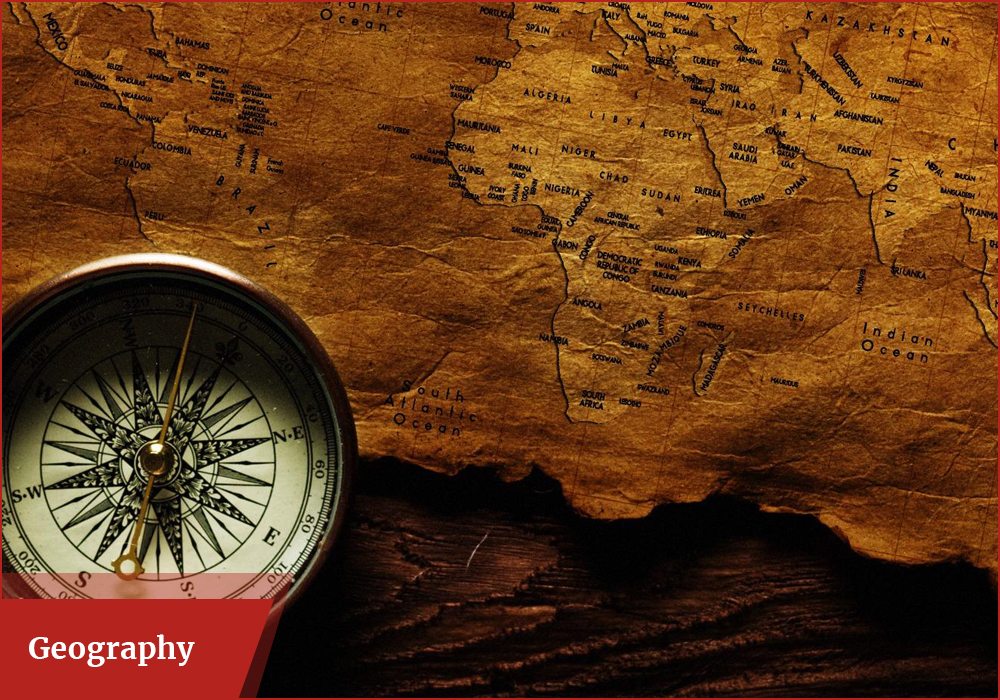 Definition
"I like geography best, he said, because your mountains & rivers know the secret. Pay no attention to boundaries". ~Brian Andreas
"GIS is waking up the world to the power of geography, this science of integration, and has the framework for creating a better future." ~Jack Dangermond
"I like geography. I like to know where places are." ~Tom Felton
Geography a field of science devoted to the study of the lands, the features, the inhabitants, and the phenomena of Earth. Geography is an all-encompassing discipline that seeks an understanding of the Earth and its human and natural complexities—not merely where objects are, but how they have changed and come to be.
Geography is often defined in terms of the two branches of human geography and physical geography. Human geography deals with the study of people and their communities, cultures, economies and interactions with the environment by studying their relations with and across space and place. Physical geography deals with the study of processes and patterns in the natural environment like the atmosphere, hydrosphere, biosphere, and geosphere.
Geographers typically do the following:
Gather geographic data through field observations, maps, photographs, satellite imagery, and censuses.
Use quantitative methods, such as statistical analysis, in their research.
Use qualitative methods, such as surveys, interviews, and focus groups, in their research.
Create and modify maps, graphs, diagrams, or other visual representations of geographic data.
Analyze the geographic distribution of physical and cultural characteristics and occurrences.
Use geographic information systems (GIS) to collect, analyze, and display geographic data.
Write reports and present research findings.
Assist, advise, or lead others in using GIS and geographic data.
B.A. in Geography
Level
Under-Graduate
Duration
3 years
Eligibility
10+2 or Equivalent qualification in the Arts/Social Science stream
Entrance Exam
--
Specialization
--
Average Course Fee
₹4,500 to ₹1,50,000
Mode
Regular
Goal
Urban and Regional Planners, Remote Sensing Specialists etc.
B.A. (Hons.) Geography
Level
Under-Graduate
Duration
3 years
Eligibility
10+2 or Equivalent qualification in the Arts/Social Science (Geography) stream
Entrance Exam
BA (Hons) Entrance Examination of Delhi University
Specialization
--
Average Course Fee
--
Mode
Regular
Goal
Subject Matter Expert, Unit Sales Manager etc.
M.A. in Geography
Level
Post-Graduate
Duration
2 years
Eligibility
Graduation with Honors in Geography or Geography
Entrance Exam
JNU M.A (Geography) Entrance Exam
Specialization
Environmental Science, Earth Science, Human Geography etc.
Average Course Fee
₹3,000 to ₹1,00,000
Mode
Regular
Goal
Geographer, Cartographer, Demographer etc.
Abbas Khan College for Women
Abdul Aziz Ansari Degree College
Abeda Inamdar Senior College
Abhay Pratap Singh Degree College
Acharya Vinoba Bhave PG College
Achhruram Memorial College
Adarsh Mahavidyalaya, Maharashtra
Andhra University, Visakhapatnam
Bajali College
Banaras Hindu University (BHU), Varanasi
Banasthali Vidyapith
Bansur P.G. College
Bastar Vishwavidyalaya
Chaudhary Bansi Lal University
CMJ University, Shillong
DAV College, Kanpur
Loyola College, Chennai
Presidency University, Kolkata
St. Xavier's College, Ranchi
University of Allahabad, Allahabad
Top Colleges for Geography
---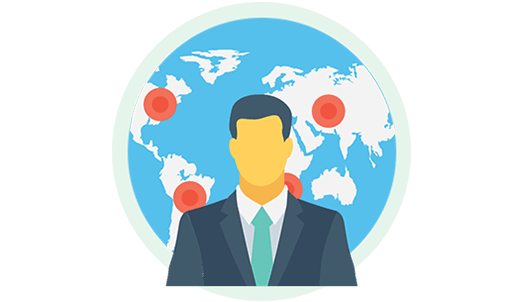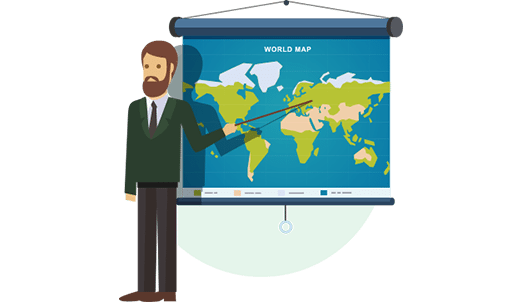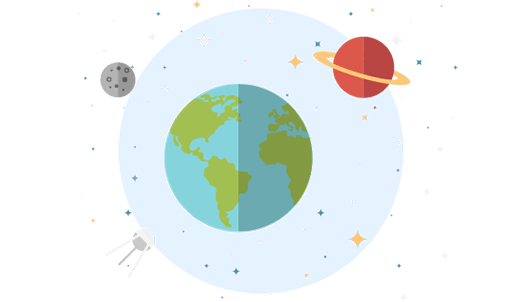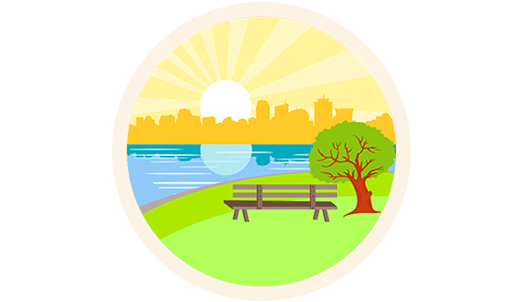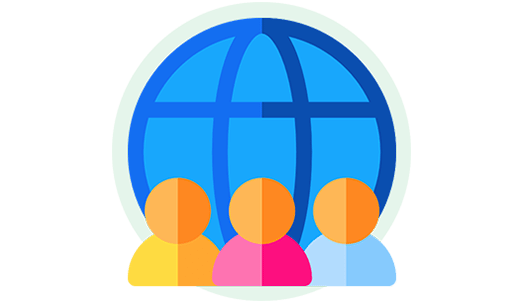 Geography Career Prospects
---
Geographer
Map Consultant
Subject Matter Expert
Unit Sales Manager
Demographer
GIS & Remote Sensing Specialist
Urban and Regional Planner
Cartographer
Oil Drilling Company
GIS (Geographic information system)
Gas Exploration Company
Solid Waste Disposal
Residential Surveying Agency
Gas Exploration Company
Government Research Institute
In the field of geography, a qualified person can expect a starting salary somewhere around ₹9,000 to ₹15,000 per month. After a couple of months or years, it may vary as per the gained skills and experience.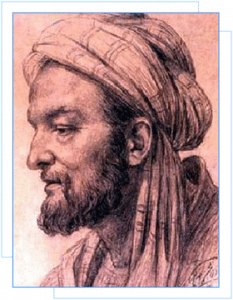 Muhammad al-Idrisi
Muhammad-Al-Idrisi also known as Abu Abd Allah Muhammad al-Idrisi al-Qurtubi al-Hasani al-Sabti was a Muslim cartographer, geographer, traveler and Egyptologist famous for his travels all over Europe, Africa and Asia and mapping the regions he travelled in. Al-Idrisi incorporated the knowledge of Africa, the Indian Ocean and the Far East gathered by Islamic merchants and explorers and recorded on Islamic maps with the information brought by the Norman voyagers to create the most accurate map of the world in pre-modern times, which served as a concrete illustration of his Kitab nuzhat al-mushtaq, (Latin: Opus Geographicum), which may be translated A Diversion for the Man Longing to Travel to Far-Off Places. The Tabula Rogeriana was drawn by Al-Idrisi in 1154 for the Norman King Roger II of Sicily, after a stay of eighteen years at his court, where he worked on the commentaries and illustrations of the map. The map, with legends written in Arabic, while showing the Eurasian continent in its entirety, only shows the northern part of the African continent and lacks details of the Horn of Africa and Southeast Asia. The compilation of Edrisi marks an era in the history of science. Not only is its historical information most interesting and valuable, but its descriptions of many parts of the earth are still authoritative. For three centuries geographers copied his maps without alteration. The relative position of the lakes which form the Nile, as delineated in his work, does not differ greatly from that established by Baker and Stanley more than seven hundred years afterwards, and their number is the same. The mechanical genius of the author was not inferior to his erudition. The celestial and terrestrial planisphere of silver which he constructed for his royal patron was nearly six feet in diameter, and weighed four hundred and fifty pounds; upon the one side the zodiac and the constellations, upon the other-divided for convenience into segments-the bodies of land and water, with the respective situations of the various countries, were engraved.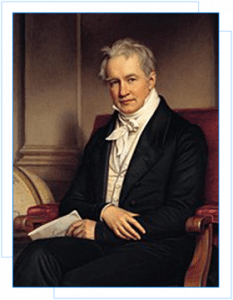 Alexander von Humboldt
Friedrich Wilhelm Heinrich Alexander von Humboldt was a Prussian geographer, naturalist, explorer, and influential proponent of Romantic philosophy and science. He was the younger brother of the Prussian minister, philosopher, and linguist Wilhelm von Humboldt (1767–1835). Humboldt's quantitative work on botanical geography laid the foundation for the field of biogeography. Humboldt's advocacy of long-term systematic geophysical measurement laid the foundation for modern geomagnetic and meteorological monitoring. Between 1799 and 1804, Humboldt travelled extensively in Latin America, exploring and describing it for the first time from a modern scientific point of view. His description of the journey was written up and published in an enormous set of volumes over 21 years. Humboldt was one of the first people to propose that the lands bordering the Atlantic Ocean were once joined (South America and Africa in particular). Humboldt resurrected the use of the word cosmos from the ancient Greek and assigned it to his multi-volume treatise, Kosmos, in which he sought to unify diverse branches of scientific knowledge and culture. This important work also motivated a holistic perception of the universe as one interacting entity. He was the first person to describe the phenomenon and cause of human-induced climate change, in 1800 and again in 1831, based on observations generated during his travels. Humboldt graduated from the Freiberg School of Mines in 1792 and was appointed to a Prussian government position in the Department of Mines as an inspector in Bayreuth and the Fichtel mountains. Humboldt was excellent at his job, with production of gold ore in his first year outstripping the previous eight years.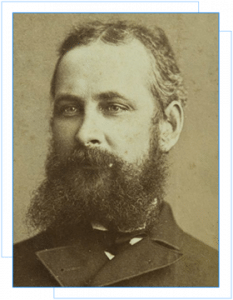 Arnaldo Faustini
Arnaldo Faustini was an Italian polar geographer, writer, and cartographer. He is considered by some to be the first South European polar specialist. Born in Rome, he received his doctorate at the University of Rome at the age of 21. Faustini worked at a newspaper based in Rome as scientific editor. He had a special interest in polar subjects, and published 19 books on polar subjects in his native Italian. He also wrote numerous articles. Among the polar explorers Faustini knew personally were Roald Amundsen, Ernest Shackleton, Robert F. Scott, and Adrien de Gerlache, of the Belgian Antarctic Expedition. Faustini translated into Italian De Gerlache's French language account of his voyage. Faustini also drew the map of the area explored by the Belgians. In gratitude, De Gerlache gave him the flag from the expedition's ship, the SS Belgica. The polar explorer Augustus Greely invited Faustini to the United States in 1915 for a lecture tour. While lecturing at Columbia University, Faustini met Amelia Del Colle, who later became his wife. Faustini's interests were wide-ranging. In an unpublished 1918 manuscript entitled Catalogo Descrittivo di Ponti ed Archi Naturali ("Descriptive Catalog of Natural Bridges and Arches"), Faustini wrote: "Completed under every standpoint, for a future, eventual publication – text, topographical sketches, illustrations, contents, indexes, etc., that I think to be my greatest work of physical geography." He was fluent in French, English, Spanish and Russian and understood Greek. The crater Faustini on the Moon is named after him. His papers on the Arctic and Antarctic are held in the Archives of the Istituto Geografico Polare "Silvio Zavatti" (Zavatti Polar Institute) in Fermo.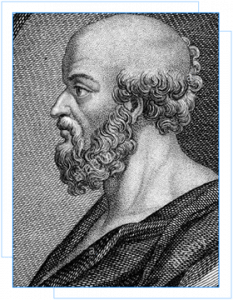 Eratosthenes
Eratosthenes of Cyrene was a Greek mathematician, geographer, poet, astronomer, and music theorist. He was a man of learning, becoming the chief librarian at the Library of Alexandria. He is best known for being the first person to calculate the circumference of the Earth, which he did by comparing altitudes of the mid-day sun at two places a known North-South distance apart. His calculation was remarkably accurate. He was also the first to calculate the tilt of the Earth's axis (again with remarkable accuracy). Additionally, he may have accurately calculated the distance from the Earth to the Sun and invented the leap day. He created the first map of the world, incorporating parallels and meridians based on the available geographic knowledge of his era. Eratosthenes was the founder of scientific chronology; he endeavored to revise the dates of the chief literary and political events from the conquest of Troy. Eratosthenes dated The Sack of Troy to 1183 BC. In number theory, he introduced the sieve of Eratosthenes, an efficient method of identifying prime numbers. He was a figure of influence in many fields. According to an entry in the Suda (a 10th-century reference), his critics scorned him, calling him Beta (the second letter of the Greek alphabet) because he always came in second in all his endeavors. Nonetheless, his devotees nicknamed him Pentathlos after the Olympians who were well rounded competitors, for he had proven himself to be knowledgeable in every area of learning. Eratosthenes yearned to understand the complexities of the entire world.
[contact-form-7 id="50221" title="Sidebar Contact form"]