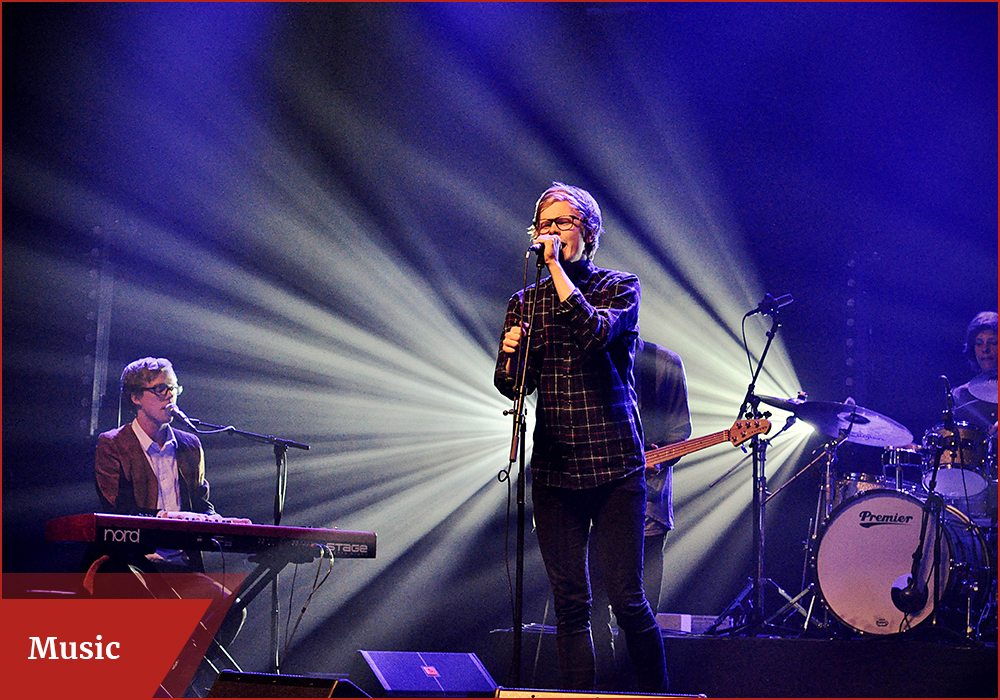 Definition
"Musicians want to be the loud voice for so many quiet hearts," –Billy Joel
Music is an art form and cultural activity whose medium is sound organized in time. The common elements of music are pitch, rhythm, dynamics and the sonic qualities of  texture. Different styles or types of music may emphasize, de-emphasize or omit some of these elements. Music is performed with a vast range of instruments and vocal techniques ranging from singing to rapping; there are solely instrumental pieces, solely vocal pieces and pieces that combine singing and instruments.
Music in India:
The music of India includes multiple varieties of Indian classical music, folk music, filmi and Indian pop. India's classical music tradition, including Hindustani music and Carnatic, has a history spanning millennia and developed over several eras. Music in India began as an integral part of socio-religious life.
Post Graduate Diploma in Music
Level
Post-Graduate
Duration
2 Years
Eligibility
Graduation
Entrance Exam
--
Specialization
--
Average Course Fee
₹ 15,410 (Total Fees)
Mode
Regular
Goal
As a freelance artist, Music Teacher, Music Composer
B.A. (Bachelor of Arts) Music
Level
Under-Graduate
Duration
3 years
Eligibility
10 + 2 or equivalent
Entrance Exam
--
Specialization
--
Average Course Fee
Approx. ₹ 6,050
Mode
Regular
Goal
As a freelance artist, Music Teacher
Andhra University, Visakhapatnam
Annamalai University, Tamil Nadu
Asian Academy of Film & Television (AAFT), Noida
Bangalore University
Bengal Music College, Kolkata
Government Music College, Tripura
Indira Kala Sangit Vishwavidyalaya, Khairagarh
Lovely Professional University, Jalandhar
Mumbai Music Institute, Mumbai
Raja Mansingh Tomar Music and Art University, Bhopal
Sangeet Natak Akademi, New Delhi
University of Calcutta, Kolkata
Scholarship / Fellowship in Music
---
The Global Indian Music Academy Awards
The MTV Immies Award
Mirchi Music Awards
The Lata Mangeshkar Award
Sangeet Natak Akademi Puraskar Award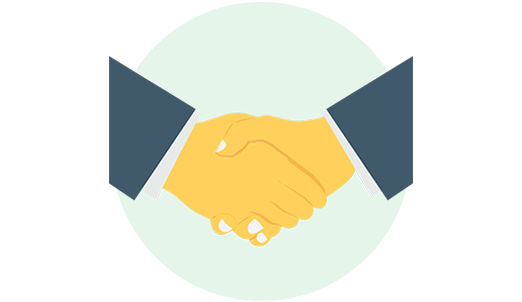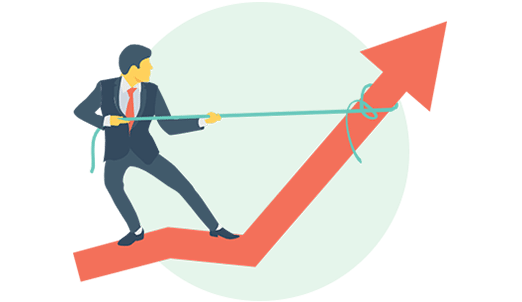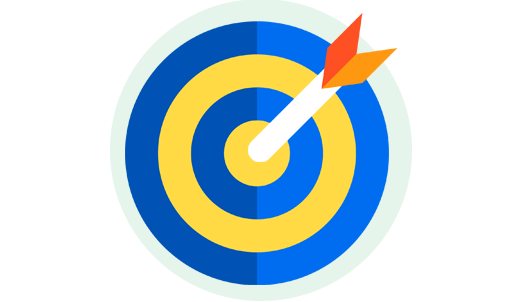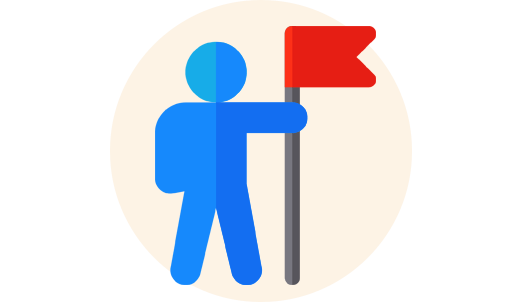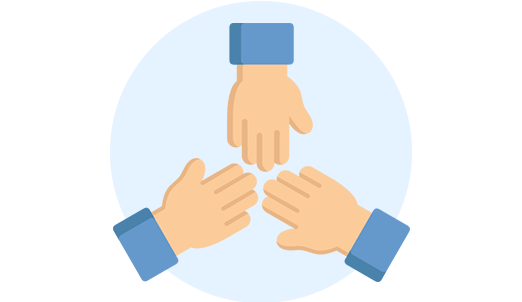 As a freelance artist
In collaboration with others
Music Teacher
Music Composer
Sound Editor
Music Therapist
Rock Star
Music Director
Music Journalist
As a salaried member of : A Band, A Choir, A Theatrical Ensemble, An Opera Company, An Orchestra
Music Companies
Radio Stations
Advertising
Music Groups
Music Industry
Salaries vary enormously depending, for example, on whether you're working freelance or as a part of an orchestra.
Sound editors can earn anywhere from ₹ 10,000 to 50,000 per-month subject to one's talent and experience.
RJs can earn around ₹ 30,000 per-month, fresh graduates, aspiring to become RJs, can command anywhere between Rs10,000 and ₹ 15,000 per-month.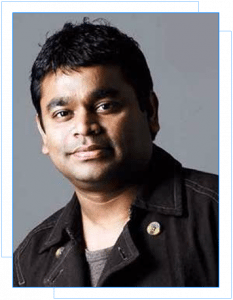 A. R. Rahman (Allah-Rakha Rahman)
A. R. Rahman, is an Indian composer, singer-songwriter, music producer, musician and philanthropist. A. R. Rahman's works are noted for integrating Indian classical music with electronic music, world music and traditional orchestral arrangements. Among his awards are four National Film Awards, two Academy Awards, two Grammy Awards, a BAFTA Award, a Golden Globe, fifteen Filmfare Awards and sixteen Filmfare Awards South. He has been awarded the Padma Bhushan, the third highest civilian award, in 2010 by the Government of India. In 2009, Rahman was included on the Time 100 list of the world's most influential people. The UK-based world-music magazine Songlines named him one of "Tomorrow's World Music Icons" in August 2011. Rahman's work have earned him the honorific nickname of "The Mozart of Madras", and "Isai Puyal" (English: the Musical Storm).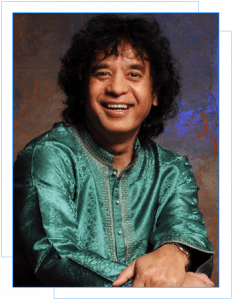 Zakir Hussain
Zakir Hussain is an Indian tabla player in Hindustani classical music, musical producer, film actor and composer. He was awarded the Padma Shrii in 1988, and the Padma Bhushan in 2002, by the Government of India. He was also awarded the Sangeet Natak Akademi Award in 1990, given by the Sangeet Natak Akademi, India's National Academy of Music, Dance & Drama. In 1999, he was awarded the United States National Endowment for the Arts' National Heritage Fellowship, the highest award given to traditional artists and musicians. Hussain was born to the legendary tabla player Alla Rakha. He attended St. Michael's High School in Mahim, and graduated from St. Xavier's, Mumbai. Hussain was a child prodigy. His father taught him Pakhawaj from the age of 3 years. Zakir's father Alla Rakha belonged to the tradition of tabla-playing known as the Punjab baaj one of the six main traditions (baaj) of north Indian tabla drumming, the others being Delhi, Benares, Ajrara, Farrukhabad, and Lucknow.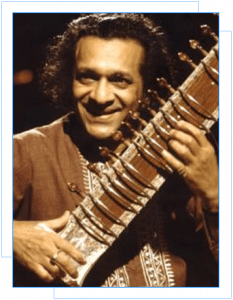 Ravi Shankar
Ravi Shankar 7 April 1920 – 11 December 2012, born Rabindra Shankar Chowdhury, his name often preceded by the title Pandit ('Master'), was a Bengali Indian musician and a composer of Hindustani classical music. He was one of the best-known proponents of the sitar in the second half of the 20th century and influenced many other musicians throughout the world. Shankar was born to a Bengali family in India, and spent his youth touring India and Europe with the dance group of his brother Uday Shankar. He gave up dancing in 1938 to study sitar playing under court musician Allauddin Khan. After finishing his studies in 1944, Shankar worked as a composer, creating the music for the Apu Trilogy by Satyajit Ray, and was music director of All India Radio, New Delhi, from 1949 to 1956. In 1956 he began to tour Europe and the Americas playing Indian classical music and increased its popularity there in the 1960s through teaching, performance, and his association with violinist Yehudi Menuhin and Beatles guitarist George Harrison.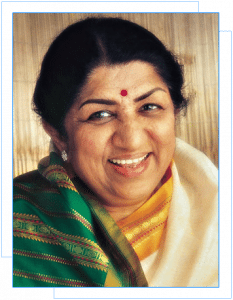 Lata Mangeshkar
Lata Mangeshkar (born 28 September 1929) is an Indian playback singer and occasional music composer. She is the best-known and most respected playback singer in India. She is referred to as the Nightingale of India and the Queen of Melody. Mangeshkar's career started in 1942 and has spanned over seven decades. She has recorded songs for over a thousand Hindi films and has sung songs in over thirty-six regional Indian languages and foreign languages, though primarily in Marathi and Hindi. She is the recipient of three National Film Awards, 12 Bengal Film Journalists' Association Awards, four Filmfare Best Female Playback Awards, two Filmfare Special Awards, Filmfare Lifetime Achievement Award and many more. The Dadasaheb Phalke Award was bestowed on her in 1989 by the Government of India. She is also the second vocalist, after M. S. Subbulakshmi, to have ever been awarded the Bharat Ratna in 2001, India's highest civilian honour. She was the first Indian to perform in Royal Albert Hall in 1974. She was conferred France's highest civilian award (Officer of the Legion of Honour) in 2007. Due to all of her achievements, many singers and musicians consider her to be one of the greatest female singers in the Hindi film industry.
[contact-form-7 id="50221" title="Sidebar Contact form"]