Just like Cricket, the most popular game among the youth of today, Common Aptitude Test, running on somehow the same pattern, is one of the popular exams in India. As Cricket has its own rules and regulations, a number of players, win-win strategy, tricks and warm-ups, CAT is not far behind. To win the CAT exam game, you need to follow 3P's piously i.e., PATIENCE, PRECISION and PERSISTENCE and a mind like Virat Kohli and MS Dhoni.
To ace CAT Exam you should focus on:
Players:
Just like 11 players in Cricket, every year more than 1.5 lakh aspirants register for CAT exam. This clearly shows the level of competition the exam carries. CAT exam was conducted in 381 test centers spread across 140 cities in 2017 in India
Structure of Game:
To understand the game one needs to know the game structure properly.
CAT is a computer-based exam with a time duration of 180 minutes. For each correct answer 3 marks are rewarded and for every incorrect answer, 1 mark is deducted.
| | | | |
| --- | --- | --- | --- |
|     Section | No. of questions |    Time             Duration | Total Marks |
| Quantitative Ability | 34 | 60 mins | 102 |
| Verbal Ability and Reading Comprehension | 34 | 60 mins | 102 |
| Data Interpretation and Logical Reasoning | 32 | 60 mins | 96 |
| Total | 100 | 180 mins | 300 |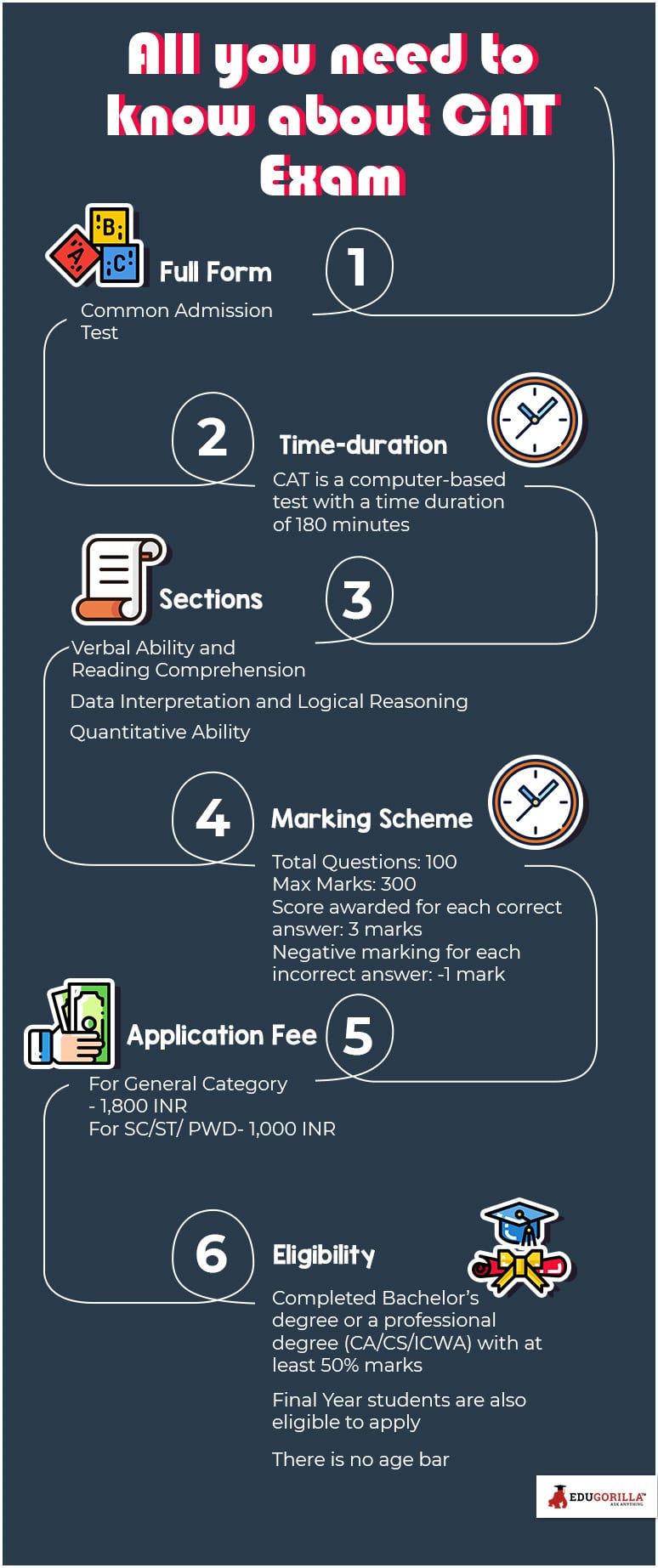 Win-Win Strategy:
To score 99 or 99+ percentile, you need a section-wise strategy explaining the pathway to IIMs. The approach would be like this:
A. Reading Comprehension/Verbal Ability: In this section the key points one must keep in mind are:
No Guesswork
Have a glance at the passages and invest your time in the most familiar ones first.
While reading the passage, don't forget to read questions simultaneously.
B. Logical Reasoning/Data Interpretation: Things you should keep in mind:
Calculation is the key to 99 percentile in Data Interpretation. The more you practice, the more are the chances of acing this section.
Aim to figure out the logic behind the questions.
Do not assume anything, Logical Reasoning is not based on assumptions.
Pay special attention to words like "all'', "some'' or "none''. Other than this, pay attention to negative prefix such as "none", "un" or"dis".
Words like "Only" and "If and Only If" are very important as may turn the whole game, if not give proper attention.
Keep an eye on the clock as this section can be deceiving
C. Quantitative Aptitude: Conceptual clarity with a lot of practice is the key to this section.
Topics like Ratio & Proportion, Averages, Geometry, Permutation & Combination, Probability are very basic and very likely to appear in the exam, so do not miss these concepts.
Solve previous CAT Exam papers
Don't spend too much time on one question. Go through all the questions once and then attempt those you are confident about.
Formulas should be on fingertips
Tricks: 
Before the match, players always have some tricks in their mind to win. Likely, here are some basic tips and tricks to win CAT:
Always keep 3P in mind. Patience is very important throughout the preparation time. Precision i.e., accuracy is the second name of CAT and then Persistence i.e., continuity, investing your 100 percent in the whole journey is very significant.
Read as much as you can for VA/RC section.
Always focus and learn from your strengths and weaknesses.
Eliminate the options to assure the answer is correct.
Do not panic at any point.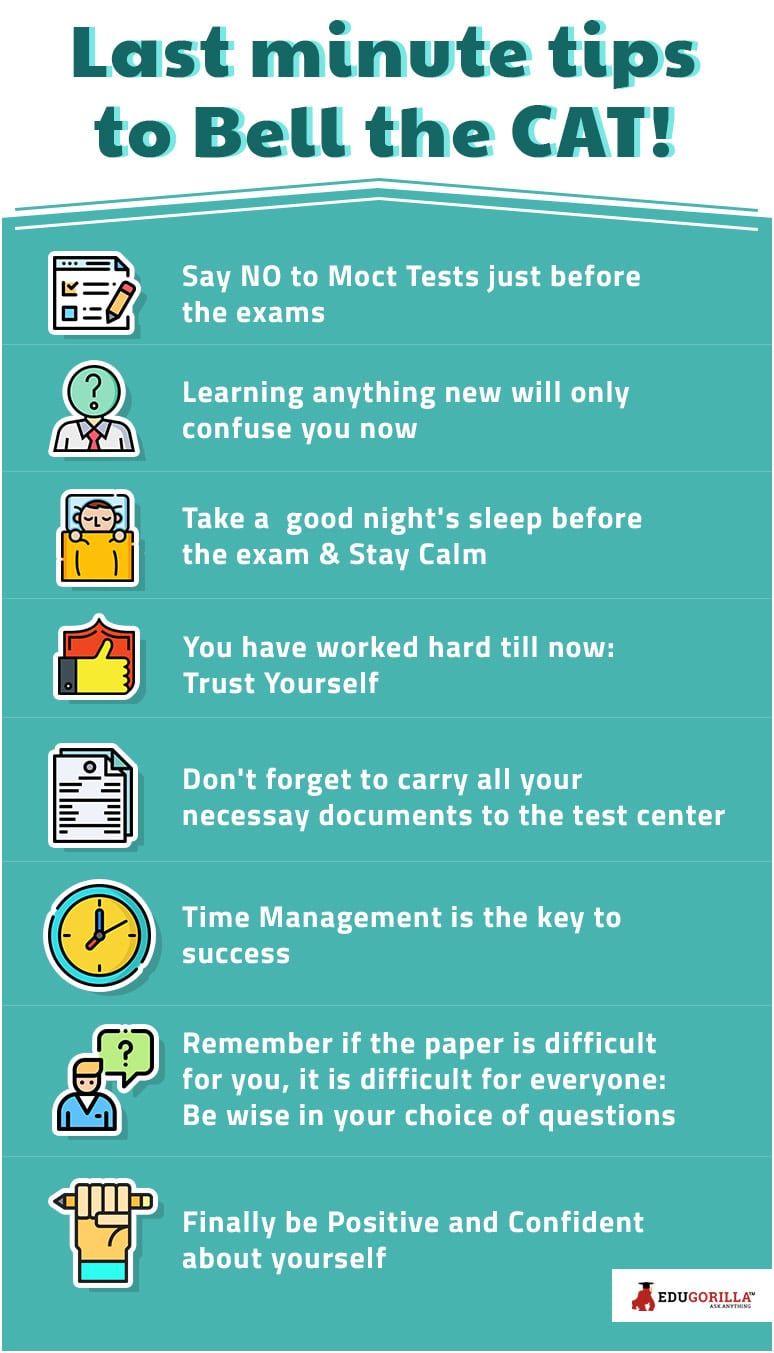 Warm up before the D-day: 
Practicing mocks is one of the most vital things towards your CAT Exam preparation. It helps in analyzing the mistakes, improvements needed and where you excel. Students should prioritize mocks and give like it a simulated environment because it is very essential to feel the pressure lifting off your head. They should plan to give 6-8 mocks in a month. This helps in overcoming the problems and prepare in advance so that one should not panic on the D day. Mocks also help in reducing pressure to handle those 3 hours. The test series by Eckovation will provide a student with an ample amount of mock tests.
Try to relax before the d-day. He/She should spend time with their family as it will help them to be calm and compose. Positivity is very necessary on the final day. As players warm up before going on the ground, students should also spend good time and prepare to give a final shot in the exam hall.
 For more tutorials, tips, and tricks, you can also visit this blog
 Don't quit, Suffer now and live the rest of your life as a champion.
You Might Want To Read:
Vidyamandir Classes Vs Career Launcher, Nios Question Paper Class 12Th 2016 15, Karnataka Public Service Commission Zoology Mock Test Paper 7, Main Botany Question Paper 1 2006, Express Entry, Defense Strategies Question Paper 1 2013, Mukherjee Classes Vs Anusandhan Academy, Gujarat Technological Universityb E Ceramic Technology Mock Test Paper 63, C L A T General English Solved Question Paper 5 2014, Retail Banking Test Series
Leave your vote
This post was created with our nice and easy submission form. Create your post!