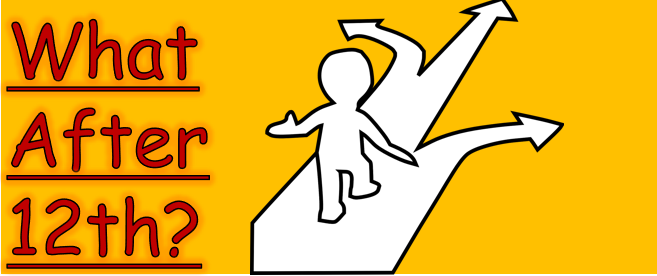 "Get a job". No, "Get a higher degree". Still no perfect solution to this confusion!
Class 12th is an important year for a person, for that is the decision maker of their careers. Even though there are innumerable options that one can go for, yet, it remains a big question for the students as well as their parents as to where to settle. Students themselves have their favorite options in mind, while they are gearing up for their board exams. So, there is a stress of scoring well in them along with the preparation for the next stage. So, what is it going to be?
We are, but humans! The fear and anxiety of taking the unsure steps is natural, and hence, have the dilemma of what to go for remains so that they don't land up into something non-fruitful. The parents and teachers do become helpful for their children at this time to give them a proper guidance. Out of the many of options of pursuing a degree, a job-private or government, based on the comfort of students, today, one can create their own different path. We must have seen our peers doing Graduation and landing up a good job in an MNC or straightaway sitting for SSC Exams or Bank Exams after graduation. Similarly, with the passion that we all have in ourselves, the knowledge we have acquired and keeping the faith in our talent, we must keep on approaching any path that we believe is right. Even if we face hindrances in between, we should have to have the trust and positiveness to keep moving ahead.
Career options after 12th
The trend of making career after 12th is different for each person depending upon the education background he/she has, which type of family he/she belongs to because believe it or not, a doctor's son has a ninety percent chance of becoming a doctor. Rest also depends on the determination of the student. Let us look at the major options that most students go for
1. Getting a good college degree
A good college degree means a great deal to people. In fact, it is often considered under the background and values a personality is made up with. Now the top colleges of the country include the central universities such as IITs, IIMs, IISC, JNU, DU, BHU and no doubt they have such reputation due to which students are guaranteed good placements in various MNCs and organizations. Thus, a good degree from a good college has that importance.
2. Directly moving to Job
A lot of students move towards job Especially Latest Teaching Vacancy in order to gain experience. More often than not, they get success in terms of good money, position and knowledge too. Only a few feel the need to get a degree and hence they either leave the job and complete their studies or they look for jobs where they are provided degrees with the job. Yet, experience holds great importance and matters in all types of jobs. The option of internship is also seen in a number of cases, where, with or without pay, students are hired to work, and acquire skill and certification in return. Thus, it is absolutely fine to go for a job after your intermediate.
3. Government sector
While the government remains an important contributor to employment, it is also a booster to the economy and the employee. The Govt of India (GOI) is the provider of a number of jobs to the aspirants who are looking for a settlement with fixed working hours, salary and increments. A great part of our country's youth has the desire to get into a govt organization, for obvious reasons. An association with the government is not only a great offer to work for the nation but also an offer to get a respectable position in organizations. Covering Bank Jobs, UPSC, SSC, Railways, Teaching at central as well as state levels, a government job is a never to miss an opportunity. In fact, a 12th Pass is open to apply in almost all such organizations.
Choosing the Right
"It is our choices that show what we truly are, far more than our abilities." Trust yourself to make the right choices for You. Be the one to make the choice for yourself and create a path around it, follow it, make it right. Intermediate (that is, Class 12th) is a crucial stage in everyone's life for that could be decisive in the career. The answers for, "Is it the marks in boards or is it the college that one gets or is it the talent that one should/ should have followed?" will lie in the trust and determination that one has towards the choice made. The justice one does to that choice, matters, and will do. All the best!
About the Author
I am a full-time writer, food technologist by degree. I have been writing for travel blogs, education blogs and philosophical speeches, who believes in communication as a great source of change.
You Might Want To Read:
Ugc Net History Question Paper 1 2006, Allen Nurture Jee Mainsadvanced, Fellowship Examination Law And Economics Of Insurance Mock Test Paper 30, Class 10 English Question Paper 5, Upsc Ifs Animal Husbandry And Veterinary Sciences Paper I Sample Paper 2007, Engineering Sceincs, Cgpsc, Philosiphy, Ugc Net Economics Solved Question Paper 4 2012, Students Can Improve Concentration Studies
Leave your vote
This post was created with our nice and easy submission form. Create your post!