Connect with Best Verified Coaching in India
Find the best Verified coaching institutes in India , personalized to your needs.
IMS is one of the oldest institutions which has been training students to crack a range of management entrance exams. Having an experience of 40 years in the industry, IMS has grown to 90 centers across 44 cities in India. It has been ranked 4th in the education sector and has proudly helped 50,000 students enroll in institutions of their choice in India and abroad. The coaching offers scholarships to deserving students as well.
IMS Courses, Fee Structure and Eligibility Criteria for CAT in brief
---
Different courses are offered as per aspirants' convenience. Currently, the institute is working on 5 different courses to help aspirants crack MBA entrance exams.
| Courses | Duration | Eligibility | Teaching Hours | Admission mode | Fee |
| --- | --- | --- | --- | --- | --- |
| CAT eMaximiser Series | 45 hours | No eligibility criteria. Ideal for students who want to study online | 3 hours/day (Recommended time to study in this online course) | Direct Admission | 8850 |
| CAT Maximiser Enhanced | 45 hours | No eligibility criteria; Recommended for CAT re-takers or the ones who prefer crash course | 3 hours | Direct Admission | 18998 |
| Catapult Xpress | 3 to 6 months | No eligibility criteria; Recommended for aspirants looking out for a crash course | 2-3 hours/day | Direct Admission | Coming Soon |
| Engineers' MBA | 1 Year | Students/professionals with engineering background | 2-3 hours/day | Direct Admission | 60000 |
| MBA Catapult | 1 Year | No eligibility criteria; Recommended for aspirants looking out for a full-fledged course | 2-3 hours/day | Direct Admission | 60000 |
Admission Procedure (Documents Required for Admission)
The students applying for this course should attach to the Admission Form the following:
Recent passport size photograph
ID proof
Last class mark-sheet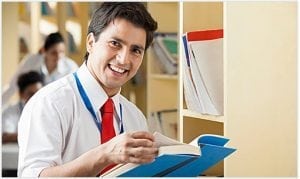 IMS National Scholarship Test
---
These days almost every coaching offers a scholarship to meritorious students. higher education has become a challenge, due to the continuous rise in educational costs, especially for middle-class families. Hence, these scholarships are like a helping hand for many students and are offered... Read More
What Students Say About IMS
---

I enrolled for CAT Prep at Home course for CAT 2017. This included the well-designed correspondence course material and online tests. The study material is useful for brushing up on formulae and question solving techniques, especially for Quant. The SIMCATs and the sectional tests were really helpful. The detailed solution after the tests helped me identify my weaker areas, along with building conceptual knowledge. Getting the percentile after attending the test also gave me an idea of where I stood and how much I needed to improve. Later, the mock PI session was really helpful, as it helped me frame my answers better and gave me an idea of follow up questions. The people at IMS have been really supportive, right from my enrolment to the final results. They were constantly in touch and tried to solve any issue ASAP. Shreya from the Andheri center promptly replied to all my queries and ensured a smooth process. My thanks to IMS for the all round effort.

I graduated as an engineer last year, and in my 2nd attempt for the MH-CET, I joined IMS. What IMS can do, and others couldn't, is that they help you in pushing your limits. The test series, classroom & mentoring sessions collectively gave me a big leap in my test taking skills & strategies; improving it, tuning it continuously till D-Day. I was exposed to so many ADMATs (Additional Management Aptitude Tests) that numerous good college options opened up for me. For the experienced faculty, their students are their foremost priority, which makes for a good learning atmosphere, and there is an openness to the innovative thought process. Importantly, the SimCETs & Sectional Tests helped me crack the 45 seconds per question barrier! I would like to express my gratitude towards IMS Pune Deccan. IMS should be definitely "Trusted for Success"!

I had enrolled for the Simcet plus Program at IMS. The varying difficulty levels of the simcets, the quality of questions, and the detailed analysis of each simcet helped in every possible way to ace the exam.
I am grateful to the IMS team for taking the effort to prepare well researched SimCETs with new pattern questions. The variety of new questions readied me to face any surprises in the exam. The diverse nature of difficulty in the SimCETs — both Proctored and Unproctored — equipped me to be well prepared and kept boosting my confidence throughout the duration of my studies. A big thank you to IMS!
Related Coaching Institutes For CAT
---
---