E-Learning has transformed the way knowledge used to be created or shared ever on the planet. Anyone with an internet access and a zeal for knowledge can learn anything online. But there is so much information out there that getting the right source of knowledge becomes a problem for plenty. Besides, the attention span of learners has shortened to as low as 8 seconds.
As an instructor, your main objective is to cut the fluff and provide the meat to the learner through your online courses. If that doesn't happen, you have lost their interest. This poses a challenge of creating such a course material that provides the desired knowledge to the students in the least amount of time possible while being engaging and interactive. But it is not always possible to create such new material from scratch. Also read, Some Secrets to Enlarge Your Poise as a Creative Writer.
This is where curated content can help you out.
What is curated content
Curated content refers to useful information that is collected from subject matter experts and refined to keep what's essential, so as to engage the learners and improve their learning outcomes.
Curation is not something new. Rather, it has always been around since ages. For instance, museums and art galleries often exhibit collections of art pieces or historical artifacts to visitors. These are not created by the museum or the art gallery but are 'curated' by their experts to be exhibited and garner attention.
The need of content curation in e-Learning
As a course instructor, content curation can do wonders for your online courses. You can either create your course modules with curated content or create supplementary content such as articles, e-books or social media posts to support your courses' learning initiatives.
Create online courses
First of all, it's not necessary that since you are creating a course you have to be an expert in each and every aspect of your discipline. No one can have in-depth knowledge of every piece of information related to their field.
Let's say your online course teaches digital marketing and the modules contain information about basic marketing principles, search engine optimization techniques, link building and social media marketing.
You know that improving the user interface (UI) of a website to enhance the user experience (UX) is also a major factor in improving the conversion rate of website visitors into customers. But you may not be a UI/UX expert, which is totally fine.
In this case, you will need the help of curated content to present your students with a holistic knowledge of digital marketing.
Moreover, there is no direct correlation between the amount of knowledge that you possess and the effectiveness of the course that you create. In other words, you can be a subject matter expert, but that doesn't mean you will be able to create a course that teaches the students in the most engaging way and least amount of time.
That's why there are instruction designers, who interact with subject matter experts like you and create the perfect course by removing the fluff and noise out of it. This is content curation.
Instruction designers create online course modules that students find interesting, engaging and effective to learn.
Create Supporting Content for Online courses
It's not possible to stuff everything related to a topic in a single course. There are a lot of related topics that may not be directly present in the course but are important. These may even be applications of the topic presented in your course.
Students often search for such related content on the internet after they finish your course. This presents an interesting opportunity for you to engage with them even after the course is delivered.
You can supplement your online course with curated content in the form of infographics, articles, emails, tweets or any other suitable medium.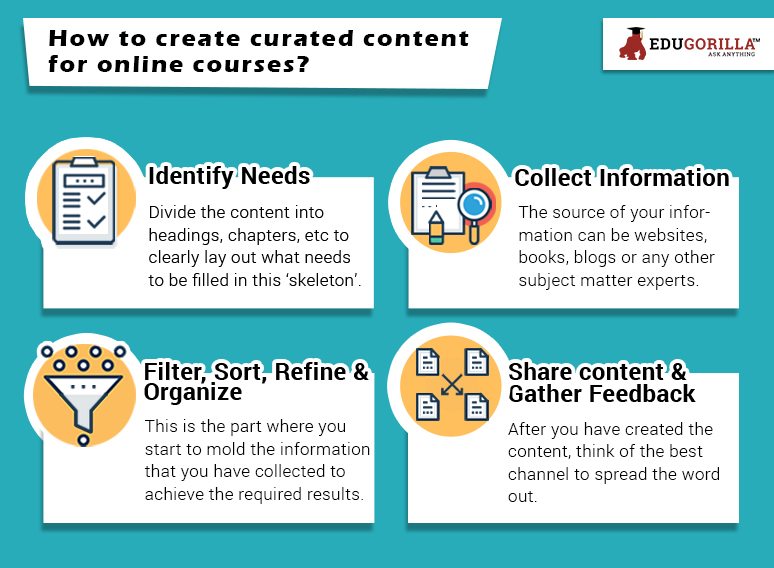 How to create curated content for online courses
 The content that you provide to your followers can be anything from tweets, emails or articles to complete online courses. But the process of creating curated content is more or less the same and consists of the following steps:
Identify needs
Before starting the process of creating the content, you must be absolutely clear about what you require. Keep your students in mind and try to ask critical questions related to the content that you need for best results. You can take help of feedback from your previous courses or surveys to gauge what needs to be created to resonate with your target audience's needs.
Define the structure of your content, especially if you are about to create an online course by curation. Divide the content into headings, chapters, etc to clearly lay out what needs to be filled in this 'skeleton'.
Collect Information
Once you are clear in your mind about the requirements and have a basic structure ready, start gathering the information from your source. The source of your information can be websites, books, blogs, other subject matter experts or any other source that is reliable and trustworthy.
You can use applications like EverNote or OneNote to manage the collected information in one place. Simply browse for this information while keeping in mind the requirements.
Filter, Sort, Refine & Organize
This is the part where you start to mold the information that you have collected to achieve the required results. Eliminate everything that is not directly related to the concept of your module. Include them in references so that students can refer if they feel like.
Ruthlessly edit anything that might unnecessarily increase the length of the module. Remember that students are impatient and don't like information presented in a convoluted manner.
Keep it simple, straightforward and try to include as many facts as possible. Divide data into small chunks of digestible information, generally 10-15 minutes long.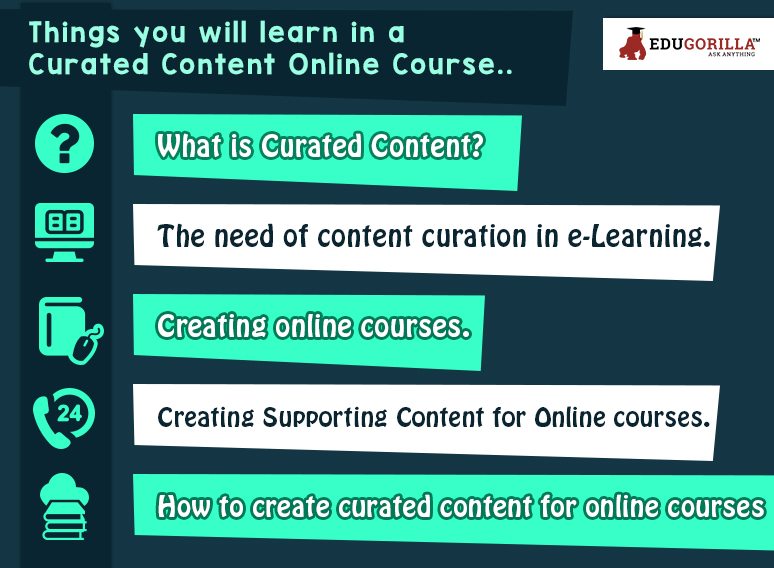 Share content & Gather Feedback
After you have created the content, think of the best channel to spread the word out. Social media is a great way to touch base with your existing clients as well as reach new members of your target audience. Apart from that, use your biggest asset which is your email list to communicate timely with your user base. Check out, Effectiveness of Online Teaching: SWOT Analysis.
Conclusion
Curated content is an excellent way to generate new content swiftly so that you can better engage with your user base. Before your course goes online for the learners, plan an internal rollout and ask for feedback. Take the feedback that you are getting on your content seriously. Ensure that you use this qualitative feedback to improve your content in the future.  Make sure you follow these steps and you are good to go!
You Might Want To Read:
Bio Chemistry Question Paper 5 2007, Ims Ims National Scholarship Test, Germany, Physics Question Paper 5 2014, Ugc Net Labor Welfare Question Paper 2 2011, Jee Main Advanced Question Paper With Solutions 2002, Ssc Formula Trigonometry Formulas, Delhi University Certificate Diplomaportuguese Mock Test Paper 1, Mathematics Theory Matrics Determinants, Mukherjee Classes Prayagraj Allahabad
Leave your vote
This post was created with our nice and easy submission form. Create your post!