When you decide to pursue higher education, you have to choose between going to a university and enrolling in a community college. Assessing your choices is important; your choice of school can affect your future career. Below are several factors to consider when deciding between going to a university and going to a community college.
Adapting to a New School
Community colleges are smaller and have fewer students than universities do, so it might be easier for you to adapt to a new life at a community college. But if you're up for the challenge of going to a university, then perhaps going to one will be the best for you. Even if you choose to go to a community college first, you can still enroll in a university to continue your education later on.
Degrees and Programs Offered by the Institution
Universities offer degrees in various fields. These degrees range from associate degrees to doctoral degrees. Community colleges, on the other hand, only offer bachelor degrees. Some of these colleges only have programs that will earn you an Associate of Arts degree.
Check out How Digital Marketing can be a Good Career Option in India.
Cost of Education
Going to a community college will have you paying fees that are significantly less than those charged by universities. In case you want to go to a university but you don`t have enough funds for your education, make it a point to inquire about scholarships or obtain other forms of financial aid.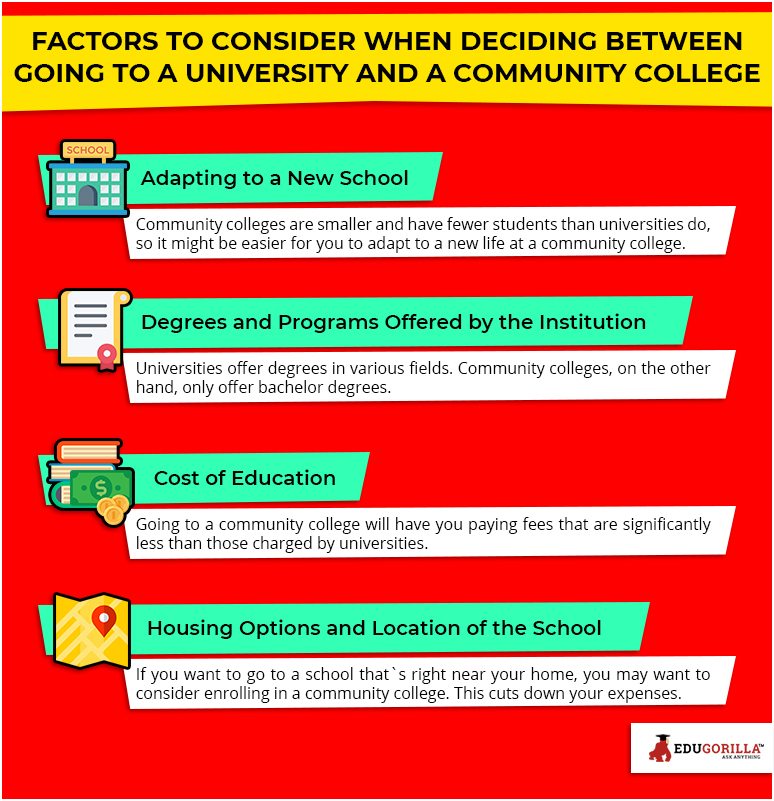 Housing Options and Location of the School
If you want to go to a school that`s right near your home, you may want to consider enrolling in a community college. What's great about being close to school is that you won't have to look for an apartment or dorm; you can just live at home. This cuts down school expenses. But if you've decided to go to a university that's far away from home, you have to assess various housing options located inside or around the school.
Whether you choose to enroll in a community college or a university, you will most likely be required to submit an admission essay. If you don't know how to write one, you should consider looking at a good sample admission essay. A sample admission essay can give your ideas for topics and themes. When reading a sample admission essay, you can also get a concrete idea of what you should put in your own personal statement. Keep in mind that your admission essay must be interesting and well written to increase your chances of being accepted into your chosen school and program.
Also read, Career in Animation! Here's a Complete Guide.
You Might Want To Read:
Ugc Net Kashmiri Mock Test Paper 18, Himachal Pradesh University Mbaresearch Methodology Mock Test Paper 12, Reports, Political Science Question Paper 2 2009, Cpt Question Paper 1 December 2010, Principal Of Macro Economics, An Nris Approach To Aiims And Neet Preparation, Sociology Question Paper 2 2013 Solved, Ctet Assamese Question Paper 41, Cgpsc Question Answer Paper 2015
Leave your vote
This post was created with our nice and easy submission form. Create your post!