An increasing number of Indian students are choosing to pursue higher education in the United States. But, maybe the thought of moving to another country, so far from home, for several years to get an education isn't appealing to you.  Maybe you don't want to leave behind your family and friends, or maybe you want a U.S. education but can't afford to relocate to the U.S. or probably you have difficulties in getting adapted to online learning.
The good news is that today, there's another way to get an education in the United States- by attending a U.S. university online. More and more reputable, accredited U.S. universities are offering online course and degree programs to undergraduate, graduate and professional students. Online education makes it possible to earn your undergraduate/graduate degree, graduate certificate, or other credentials online, without leaving home and potentially without many of the visa requirements that traditional international students must meet.
Choose a Reputable School
So you're thinking of pursuing an online course or degree program from an American university. The first thing you need to do is make sure the school is accredited under the U.S. system. Just because an American school claims to be a college or university doesn't mean they are a trustworthy institution. Their degrees might not be recognized by other institutions or employers in the U.S., here in India or in other nations. Don't make the mistake of misunderstanding the U.S. accreditation system.
In the U.S., non-governmental accreditation bodies review universities and colleges to make sure their faculty, academics, student support services, facilities and finances, among other things, meet certain criteria. Beware of accreditation mills and schools that boast international accreditation, as the U.S. federal government doesn't recognize any international accrediting bodies. Be wary, too, of schools that say they are not accredited or that they don't list any accreditation credentials on their websites. Make sure that the school is accredited by an organization that is recognized by the U.S. Department of Education.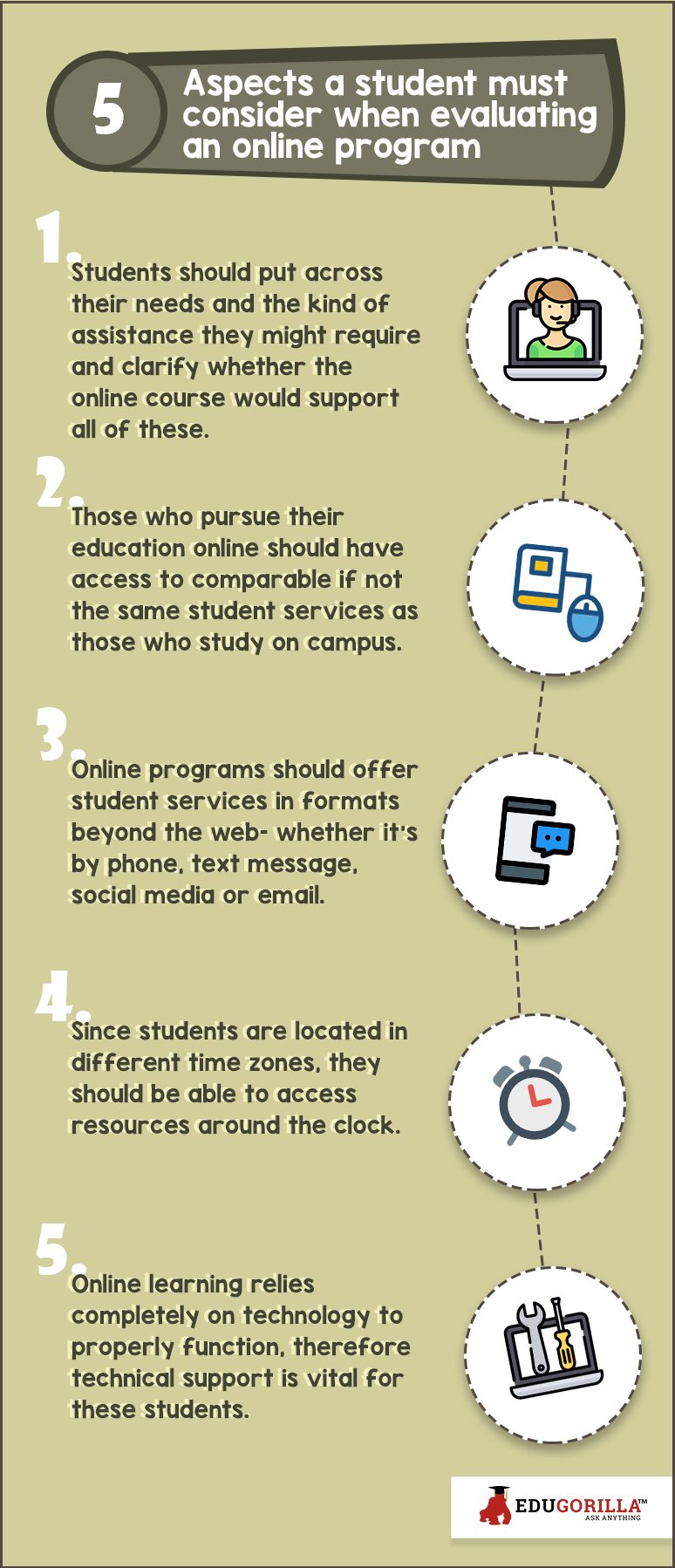 Make Sure the Program meets Your Needs
Are you hoping to take some university classes online? So that you can transfer to a traditional program in the U.S., India or somewhere else? Then you'll need to make sure the credits you take through your online program will transfer to another university/distance-learning program. Are you planning to pursue post-graduate education? You'll need to make sure that you're studying with an accredited school in a field. This will qualify you for post-graduate work in the field of your choice. These are questions you can discuss with school advisors before you enroll in your program or during your enrollment.
Perhaps you're not very keen on going to school online for an undergraduate or graduate degree. But you may think of online course for other credentials, such as a graduate certificate that will advance your career in India. For example, maybe you've trained and are already working as a special educational needs teacher, but are looking at autism certificate programs to enhance your skills. Make sure that any certificate or other credentials that you earn will meet your local professional licensing requirements.
Ask About Support for Online Students
Online education is a great option for international students. This is because it allows you to study on your own schedule from anywhere in the world. But, due to time zone differences, it also means your school will need to make special support considerations for you. Are services like technology help desks, tutoring and career counseling available 24/7? Will you have the same access to academic advising as on-campus students? What opportunities will you have to engage with other students via social media and virtual groups?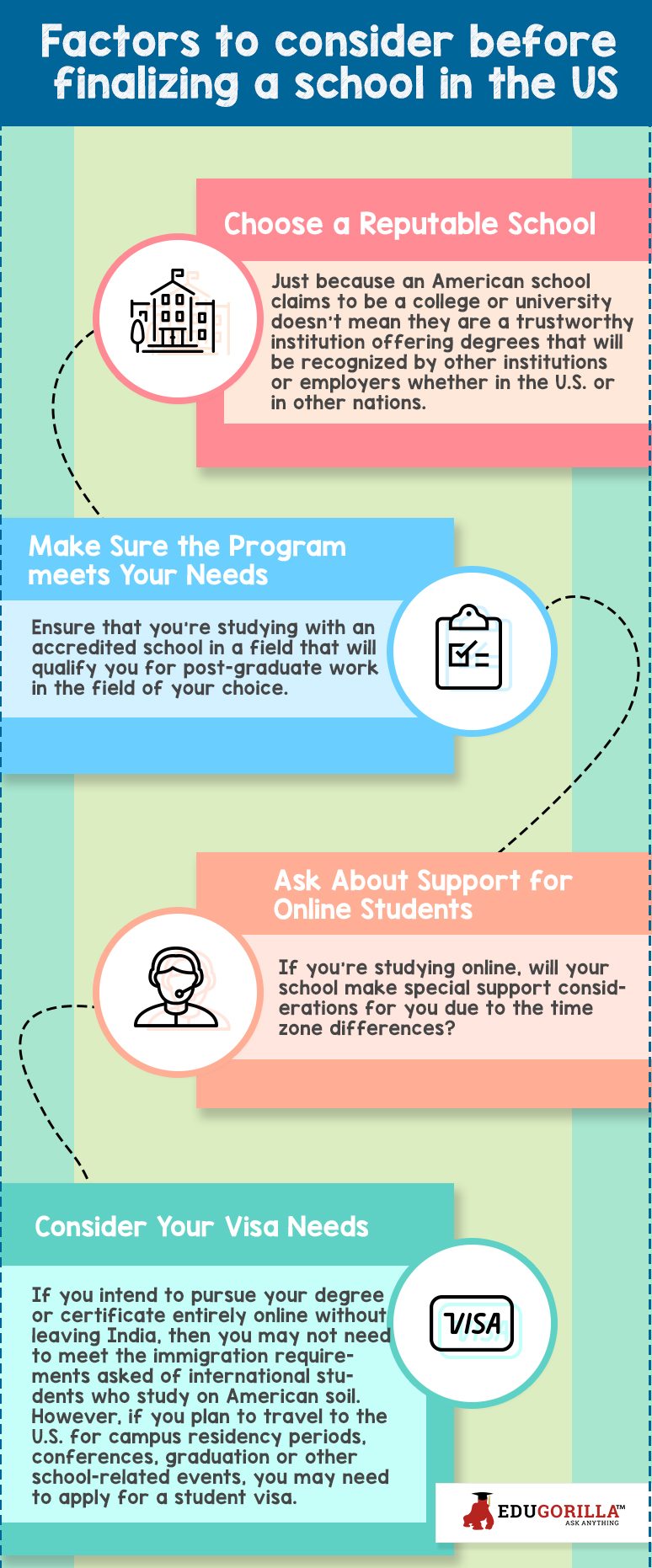 Consider Your Visa Needs
So you intend to pursue your degree or certificate entirely online without leaving India. You may not need to meet the immigration requirements asked of international students who study on American soil. However, if you plan to travel to the U.S. for campus residency periods, conferences, graduation or other school-related events, you may need to apply for a student visa.
Going to online school could be a great option for an Indian student who wants an American education. But he doesn't want to or can't leave home. It's also a great choice for those who have completed their formal education but want to earn an additional credential. The number of advantages online education has is not hidden from anybody. There are so many degrees and certificate programs to choose from. And it's never been easier to go to university in the United States.
You Might Want To Read:
Ugc Net Malayalam Mock Test Paper 10, Ugc Net Persian Mock Test Paper 10, Ugc Net Commerce Question Paper 4 2011, Jam Geology Question Paper 1 2014, Ats Academy Vs Ibs, Weighted Average, Ugc Net Exam Registration Syllabus Results Exam Pattern, Dopplers Effect 2, Best 5 Cat Coaching Institutes In Nashik, Cracking Verbal Section Cat Exams
Leave your vote
This post was created with our nice and easy submission form. Create your post!