Lucknow, March 17th, 2021: EduGorilla's CEO & Founder Mr. Rohit Manglik was recently part of a panel discussion, to discuss "Government's Efforts to Propel Startups on to a Higher Growth" Ever since the COVID-19 Pandemic, while there has been major economic stagnation, few organizations like EduGorilla have come up with technological solutions that are contributing to reviving India's Economic Machinery. 

But as much as private players, the Government also plays a huge role in reviving the economic condition of the country by providing a suitable ecosystem under which the startups can prosper. It was along these lines that the "Digital Governance Summit Uttar Pradesh" organized by Elets Technomedia and Microsoft India took place. And Mr. Rohit Manglik provided his point of view on the whole issue to the panel.
When asked "How EduGorilla is empowering the Education Ecosystem", Rohit began with his past experiences in his hometown of Farrukhbad, which was his source of inspiration behind EduGorilla.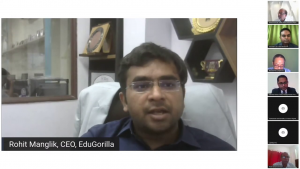 "I found a void in the Indian Education Ecosystem and went back to my job in Hyderabad, with all these questions in the back of my mind," said Rohit while addressing the panel," Rohit added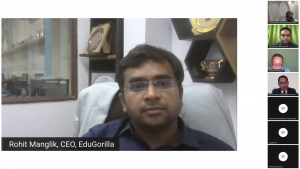 He further added, "I slowly understood that to help students achieve success in their exam I had to go more fundamental in their learning, it has to be an intrinsic part of their education."
"What I found was the absence of good quality content in their native language."
Adding further, "When asked what is required to become an entrepreneur, there are two things, persistence, and resilience."
Rohit also informed everyone about the traction that EduGorilla has traced so far and what the entrepreneurs in the making can learn from EduGorilla, "You don't need the complete know-how of how to Finance, organizational structure, or how to do fundraising, as these things are learned with time but your persistence and resilience should be part of your DNA."
The Panel was also graced by the presence of the Department of MSME & Export Promotion, Government of Uttar Pradesh – Gaurav Shrivastava, O.D.O.P. Representative; Venkatesh Sarvasiddhi, Senior Head- Digital Skills, Innovation, Partnerships & CSR, National Skill Development Corporation (NSDC), Ministry of Skill Development & Entrepreneurship, Government of India; Prof H K Dwivedi, Incharge, MUIT Incubation & Innovation Foundation (MIIF), Maharishi University of Information Technology (MUIT) Lucknow; Basant Rai, Co-Founder and COO, Digiloom; Saurabh Lall, CEO, Model Gaon; Lathika Pai, Country Head, Venture Capital and Private Equity Partnerships, Microsoft India; and Moderator- Harshal Y Desai, Assistant Editor, Elets Technomedia Pvt. Ltd.
Check out the full panel discussion by clicking here.
Also, check out EduGorilla's CEO and Founder Rohit Manglik in a panel discussion on "How to Get Business and Economy Back" hosted by NewsX and Businessworld