English proficiency, critical thinking, and subject knowledge are essential pre-requisites for universities and colleges across the globe to gauge the international applicants who want an admission overseas. This analysis is done through the Standardized Tests which allow the admissions committee to compare students from different nations on a global level.
Analysing the importance and relevance of these exams, the pressure to perform well can be intense for students like you whose heart is set on going abroad. But there's nothing to panic. Standardized tests are not too difficult; in fact, most of them are easier compared to the school exams you take. You would like to click and read if you are looking for Consultants for your Overseas Education.
Overview of the Standardized Tests
The Scholastic Aptitude Test (SAT) is the most basic test that is compulsory for undergraduate programs in all the universities in the US, and some universities in other countries such as Singapore and Australia.
The American College Testing (ACT) is another internationally administered, standardized test that helps universities to evaluate candidates for undergraduate study.
The requirements are different at the graduate level. Graduate Management Admissions Test (GMAT) is required for Graduate programs in management while Graduate Record Examinations® (GRE®) is required for all other graduate programs and business schools.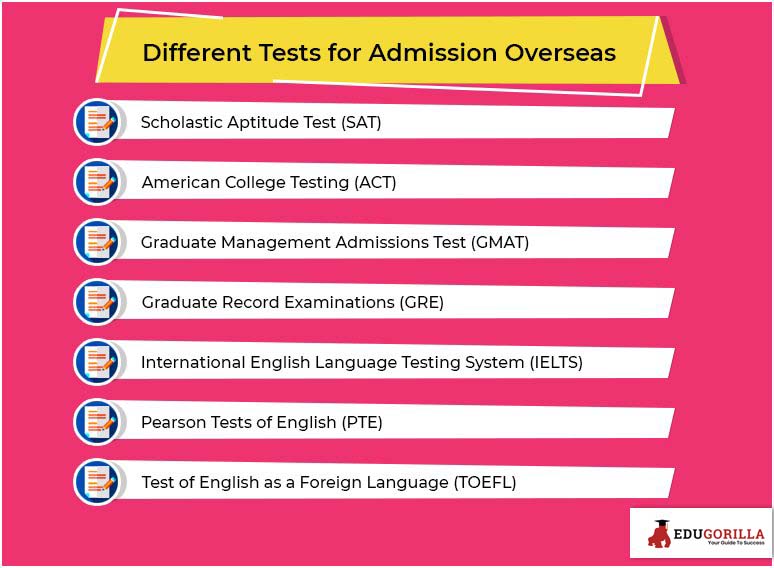 If you are aiming to study abroad, then it is mandatory for you to take tests like International English Language Testing System (IELTS), Pearson Tests of English (PTE) or Test of English as a Foreign Language (TOEFL) to prove that you have got fluency in the English language and can adjust well in foreign settings.
Preparation 
If you are good with the language and aptitude skills and you've given competitive exams earlier then you'll be able to prepare on your own just by focussing on the pattern, taking timed tests and practicing regularly.
Every standardized test is different, and it is essential that you understand the right tactics for taking the test. The necessary information is available in the testing bulletins and on the testing websites.
Before the Test
Before taking the test, acquaint yourself with the essentials of the test.
Check if there's negative marking as guessing may be harmful in that case.
Most of the exams are split into separate sections with different subject matter and question formats. It's essential to be familiar with the formats and requirements of each part of the test.
During the Test
Read all test directions carefully. The guidelines give an in-depth explanation of exactly what is required to answer each type of question.
Read each test question carefully and thoroughly. Before answering a question, determine what is being asked.
Time management is essential to perform well. Calculate the amount of time to answer each question and avoid getting stuck on one question.
Scan through all the questions before you start attempting.
Avoid superficial reading or skimming; you may miss relevant information.
Consider all answer options before selecting your final answer.
Answer the simple questions first as most tests are arranged in the order of difficulty. If you're stuck on a question, move on to the next one; you can always return to that question later.
Review your answers if time permits.
Those who aren't very good with the logical ability or reasoning skills and find it very difficult to master high-level vocabulary in English need not worry. You can get admission just by giving IELTS or PTE which are much easier compared to TOEFL, and you don't have to worry about GRE or GMAT as well if you want to study in United Kingdom, Australia, Canada and a few other countries. This will be a benefit provided you aren't looking for management or technical courses in very high ranked universities.
To have a better idea of the standardized tests, prepare and practice systematically, understand your strengths and weaknesses and to ensure that you get the desired scores you're working for, it's advisable to join a coaching institute. Most of the Top Overseas Education Consultants in India provide coaching for these tests as these tests are essential pre-requisites for admissions abroad.
Ever got surprised why Indian students prefer Australia! Click and read.
You Might Want To Read:
Biology, Amiete, Chartered Accountant Coaching In Lucknow, Staff Selection Commission Multi Tasking Staff, Ugc Net Commerce Question Paper 1 2007, Aakash Institute Admission Cum Scholarship Test Sample Paper Integrated Classroom Course Olympiads Ntse Class X 2017, Academic Writing For Students, Metal Forming, Handa Ka Funda Fee Structure Admission Procedure, Coursetoefl Citylucknow
Leave your vote
This post was created with our nice and easy submission form. Create your post!