"It's simple!" my mother told me. "You study till 12th standard at home, and then you join a college for higher studies. After completing your degree, you will get a job in that field."
For our parents' Generation X, and even more so for our Grandparents' Baby Boomers, this was generally true. There were plenty of jobs ripe for the taking for the relatively scarcely available college graduates.  Truly meritorious students from high school could secure admission, and pay tuition with the help of government scholarships, or their own money.   During this time, the average cost of a college education in the United States (adjusted for inflation) was $19,708 (13.24 lakhs per annum), as opposed to the current average cost of $43,921 (29.5 lakhs per annum) . In other words, the cost of a college education, even after adjusting for the change in currency, has more than doubled! In the same time, the average annual family income, adjusted for inflation, has increased from $48,000 to just $53,000 1. In other words, income has risen by a mere 10.4%, while the cost of a college education has risen 122%! How can students be expected to cope with the rising costs of education?
The answer, for many, is in the form of education loans. What is an education loan, and who offers such loans? The answer is in the form of banks. In India, the top banks offering education loans include State Bank of India, IDBI Bank, Canara Bank, ICICI Bank, HDFC Bank, and Axis Bank.
Many may have heard of such loans, and even availed them in order to pay tuition. More often than not, one is not aware of how such loans work. For example,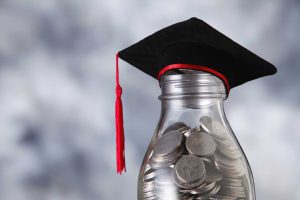 How are the loan rates decided?
Are the rates regulated by any Government authority?
Is there any portal through which a student can easily avail loans and scholarships?
As per the new RBI guidelines 2, effective from April 2016, every commercial bank offering loans must prepare their own Marginal Cost of Funds based Lending Rate (MCLR), which will be the internal base lending rate for that particular bank. The MCLR is decided based on two major factors, i.e.
The Repo rate offered by the Reserve Bank of India: This is the rate at which the central bank authority (RBI) lends money to a commercial bank. It is used to control inflation.
The Interest rate offered by banks for income deposited in savings accounts
As per this new reform, banks must set a minimum of five such benchmarks for different loan periods, ranging from overnight to one year. The interest rate of a particular bank for its customers, who are from a variety of backgrounds and monetary situations, is decided based upon the MCLR of the bank, as well as the individual "riskiness" of the customer, i.e. a measure of how certain the bank is that he/she will promptly repay the loan. What was the need for this reform, however? The answer lies in the repo rate offered by the RBI. Banks in the past were very slow to change their loan rates in accordance with the repo rate (as this benefitted their business). These new guidelines, however, have made it necessary for banks to include this repo rate in their calculation of interest rate for their loan, thus ensuring fair interest rates for customers.
Source: Business Standard. Rates as of April 2016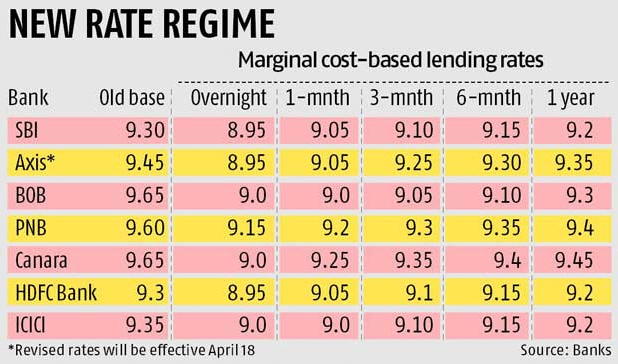 On top of the MCLR, banks append their own rates for various categories. These are summarized below, for top banks:
| | | | |
| --- | --- | --- | --- |
| Lender. | Loan Amount/ Interest Rate. | Max. Loan Amount | Repayment Tenure |
| State Bank of India (Base Rate- 9.70%) | Upto Rs.4 lakhs / 13.35% p.a (base rate + 3.65%) Between Rs.4 lakhs- Rs.7.5 lakhs / 13.60% p.a(base rate + 3.90%) Above Rs.7.5 lakhs / 11.60% p.a (base rate + 1.90%) | Studies in India- Rs.10 lakhs Studies Abroad- Rs.30 lakhs | 5-7 years |
| Axis Bank (Base Rate- 9.95%) | Upto Rs.4 lakhs / 16.95% p.a (base rate + 7.00%) Between Rs.4 lakhs- Rs.7.5 lakhs / 17.95% p.a (base rate + 8.00%) Above Rs.7.5 lakhs / 15.95% p.a (base rate + 6.00%) | Studies in India- Rs.10 lakhs Studies Abroad- Rs.20 lakhs | Maximum 7 years |
| Punjab National Bank (Base Rate- 10.00%) | Upto Rs.4 lakhs / 12.00% p.a (base rate + 2.00%) Between Rs.4 lakhs- Rs.7.5 lakhs / 13.00% p.a(base rate + 3.00%) Above Rs.7.5 lakhs / 12.50% p.a (base rate + 2.50%) | Studies in India- Rs.10 lakhs | Loans upto Rs.7.5 lakhs : 10 years Loans above Rs.7.5 lakhs : 15 years |
| Avanse Education Loan (Avanse Base Lending Rate- 11.50%) | Calculated individually based on course being pursued and the accompanying cost. | Minimum- Rs.50,000 Maximum- No Limit | Minimum Repayment Tenure- 12 months Maximum Repayment Tenure- 120 months |
Com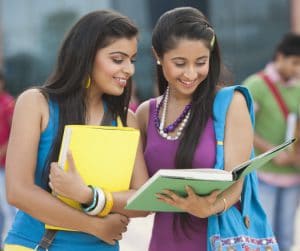 ing to the most important question many readers may have: what is the easiest, cheapest way to avail of such loans? The vidyalakshmi.co.in website, launched by the Government of India in August 15th, 2015, in commemoration of India's Independence Day, is the answer. The web portal was developed specifically for "providing(a) single window for students to access information and make applications for educational loans provided by banks as also government scholarships," as stated in the government's statement on the occasion of its launch. The portal is maintained by the NSDL e-Governance Infrastructure Limited (the authority responsible for PAN cards), under the guidance of the Department of Financial Services, (Ministry of Finance) , Department of Higher Education (Ministry of Human Resource Development) and Indian Banks Association (IBA), as stated on their official website 4.
The portal provides an easy way for students to obtain information about the various loan schemes of different banks, the rates these banks offer, loan application forms for these banks, loan status updates, grievance/query forms, and links to the National Scholarship Portal 5. At the time of writing this article, the portal has 39 banks offering 66 different loan schemes.
As a student in today's world, it has become increasingly more difficult to complete one's education, due to rising fees. Education, however, is the strength of our country's future, and it must be safeguarded, nurtured, and developed. It is to this end that education loans facilitate our growth as a nation, and enable millions of students to get the education they require to take the nation to unparalleled heights in the coming years.
Education Loan Checklist:
Address, Age and Nationality proof documents
Attested Marks Cards
Admission Letter
Breakup of Fees of Institute
Income Proof
For Loans in countries outside India, the following are also required
Employment Contract
Entry Permit (Validity, Issuing Authority, etc)
Admission Letter and I-20 form from University
Passport and Visa
Sources:
http://www.davemanuel.com/median-household-income.php
http://www.indianeconomy.net/splclassroom/99/what-is-marginal-cost-of-funds-based-lending-rate-mclr-reform-by-the-rbi/
https://www.vidyalakshmi.co.in/Students/index
http://www.scholarships.gov.in/
Picture : http://www.business-standard.com/article/finance/axis-bank-cuts-mclr-by-15-basis-points-to-8-95-116041200733_1.html
Table for Top Banks: https://www.bankbazaar.com/education-loan.html
You Might Want To Read:
Iit Jam Biological Science Online Test, Mathematics In Essence How To Overcome Math Anxiety, Accounting, Vdo Test Series, Ap Village Revenue Officer Mock Test, International English Language Testing System I E L T S, Karnataka Public Service Commission Chemistry Mock Test Paper 2, Virtual Assistant, Electronic Science Question Paper 2 2010, Gate Mining Engineering Question Paper 4 2010