The FMGE Exam is compulsory for those students who have completed their medical degree from abroad and now wish to continue their medical practice in India. The FMGE exam is held twice a year (in June & December).  An aspirant has a maximum of 3 attempts to pass this exam.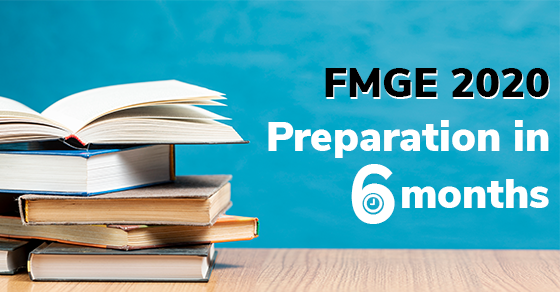 Given below are a few pointers that will help you prepare well for your MCI FMGE exam in six months.
Preparing a proper schedule
Make sure to start your exam preparation by dividing all the subjects that you wish to complete according to your time table.
Prepare your schedule in such a way that you are able to complete all the topics in the given time frame.
Do keep some extra time for revision, solving daily MCQs, Mock, and Tests.
Get some tips for making your daily study plan from Dr. Dheebak who scored 236 marks in FMGE June 2019.
Completing and mastering the entire syllabus
FMGE aspirants must finish the entire syllabus. Do not leave out any topic; rather give equal time and attention to each subject. Do not fall into the trap of giving too much time to a particular subject.
Make good and proper notes
Do develop a habit of making your own handwritten notes. These will be a ready to use reference guide during your time of revision.
This will save up on a lot of time, as everything that you will need will be in one bundle of notes.
Keeping all your notes, and important topics in one bundle will help you to faciltitate your revision faster and more effectively.
You can get assistance to making high yielding notes here.
Keep revising 
Revising and keeping basics clear is the key. Revision is a must and that too at regular intervals. Revising the topics again and again will train your brain to retain the information.
Whether it's your first attempt or second, make sure to revise the main topics once or twice. Build your study schedule in such a way that you have enough time for completing at least two rounds of revision.
Remain motivated and encouraged 
Do not be disheartened if you are not able to remember all that you've been studying. Do not be too hard on yourself; rather give yourself the time and space to recall your topics.
Remember that everyone has a different grasping power. So, make sure not to compare your preparation with others. Do not let your confidence be in how much the other person has studied, rather let your confidence be in your study.
Keep attempting MCQs, and Mock Tests
Attempting MCQs and Mock Tests should go hand in hand. Make sure to attempt a variety of MCQs on different topics. Doing this will enable you to refine your weaker areas.
Be optimistic even after failure in Mock Tests:
Remember that Mock tests are only there to check your preparation process and an average score in mocks shouldn't make you feel like a failure. Believe in yourself by being optimistic as you still have room to improve until the day of your FMGE exam.
Reject all kinds of negative thoughts that have the potential to lower down your energy level and make you futile.
Mastering the Weaker subjects
Do not make the mistake to focus all of your energy only on your strong areas and leave the tough topics for the last.
Give equal importance to both your weak and strong areas. Do not leave any topic as it will cost you losing quite a lot of marks in the exam.
Do not use too many study resources
Do not refer to many study resources as this will leave you confused. Stick with just one study material, with all your notes coupled with important topics.
Once you are done with it then you may refer to another one; if necessary.
Do take short breaks during your study
Taking breaks during your study will help you to effectively and efficiently to retain your study information. When you feel saturated, take a small break to relax your mind and then get back to work.
Keep your eye on the goal
During your preparation, do not get distracted but make sure to keep reminding yourself to keep an eye on the goal.
This will help your mind to remain focused on what matters and not let your mind wander or be distracted from your goal which is to clear the FMGE exam.
These tips for FMGE exam 2020 preparation will help you study effectively and efficiently to bag a good rank. If you wish to receive more information about the FMGE exam, read our related articles. Good luck, you got this!
You Might Want To Read:
Ssc Constable Gd Practice Paper, Class 10 Science Question Paper 4, Sports Management Definition Career Path Colleges Jobs Salary, Forensic Science Question Paper 4 2015, Net Folk Literature Mock Test Paper 121, N T S E Reasoning Sample Question Paper 2 2015, Gmat Paper Pattern 2019, Cat Case Study 74, Kendriya Vidyalaya Sangathan Kvs Online Test, Physics Question Paper 5 2009
Leave your vote
This post was created with our nice and easy submission form. Create your post!