IBSAT is the short form of IBS Aptitude Test which is essentially an online management aptitude test. The ICFAI Foundation for Higher Education conducts the test. It's a national level exam that happens once a year and is of 2 hours duration. Moreover, the scores obtained in this exam are used to gain admission into the Ph.D. and MBA programs.
Also, the aspirants of the exam use the obtained scores to gain admission into the Ph.D. and MBA programs. The ICFAI Business School (IBS) campuses spread across the nation run these programs in the cities of Kolkata, Pune, Ahmedabad. Moreover, Gurugram, Mumbai, Jaipur, Bengaluru, Dehradun, and Hyderabad also host these programs.

Furthermore, the registrations for IBSAT 2018 opened on July 1, 2018. The institute will accept the application forms until December 12, 2018. Most importantly, the date for taking the IBSAT exam is December 22-23, 2018.
The exam, as every exam of MBA nowadays,  is a computer-based test (CBT) consisting of 140 multiple choice questions (MCQs). Its main purpose is to assess the reading comprehension, quantitative ability, and vocabulary of the aspirants. Moreover, it also tests data interpretation, data adequacy and analytical reasoning of the applicants.
Meanwhile, following are the important IBSAT-related details you should make yourself aware of:
Important Dates
| | |
| --- | --- |
| Firstly, the starting date of registration for IBSAT 2018 | July 1, 2018 |
| Secondly, the last date of registration for IBSAT 2018 | December 12, 2018 |
| Thirdly, the IBSAT 2018 examination dates | December 22-23, 2018 |
| IBSAT 2018 result declaration | The first week, January 2019 |
| Selection briefings | January 13 to January 20, 2019 |
| Last date of application to IBS with your NMAT, GMAT or CAT scores | January 31, 2019 |
| Lastly, PGDM/MBA selection process from | February 22 to February 26, 2019 |
IBSAT Registration
In order to appear for IBSAT, you must first fill up the application form either off-line or online. Consequently, aspirants can fill up the online form by visiting the ICFAI Business School's official website. For off-line form, you will need to purchase it from any of the designated centers by the IBS. You can also purchase it from the Axis Bank's marketing branches. You will need to login to IBSAT website using your application number (as your user ID). Moreover, you will also need the password you received in your email. This email is the one that you provided to the authorities in the application form when filling it. Also, you can change your password after logging in.
Once you've logged in to the IBSAT website, you will need to complete your candidate profile by entering your personal details and academic records (graduation, class XII and class X). Thereafter, upload a scanned copy of your recent colored photograph in .gif for the .jpeg format. Moreover, keep in mind that the pic size shouldn't exceed 25 kB. Also, it should be around 140 to 160 pixels.
Lastly, regarding the registration, IBSAT application form costs ₹ 1800. Students can pay this fee either in cash or through net banking/debit card/credit card.
IBSAT Admit Card and What to Carry on the Exam Day
Firstly, admit card for IBSAT exam is usually released through its official website a week prior to the exam date. You can enter your application number and date of birth on the IBSAT website to download your admit card. It is mandatory to carry their admit cards to the examination center, for all the applicants. Moreover, please note, the authorities won't allow you to appear for the exam in the absence of the admit card.
Furthermore, you should also carry a valid photo ID proof along with your admit card, to the examination center. In the event you had changed your name at some point in time, you must carry your name change certificate too. Following are the documents that qualify as valid photo ID proofs: passport, voter ID card, driving license and Aadhaar card.
Furthermore, as IBSAT is essentially a computer-based test, you must not carry any stationary to the examination center. Consequently, a candidate can't even carry a pencil for rough work. Similarly, the candidates can't carry any electronic item, mobile phone, calculator, watch, etc.
IBSAT Examination Centres
Firstly, IBSAT is conducted at 95 different centers throughout the country. However, please keep in mind that The ICFAI Foundation for Higher Education has every right to make changes with regard to the examination centers, at any time. Following are the normally used examination centers for IBSAT:
Jaipur, Dhanbad, Patna 1, Patna 2, Ajmer, Jalandhar, Greater Noida, Lucknow, Cuttack, Udaipur, Kanpur, Aligarh, Rajkot, Rourkela, Guwahati, Ranchi, Ludhiana, Haldwani, Haridwar, Siliguri, Kolkata 1, Kolkata 2, Bhubaneshwar 1, Bhubaneshwar 2, Mumbai – Dadar, Varanasi, Shillong, Dibrugarh, Moradabad, Dehradun, Ambala, Hissar, Kozhikode, Nagpur, Karnal, Shimla, Rajahmundry, Mumbai – Andheri 1, Mysore, Madurai, Kochi, Tirupati, New Delhi – South Extension, Gwalior, Ghaziabad, Jabalpur, Chennai, Faridabad, Jammu, Mangalore, Indore, Raipur, Secunderabad, Bhopal, Bhilai, Warangal, New Delhi – PaschimVihar, Mumbai – Borivali, Gorakhpur, Mumbai – Nashik, Mumbai – Andheri 2, Mumbai Thane 1, Mandi, Mumbai – Thane 2, New Delhi – Pusa Road, Muzzaffarpur, Alwar, Jodhpur, Bareilly, Allahabad, Visakhapatnam, Vijaywada, Belgaum, Coimbatore, New Delhi – VivekVihar, Bhilai, Khammam, Hyderabad 1, Hyderabad 2, Trivandrum, Chandigarh, Meerut, Baroda, Jamshedpur, Kota, Agra, Ahmedabad, Surat, Bengaluru 1, Thrissur and Bengaluru 2
All candidates are advised to reach the examination center at least one hour prior to the reporting time specified on the admit card. In case you're new to the location, it is highly advisable that you do a recce of the examination location at least a day before the exam date.
IBSAT Eligibility
Please note, apart from the IBSAT score, IBS even accepts NMAT (by GMAC), CAT and GMAT scores for admission to its programs.
In order to be eligible for the PGPM or MBA program of IBS, you must meet the following eligibility criteria:
You should be a graduate in any stream with 50% or above marks and the medium of your education should be English. It is necessary to have completed at least 15 years of education (based on 10+2+4 or 10+2+3 system).
Anyone who doesn't meet the eligibility criteria or hadn't graduated through an English medium Institute must submit his/her IELTS, NELT or TOEFL score to the Institute latest by May 31, 2019.
You can apply even if you are in the final year of your Bachelor's degree course. However, you must meet the graduation requirements (including the assignments, viva or any practical examinations) before May 31, 2019. Furthermore, you must ensure that you submit your graduation proof latest by November 1, 2019.
There is no specific age limit to apply for the IBSAT examination. There aren't any reservation criteria applicable to IBSAT either and candidates belonging to all categories must have obtained at least 50% marks in their graduation. No application fee relaxation is provided to OBC, SC and ST category candidates.
IBSAT Syllabus and Exam Pattern
IBSAT for the year 2018 will be conducted over 2 days from December 22 to December 23 and the examination duration will be 120 minutes in which you'll need to answer a total of 140 multiple-choice questions. Being well aware of the IBSAT pattern will help you understand what can be expected on the exam day, how the marking is done and what all topics and subtopics you should prepare.
Normally, the IBSAT pattern stays the same each year and the best way to prepare for the exam is by attempting the question papers of the previous years. There is no time limit to attempt each section, however, you cannot start solving any question before the start of the timer.
Following is the pattern of the IBSAT exam:
| | |
| --- | --- |
| Sections | Number of Questions |
| Quantitative Aptitude (QA) | 30 |
| Reading Comprehension (RC) | 30 |
| Date Sufficiency / Adequacy and Data Interpretation (DA / DI) | 30 |
| Verbal Ability (VA) | 50 |
| Total number of questions | 140 |
Coming to the syllabus of IBSAT exam, no specific syllabus is released by The ICFAI Foundation for Higher Education. But as the pattern of IBSAT exam is almost the same as that of CAT, anyone who has prepared for the latter would have automatically prepped for the IBSAT as well. Below provided is an overview of the examination sections and the topics covered under them.
| | |
| --- | --- |
| Sections | Important Topics |
| Quantitative Aptitude | Profit and loss, percentage, time-speed-distance, number system, discount, and probability |
| Reading Comprehension | Questions derived from comprehension passages |
| Date Adequacy and Data Interpretation | Bar graphs, cause, and effects, data sufficiency, statements and conclusions, pie chart |
| Verbal Ability | English usage, replacing the missing words, Para jumbles, incorrect words |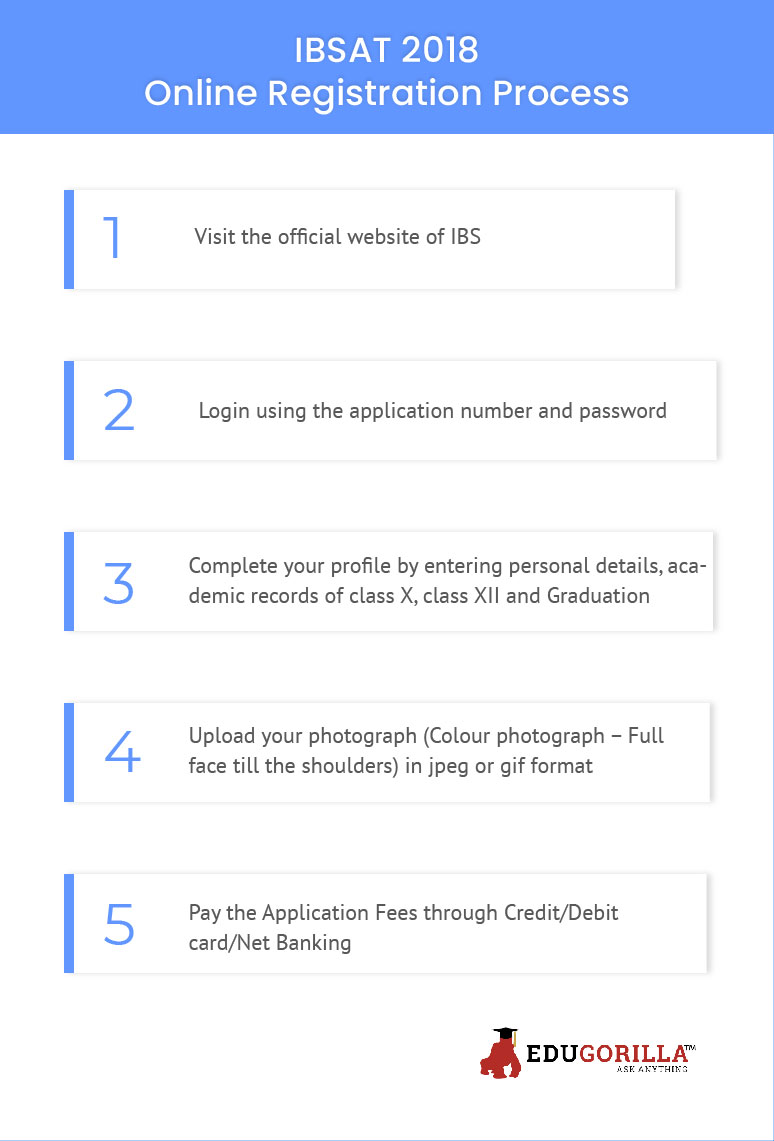 IBSAT marking scheme
In order to successfully crack IBSAT, you must be thoroughly aware of its marking scheme. Every correct answer will get you 1 mark and there isn't any negative marking. So, essentially for every:
Correct answer, you get – 1 mark
Wrong or incorrect answer, you get – 0 marks
Non-attempted question, you get – 0 marks
You Might Want To Read:
Best 5 Ielts Coaching Institutes In Lucknow, 117264 2, Indian Army Sample Test, Iimc Radio Television Journalism 2016, Complex Numbers, Tiruchirappalli Nit Trichy, Labor Welfare, T F R Biology 2017, Iit Jam Bridge Engineering Notes, Master Set For Electrical Engineering Question Paper 1 2014
Leave your vote
This post was created with our nice and easy submission form. Create your post!