I often hear people complaining about their jobs which is normal, and I can understand that, the part I don't completely understand is, if you hate your job so much than why don't you try to switch careers? Some people might argue that it is easier said than done. So, here is a case study based on the real data I recorded while attempting to switch career (in two different ways) and entering a new field. In my career extending over the span of about 8 years, I was successful in getting jobs in various sectors including academia, government and private sector. Not only that, I also switched my area of expertise from environmental to what could be perceived traditionally as a branch of Computer Science or Information Technology.
In this article I am presenting one part of my journey where I made two separate attempts and did several experiments on my way to secure a job in an entirely new field. Just to give a little background about myself, I was born in India and lived there until I decided to move to the United States for higher education. I did my Master's and PhD from different colleges in the United States and following that I worked first for a state research lab, then for federal government, for private sector and now I am an entrepreneur. I realized that in doing so I have gathered invaluable experience and learned several skills that makes it easier to find jobs and I intend to share this with other people through my platform GetJobzz. In the light of privacy for my employers I will not be able to disclose specific names and details of my employers.
Coming to the case study, I wanted to get a job in a new field which was booming and there were several jobs. Despite of the fact that there were several jobs I was facing two big challenges during my attempt to switch careers – I had no prior experience and I was coming from a completely unrelated background. In my first attempt I didn't had a specific plan, all I had was a regular plan to make a generalized resume and start applying to as many places I could. One good thing I did was to record all the name of places I applied to and all the other details such as, did I got the 1st interview and if I did how did it go and so forth for every round.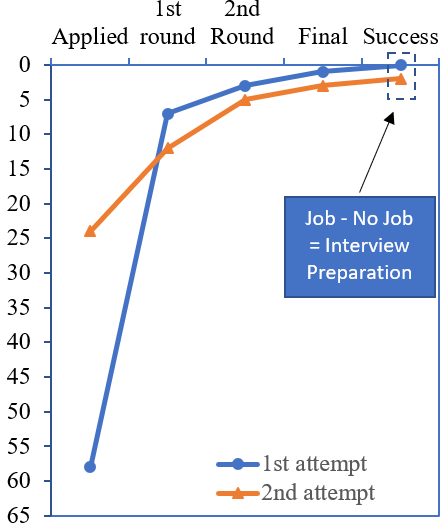 1st attempt: In the attached plot, blue line represents the 1st attempt where:
I applied for about 60 Jobs and I was able to get 1st interview for only 7 jobs. In other words, only 10 – 12% of employers will get back to you for the first interview which is mainly an HR round (This percentage could be even lower in several cases). First round is mostly a behavioral interview and they will verify some details in the resume and ask about some basic questions.
From there about 50% of the employers (only 3 companies) gave me an opportunity to appear in the second interview. Now, 50% might not seem bad odds, but considering I applied for 58 companies the percentage is mere 5%.
And out of the 3 second round interviews, I was only able to receive final interview from 1 company and after about a month they decided not to hire me.
In summary, out of the 58 applications I applied to, I was not able to get any job offers. Instead of applying for more jobs right away, I tried to research into what I can do to make my odds better and after talking to several people who were experts in the field, I made several changes:
Completely reformatted my resume to showcase relevant skills and projects that define my capabilities and how I can be a valuable employee.
Customized my cover letter to make a connection between my current job and perspective new change. This was my first chance to explain why want to make a career move.
Prepared answers for all the potential questions for the interviews.
Most importantly I got a mentor who helped me to understand what employers wanted to hear and that was a major game changer. Mock interview training made a huge impact.
In the second attempt represented by orange line:
I only applied for 24 jobs and I was able to get 1st interview from 12 of those places so my odds drastically improved from 12 to 50%.
Out of these 12 companies, I got second interview invitation from 5 of them and final interviews from 3 out of those 5, improving my success rate to 60%.
And finally, I got an offer from the 2nd company, few hours after my final interview.
Overall, we can see that how we can change our chances of getting job, if we change the way we try to get it. It is not about applying in bulk, but instead it is more about understanding what employers want and then customizing yourself to be the best fit for the job. In my experience the biggest contributor for my success was my mentor since he showed me how to look things from the eyes of the employers. Thinking about this gave me an idea to start a platform where mentors from different specializations can teach new candidates on what they should do in order to get ready for the job. This will also help the candidates to understand what their daily life is going to look like once they get their dream jobs.
You Might Want To Read:
Benefits Of Higher Studies From Australia, Amiete Et Cs Old Scheme Signals Systems Mock Test Paper 135, Common Entrance Test Cet Chemistry Mock Test Paper 7, Ocf, Afcat Previous Year Paper 4, Indian Institute Of Technology Bombay, Electrical Electronics Instrumentation, Iti Electrical Engineering Question Paper 1 2016, Net English Paper Iii Sample Paper 2 2013, Case Study 86
Leave your vote
This post was created with our nice and easy submission form. Create your post!