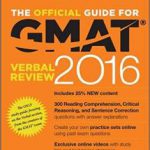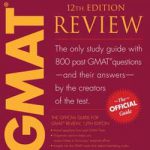 The Graduate Management Admission Test (GMAT) is a computer adaptive test (CAT) intended to assess certain analytical, writing, quantitative, verbal, and reading skills in written English for use in admission to a graduate management program, such as an MBA. It requires knowledge of certain grammar and knowledge of certain algebra, geometry, and arithmetic. The GMAT does not measure business knowledge or skill, nor does it measure intelligence. In 1953, the organization now called the Graduate Management Admission Council (GMAC) began as an association of nine business schools, whose goal was to develop a standardized test to help business schools select qualified applicants. In recent years, it has been taken more than 230,000 times annually. Initially used in admissions by 54 schools, the test is now used by more than 2,100 schools and 5,900 programs worldwide.
Test takers may register for the GMAT either online at mba.com or by calling one of the test centers. To schedule an exam, an appointment must be made at one of the designated test centers. The GMAT may not be taken more than once within 31 days, even if the scores are canceled. The cost of the exam is $250.
Why take the GMAT exam?
No other exam lets you showcase the skills that matter most in the classroom and in your career.
Admissions professionals value the GMAT exam's ability to predict program performance. In fact, your score is one of the first things they look at in your application.
No other exam lets you shine a light on the real-life business skills that are in demand and valued by today's employers.
Preparing for and taking the GMAT exam is your opportunity to show schools that you're committed to a graduate business education.
Important facts about GMAT
What degree will you get ?
GMAT exam is a prerequisite for receiving admission to many business schools.
Degree
You will end up with an MBA after the completion of your course, the enrollment for which requires the GMAT exam.
What is the exam pattern ?
4 sections - Analytical Writing Assessment, Integrated Reasoning, Quantitative and Verbal.

Pattern
On test day, you have 3.5 hours to complete the four sections of the GMAT exam – Analytical Writing Assessment, Integrated Reasoning, Quantitative, and Verbal.

What degree must have ?
Just as the SAT is an admission test high school students need to take to get into college.
Degree
The GMAT is an admission test after-college folks in the business world need to take to get into business school. There is no specific eligibility criteria/

Total Applicants ?
The total number of applicants spread across the globe for the year 2013 was 238,356.
Total
The next year though experienced a drop of 16.8% drop as only 286,529 applicants took the test.

What time of the year ?
The GMAT exam is delivered year-round and on demand in test centres around the world.
Time
Ideally, your target date for taking the GMAT should be at least two months before your first application is due.
How much is the college fee ?
Tuition fees average about US$ 35,000 per year, and living expenses about US$ 10,000.
Degree
Fees at UK universities average about GBP 20,000 per year and fees at Canadian universities average about CA$ 20,000 per year.