Chatbot, short for chatterbot, is an Artificial Intelligence (AI) feature that is designed to convincingly simulate how a human would behave as a conversational partner.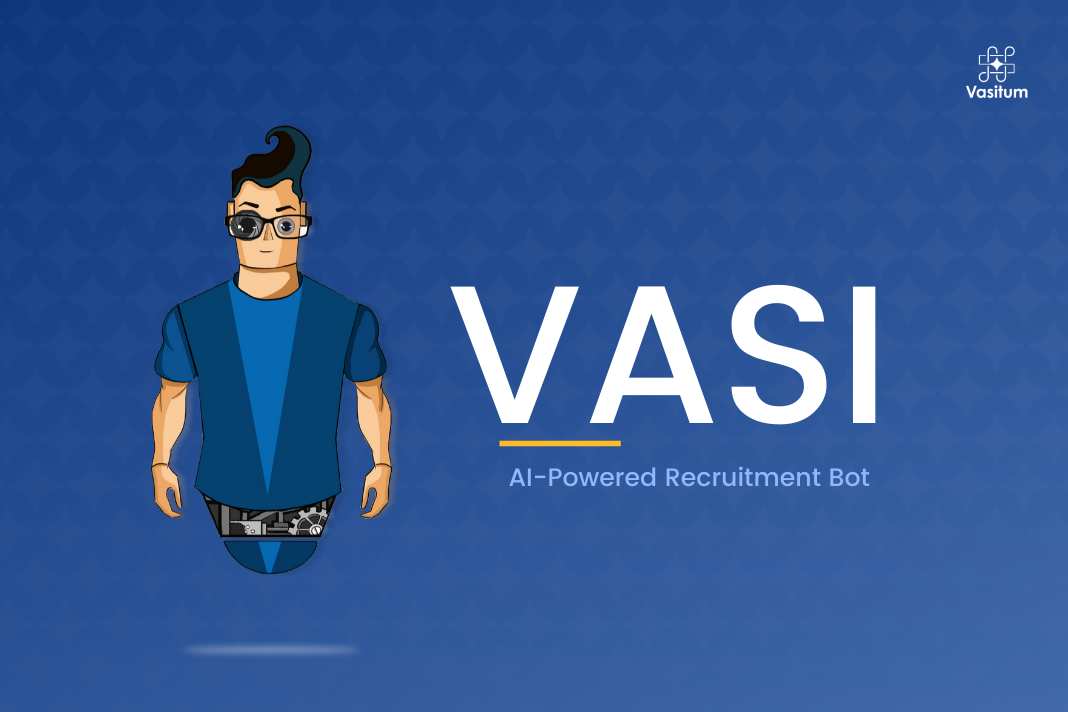 In the era of evolving technologies and machine learning, which is transforming nearly every industry, the recruitment industry has also seen some changes.
AI-based Recruitment Platform Vasitum uses its chatbot – Vasi – to help job seekers find the finest jobs and assist recruiters in hiring top talent. Based out of Noida, Vasitum was launched in January 2019 and to push the platform to its full potential, Vasi was brought to life.
Vasi helps in finding better jobs if you're a candidate and in finding relevant profiles if you're a recruiter. But how is Vasi different from the countless other AI-powered bots? What makes this recruitment bot more than a just a piece of engineering? Let's understand the science!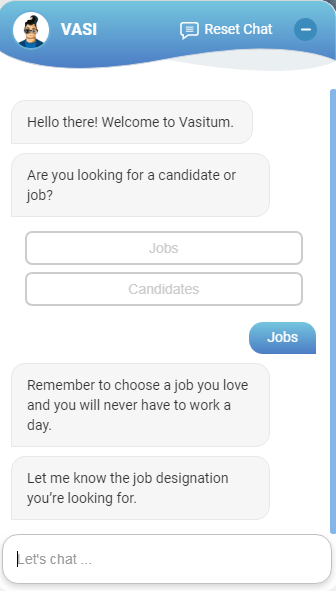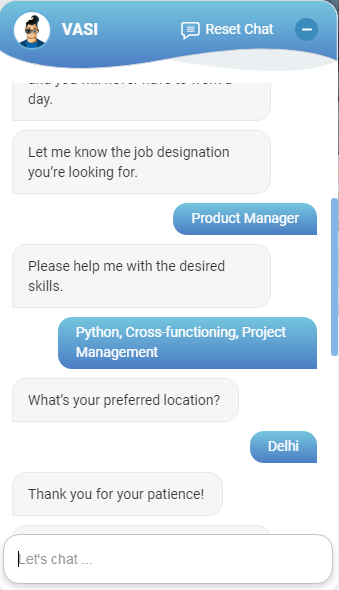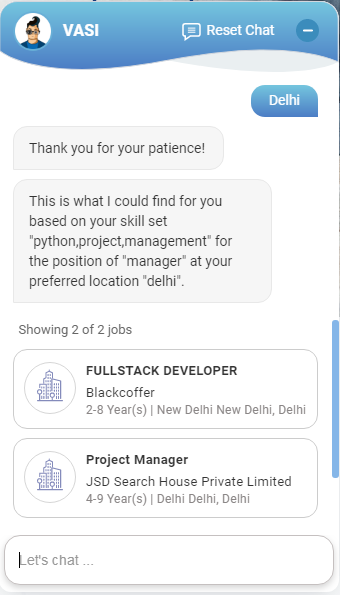 The Science
Chat bots work on an AI tool that's used to convert requests to commands called NLP or Natural Language processing, and all the big guys use this one tool. These requests can be written in text (like Google Search or Youtube) or verbal (like Siri or Alexa). Vasi uses job seekers' profile to build their virtual presence and present it to the exact employers who would be interested in those profiles.
The whole thing starts with candidates setting up their profiles. Once the platform has all the relevant information, your personal head-hunting agent is back. Vasi will show the jobs relevant to the profile and selected preferences such as experience, location, etc. Vasi is designed to specifically serve this purpose, to make the application process simpler, that's why here isn't where Vasi stops.
The Legend Continues / The Gift That Keeps On Giving
After the profiles of candidates have been assembled and the relevant recruiters have been contacted, Vasi gives a form. A form? What form? Job form? No, it's a screening form. But aren't recruiters supposed to screen candidates in person? They used to but it's a menial task. You have to ask candidates about the details and rely on their word, plus, it used to take up valuable time.
To save the candidates' time and effort, Vasi asks the screening questions set by the employer, that can be regarding expertise, comfortability with location, etc.
But, here comes what used to be the most tiring job: Follow Ups. The platform doesn't spam you with reminders to contact companies and check-in on your status, Vasi will do that for you. The interface that candidates see is the same as what the recruiters see, there is no need of interaction with the platform besides Vasi.
The platform has equipped Vasi with the ability to schedule interviews and features a messaging platform that helps candidates and recruiters stay in contact.
The Conclusion
So, why does a small company work so hard on such a specific problem? Because there seems to be room for improvement. There are a lot of facilities that should be made available to candidates and recruiters alike. There is a big gap between the people looking for jobs and those giving out the jobs, and there are some who are trying to benefit off the complexity of this process.
The goal is to provide such an independent and clear process of applying and hiring that there are no disputes and no lack of clarification. Every decision, update, offer, and change is on the platform, visible to everyone involved, and no 3rd party can interfere or disrupt the process. Just to secure the process and interaction, the platform gives this added level of security.
Vasi was built to beat the boring passive, dispassionate cliché of bot-like responses, by giving him a human touch. Vasi is available to clarify doubts and queries 24/7, 365 days of the year, and he doesn't rest even on National Holidays! Vasi understands humans better with every interaction and that makes him very useful and full of potential. This poses as what can be one of the leading technologies in the coming times which will cause inordinate changes in the recruitment industry.
You Might Want To Read:
Allen Vs Resonance, R P S C Education Question Paper 3 2014, 5 Tips To Help You Prepare For Study Abroad In An English Speaking Country, Upsc Ies Iss Statistics Paper Iv Question Paper 2011, Yvs Institute Vs Aakash, How To Host Facebook Live Sessions Like A Winner, Net Kannada Mock Test Paper 191, Iitt College Of Engineering And Technology Punjab, Cgpsc Solved Paper 2013 3, Ugc Net Law Mock Test Paper 17
Leave your vote
This post was created with our nice and easy submission form. Create your post!