Artificial Intelligence (AI) means infusing intelligence in machines that enable them to perform smartly like humans. The only difference is that they can do it more efficiently, and quickly. And what more, they perform it at a much lower cost as compared to humans!
The potential of both robotics and AI in the sector of healthcare is ample. Among other areas such as defense, education, farming, Artificial Intelligence has an increasing utility in the healthcare sector. From performing mundane tasks to handling complex ones, AI enabled robots have several applications in healthcare to serve humanity. It is making major changes in the way things work. The use of Internet of Medical Things (IoMT) and Artificial Intelligence is already changing the lives of millions.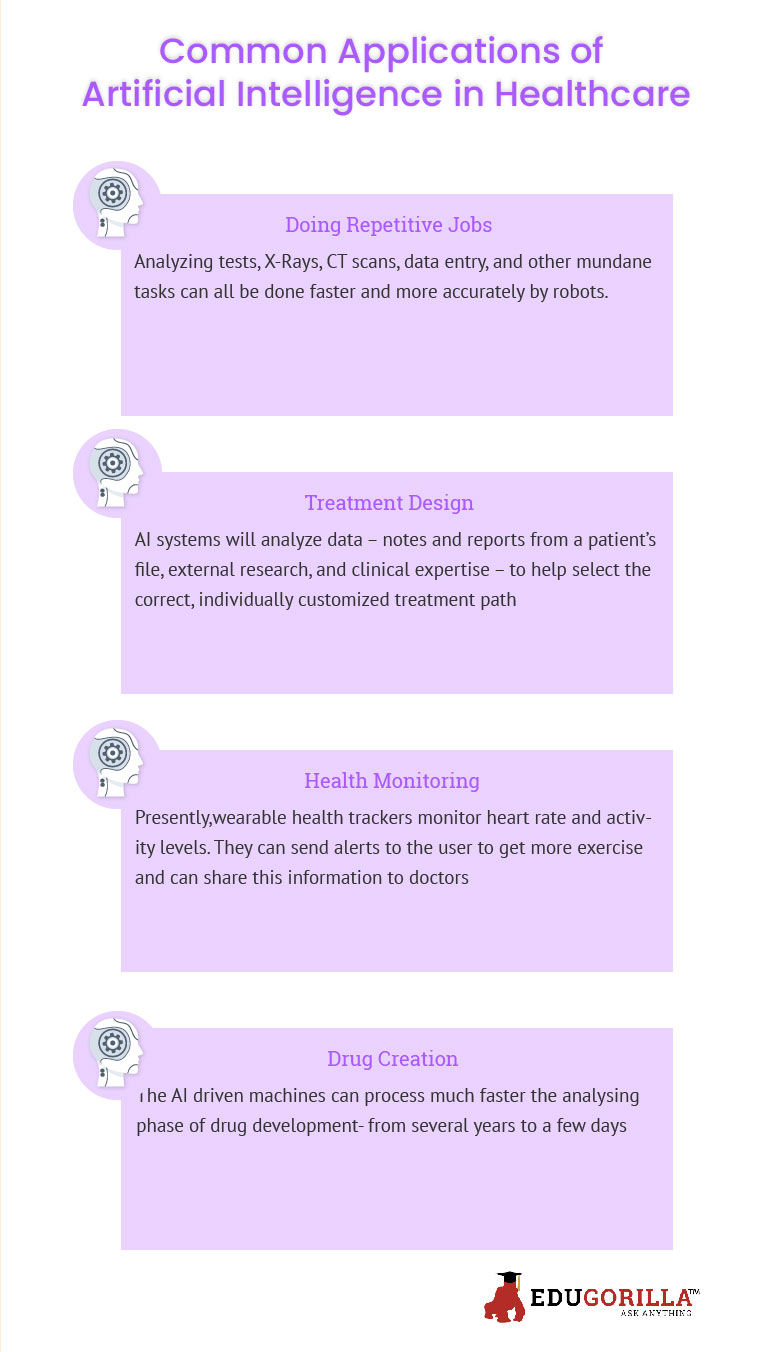 AI in healthcare is a combination of multiple technologies that enable machines to sense, comprehend, learn and act. This helps in performing a myriad of administrative and clinical functions for which it otherwise requires humans. With enhanced accuracy and speed, it is a boon for the healthcare sector. Thus, the health sector easily performs tasks which earlier required many people for the work of a few. There is a way how technology apps inculcate healthier habits. They do so with the proactive development of a healthy lifestyle in individuals. These apps put individuals in control of their well-being and health.
Artificial Intelligence enhances the capability of healthcare professionals to get a better understanding of the needs and patterns that people follow and allows the patients to talk to a doctor via different modes of communication. With that information, they are able to give better guidance, support, and feedback for healthy living.
Practical Applications of Artificial Intelligence in Healthcare
AI, when combined and used with various devices, can produce wonderful results and have varied applications. One such application is of the medical devices and consumer wearables. Consequently, the stakeholders of the health sector apply these devices to detect early-stage heart disease.
Similarly, the stakeholders apply Artificial Intelligence to detect diseases like cancer with more precision. And what more, this too they apply in its early stage. As per the American Cancer Society, there have been instances of false detection of cancer in some cases. This involves, for example, one in two healthy women being told that they suffer from cancer. It's an unforgivable mistake but is happening due to inaccurate diagnosis. To rectify such mistakes and avoid repeating them, we take help of technology. The use of artificial intelligence is enabling translation and review of mammograms thirty times faster with 99% accuracy. Hence, this has led to reducing the number of unnecessary biopsies.
Improving healthcare requires the analysis and syncing of big health data with timely and appropriate decisions. Also, it requires predictive analytics that can supplement clinical decision-making.
AI is making a profound impact on another space. This is of recognizing patterns in identifying patients at the risk of developing a medical condition. Similarly, it can also identify degradation of the medical condition because of genomic, environmental, lifestyle and other factors.
Some More Applications
Furthermore, the AI enabled tools can scan the health records. These aid health providers in identifying chronically ill individuals at the risk of an adversary. Apart from this, AI can help doctors adopt a comprehensive approach to manage diseases. It helps them in better coordination of the care plans and helps patients in better management.
One of the examples is IBM's "Watson for Health" with utility in healthcare organizations with cognitive technology. This is the technology that taps the vast amounts of power diagnosis and health data.  With this, Watson can now store and review a large amount of medical information speedily and accurately. This information emanates from symptom records, medical journal and case studies of response and treatment from around the world.
Another example is Google's DeepMind Health that works in association with researchers, clinicians, and patients. This technology combines machine learning with systems neuroscience. Consequently, it builds a powerful general-purpose learning algorithm into a neural network that mimics the human brain. DeepMind Health provides access to patient data to nurses and doctors- their medical history and real-time health updates. This makes it easier for them to monitor and treat their patients. It is already getting a positive response from nurses reporting that it is saving them over two hours each day. This means that they can spend more time with those in need.
Artificial Intelligence and Robotics
Health professionals have used robots in healthcare for more than thirty years. They can be complex or simple and can either support a surgeon performing surgery or themselves independently execute operations. Apart from surgery, the health professionals have used them in laboratories and hospitals for physical therapy, in rehabilitation. They can also support the ones who suffer from prolonged illness.
Our average lifespan has increased. It is longer than the previous generations. Our reasons for death due to old age is getting slower and different. This is due to conditions like heart failure, dementia, and osteoporosis. Old age is also that part of one's life when one suffers from loneliness and despair.
It is here that robots can be of immense help. They can revolutionize end-of-life care and help people remain independent and healthy for a longer time. They can also reduce the necessity of hospitalization and old age homes. Artificial Intelligence along with advancement in humanoid (human-like robots) designs has helped enable robots. Consequently, these humanoids can take up tasks such as making conversations and socially interacting with old people. As a result, this helps in keeping their aging minds attentive and sharp.  It can ward off age-related neurological conditions such as dementia, Alzheimer's, etc.
However, the path for robots powered with AI is lengthy and cost intensive. Meanwhile, the California Biomedical Research Association (CBRA) conducted research. As per this study, on average, a drug takes twelve years to travel from the research laboratory to its patients. Only 5 in five thousand drugs that undergo preclinical testing are able to go to the stage of human testing; just 1 of these 5 gets approval for human usage. Also, it is a cost-intensive process even though it comes with the promise of accurate, desirable results.
Artificial Intelligence and Drugs
Moreover, there is another application of AI. It is in the process of discovering a drug and researching to bring out its efficacy and utility. The time spent on marketing a drug and managing its cost can be effectively reduced. The researchers can reduce this cost by utilizing the technology backed by Artificial Intelligence. Consequently, this can result in conducting research and discovering new drugs which are more potent and cheaper.
A case in point is Boston based Biopharma company, Berg. It is using Artificial Intelligence for conducting research and developing treatments by analyzing data and applying algorithms. This type of research comes under precision medicine. It is an emerging approach which takes an individual's genes and medical history into account. As a result, it produces precision medicine instead of generic ones. Apart from medicine, it also helps designing treatment to eliminate a disease without having any side effects on the body.
The Hiccups in the Application of Artificial Intelligence
Everything new comes with its own share of problems and hurdles that need to be overcome. To reap benefits from this budding technology, we need to dodge a number of challenges.
To yield results, we require a huge corpus of data. This data should be authentic and from a reliable source. To analyze this data, one needs more sophistication, to generate a foolproof data on its basis. This requires effort and cooperation from various sections of society- individuals, government, clinicians, etc.
Another set of hurdles are the legal, technical and financial issues that trail behind such experimental efforts. It is a source of a huge amount of expenditure in terms of both money and human resources. It would take a substantial amount of time to streamline the process of delivering seamless services through the use of Artificial Intelligence. Another aspect is psychological feasibility. To brew confidence in people about emerging technologies is a difficult task. But is crucial that people have faith and are receptive of the technology if they want to gain benefit from it.
Some Steps Helping in This Vision's Realization
A balance should be maintained in the area of policymaking. Artificial Intelligence and Machine Learning are catching up as an alternative to traditional ways. As much as it needs to be regulated, it should be given enough space to experiment and have faith in its ability. More experimentation and wider application are imperative as it would make the technology popular by making it affordable and reliable. To transition from traditional ways to the advanced ways, policymakers need to emphasize this point.
The need for regulation is necessary for the initial stages of any technology being introduced. The recent controversy surrounding Google's DeepMind is a case in point. The authorities are seeking answers over the allegations that Google is compromising their patients' data. Therefore there is a need for preventive as well as punitive measures to be adopted by putting regulations in place, to begin with.
In case of any mishappening, a mechanism should be in place to compensate the individuals who volunteer. It would ensure that necessary steps are being taken in case of any untoward incident.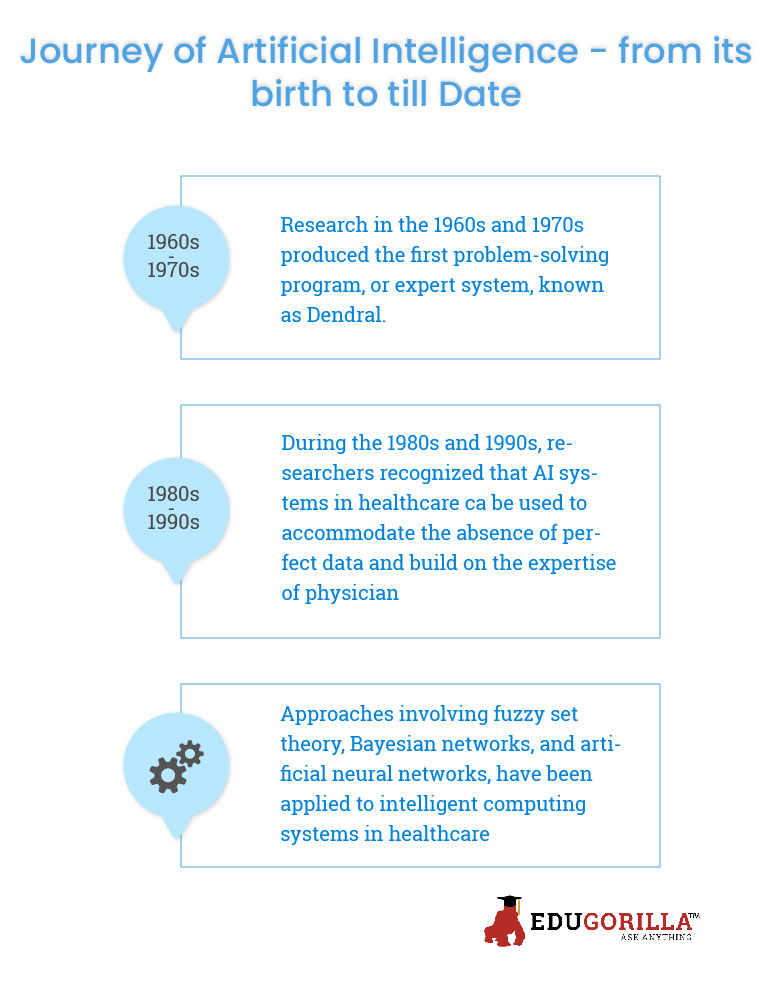 With little management and caution, the way we make use of healthcare services can transform within a decade or so. It could be a gamechanger in the patient-clinician relationship. Like every other technology, it comes with its own pros and cons but to outweigh the cons by proper management is required.
You Might Want To Read:
Cat Case Study 15, Gujarat Technological Universitym E Theory Elasticity Mock Test Paper 13, Education Question Paper 3 2015, Cochin University B Techit 3Rd Semester Digital Circuits Logic Design Mock Test Paper 10, Net Pali Paper Ii Sample Paper 11 2013, Mock Tests, Clat Ug Online Test, Neet Revision Online Test Series 2017 Mpeg By Career Point Kota, Delhi University M A Economics 1St Year Mock Test Paper 2, Ugc Net Linguistic Question Paper Answer Key
Leave your vote
This post was created with our nice and easy submission form. Create your post!