The world of technology has been imparting a drastic effect on the life of people. With new sales force automation techniques getting launched in the market every now and then, companies are facing tough challenges to retain their brand reputation in a competitive market. Earlier, it was thought that CRM software and sales automation techniques were only supposed to be for large-scale enterprises, but now, they are adapted even to provide small business CRM solutions. The next point that we need to discuss is 'what actually is sales automation?' It is an appropriate application of technology to facilitate the efforts of selling, both directly and indirectly. On an indirect note, it can enhance the efficiency of a salesperson. Consequently, it can directly improve the effectiveness of the sales development professional.
The sales force automation techniques vary in terms of features, advantages and pricing policies. Yet, companies never turn their back when it comes to a combination of buying both affordable and functional automation software. You may want to retain your valuable customers. For this reason, you need to focus on a well-modulated and integrated arrangement of sales, administrative and marketing automation techniques. It will be of no use if your employees keep on slogging hour after hour.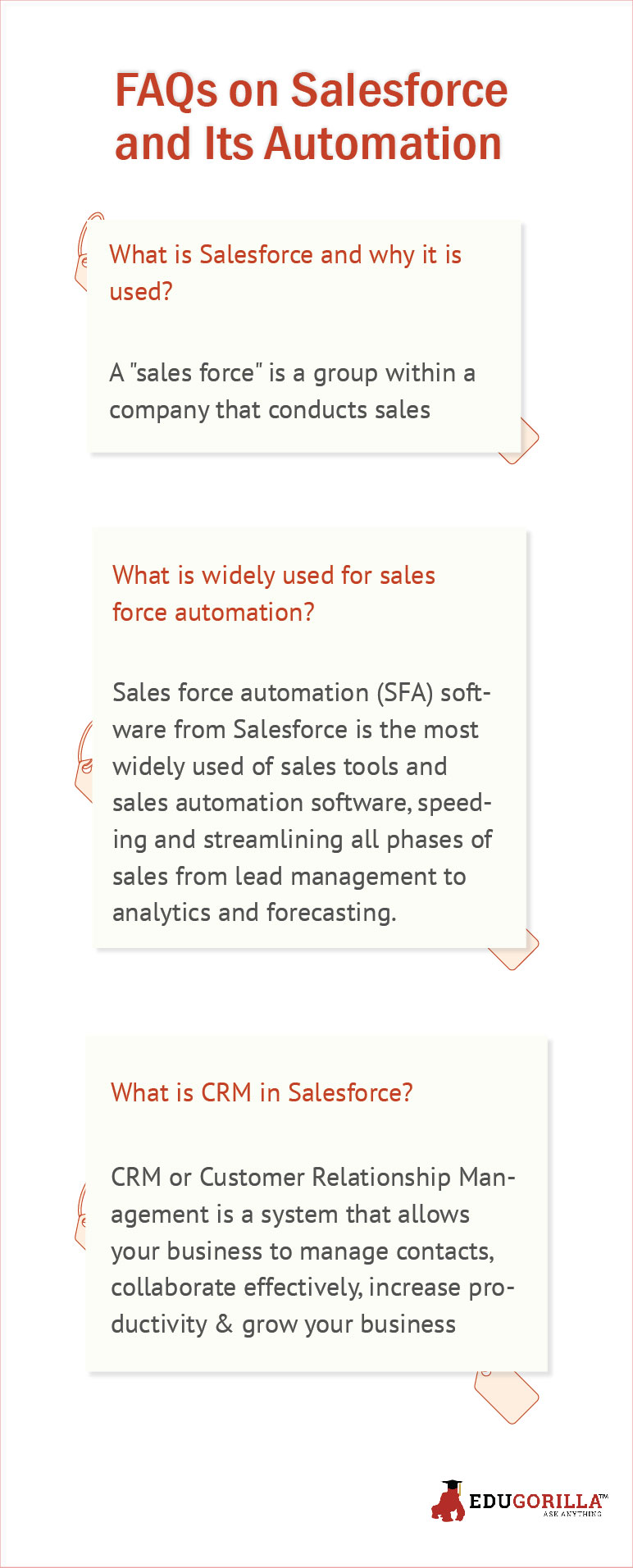 On the other hand, things can turn positive when you have a proper sales automation system that serves variable purposes. And exactly at this juncture, the task of a sales force automation system becomes integral. It makes selling a less time-consuming process. Moreover, it allows sales development professionals to get rid of mundane, non-productive and repetitive sales activities.
How do you design a chart for your sales process? Get hold of automation for better results
Salesforce automation is the future of any business. For your small business, you can use a computer, notebook and the word-processor to cater to all your respective leads. You need to create a sales funnel first, channelize the process, motivate team leaders and sales representatives. Also, you need to draw a backup plan and then use the automation process to exchange ideas and information. Presently, the companies are automatizing sales through the digital and internet world. Consequently, the entire cost of transport and communication has reduced to the minimum. As a result, you can just rely on CRM software and then chart out your business plan accordingly.
A simple planning criterion is important at this point. For instance, if you are a vendor of software solutions you can start an interaction with prospective clients. Also, you can retain them as per requirements. Moreover, this you can do by using the automation technique. The sales talks and discussions will be different in each case. Hence you need to have a well-planned diagram and sales chart at your disposal to reap final and sustainable benefits. The one stance of automation that you use for your customer acquisition might not be the same for customer retention. Consequently, it will give you options to choose from.
How to track business and manage competitors with the help of sales automation?
Salesforce automation goes a long way in allowing you to manage sales metrics and also competitors to a large extent. You must include an easy-to-use software system. This you require to accommodate yourself to new leads and prospects. You also need this to channelize major response as far as customer orientation is concerned. With the right CRM automation tool and CRM software, you can maximize a greater number of sales. You can also rely on an aggregate list of customers who can be fed inside the sales pipeline. Also, with these solutions, you can easily keep a track of all those leads which you have lost and won. You also improve better chances of return sales and building a set of loyal customers.  Moreover, when you have the right sales automation technique, you can keep an easy track of customer transactions. You can also monitor them from the time you contacted them for the first time until you closed the deal.
High-quality sales automation also helps in forecasting sales
For all your small business solutions, you can buy a package suite of the sales force automation system. This system must forecast high-quality sales. Often you go through major webinars and web broadcasting about sales products and future goals. Consequently, you can achieve proper success in terms of sales forecasting. The right combination of sales automation and CRM software can help you in terms of sales forecasting. This forecast is mainly based on calculation.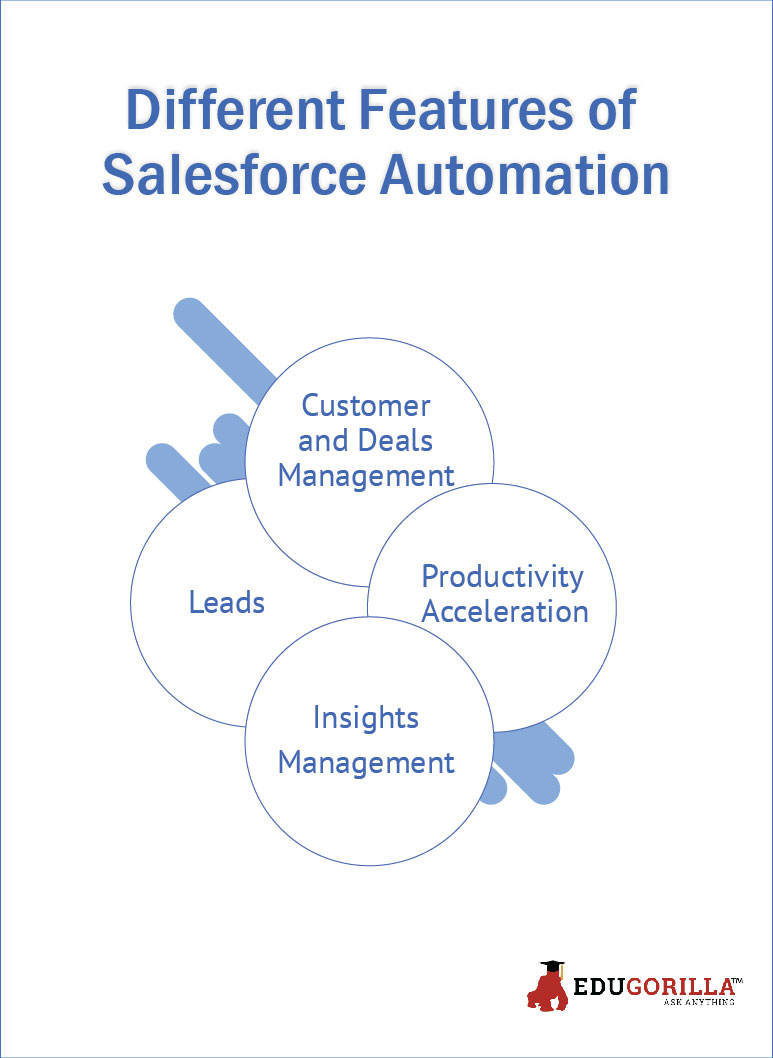 Also, in terms of reaping a recurrent flow of revenue, there can be no alternative than automation of sales forces. This can make sales more predictable by fine-tuning major business goals. Also, the handling of business methods and the process of managing orders becomes easier. The sales automation and CRM system does this task. Automation of sales forces also reduces the level of manual labor and much paperwork. This allows customers to receive and manage orders as per time duration and budget.
Salesforce automation helps you chalk out distinct introducible categories as part of pre-sales season. The sales team, salespersons at the backend circle and even sales development representatives find it easy to modulate teamwork with the help of salesforce automation. In fact, with the sales automation techniques and use of high-quality CRM software, even the process of shipping and data uploading has become easier with the high-end inventory modules that can generate invoices fast. This is ultimately extremely helpful for your small-scale business.
You Might Want To Read:
11Th Class, Cat General Knowledge Question Paper 3 Solution, Question Paper 3, Sample Paper 7, Delhi University L L B 3Rd Year Mock Test Paper 7 3, Engineering Question Paper 1 2014, Ignou, Ssc Je Practice Paper, Holistic Development, Tamil Nadu Board Matriculation Exam Mathematics Mock Test Paper 35
Leave your vote
This post was created with our nice and easy submission form. Create your post!