English plays an important role in our everyday life. It remains a major medium of instruction in schools. As a consequence, a  large number of books are written in the English language. It may not be the official language of India but it is widely used in our country. Almost all competitive exams like UPSC, CAT, GMAT, and GRE require candidates to have good command over the English language.  It is the dominant business language and has become a necessity for communication. Although it is not a dominant spoken language, it is the official language of many countries. It is estimated that over two billion people use English for communication globally. The use of English is important for inter-state communication in India (since every state has its own language) and international communication. Over 50 percent of the material on Internet is in English. Moreover, if you wish to go aboard for pursuing higher studies, learning English is absolutely essential. Thus, there are many benefits of having good command over the language.
Benefits of improving English
Good command over English comes handy for competitive examinations and will enable you to ace these exams easily.
Good English can impress your employer and clients and give better prospects for your job, promotion or salary hike.
If you wish to change your career, you can use improved English to your advantage. You can prepare a flawless resume to impress your employer. Your good oral communication skills in English can vastly improve your chances of qualifying the interview.
Learning English is not only important for professional life, it can be beneficial for your social life too. You will feel more comfortable to join social circles where English is spoken.
You will be able to improve your standard of living due to career growth.
You will be able to enjoy English movies, radio and music and books.
You will have a wider friend circle as you make friends from other states and aboard.
It will come handy if you need to travel aboard.
Also , it boosts your confidence and gives you a sense of achievement
How to improve your English

Having underlined the benefits of having good command over language, it is absolutely essential that you take steps to improve it immediately. Those who already have good command over the language should not be over-confident and try to make continuous improvement. Learning is a continuous process. Here are ten steps that will help you to improve your English:
Read English books and newspapers: Books are the primary source of knowledge. Read extensively. Jot down difficult words and try to find their meanings. If you are starting from beginner's level, reading children's books will be useful. Newspapers are also a great way to improve your English. It will also help you to keep updated with current affairs. Read slowly, one word at a time.
Watch English movies and listen to music: The U.K. and the USA produce some of the best programs in English. If you are learning English from beginner's level, choose programs with subtitles so that you can read and listen simultaneously. Also, listen to radio and English music. You will find plenty of such resources on the Internet.
Converse in English with your friends and family: This step can go a long way in improving your English. Befriend English speakers. They will help you to pick up the language. You will learn much more than what a conventional classroom can teach you.
Make notes of difficult words: Jot down all difficult words you come across. Also, try to figure out how they are used. Make a target to learn one new word every day. This will help improve your vocabulary.
Write every day: Writing is a great way of learning how to use words and construct sentences. It is also beneficial improving your grammar. You can choose to jot down your thoughts or summarize any news that you have read during the day.
Use bilingual dictionary: Purchase a good bilingual dictionary. However, remember to do some research before purchasing a dictionary. A lot of dictionaries have poor translations. Very few people use a dictionary for pronunciation. Use it both to boost your vocabulary and improve your pronunciation.
Record your lesson: A great way of learning English is to read text aloud and record your lessons. Your smartphone recorder can be handy here. This way you will learn the correct pronunciation of the words. Practice it every day. If possible, take permission from your teacher to record classroom lessons. Listen to it in your free time.
Change the language over social media or smartphone: Have you set your mother tongue as your default language in your smartphone? If yes, please refrain from doing so. Use English to communicate over social media and through a smartphone .It will help you to pick up the language fast.
Be regular: You have to be regular with your lessons. Make it your priority. Take out at least two hours during a day for learning English. Figure out the best time when you are able to grasp quickly. Devote that time of the day exclusively for learning English by setting aside other distractions.
Learn from your mistakes: You are bound to make many mistakes initially. Take it in your stride and don't get discouraged. Jot down your mistakes and ensure that you don't repeat them. Work on them.
Useful books for improving English
Books are best friends to improve your English language. India is fortunate to have produced authors who have written some of the best books in English. Following books will come in handy in learning English:
High School English Grammar and Composition: Wren and Martin
This is a very popular book for improving English. It is comprehensive and lists all possible topics such as Parts of Speech, active voice and passive voice and précis and reading comprehension. This is a must have book for everyone.
Objective English for All Competitive Examination: Hari Mohan Prasad and Uma Rani Sinha
This is highly useful book for competitive examinations. It includes English Language and Comprehension, Grammar and Spotting errors, Prepositions, Verbs, Grammatical Sentence .It also contains objective questions of English Grammar and Sample Test papers for practice.
English Grammar and Composition: S.C. Gupta
 It is a comprehensive book for all competitive examinations. It contains over 7000 solved  English Grammar question papers. The book also contains translations in Hindi at some places making it very useful for Hindi audience.
Descriptive General English: S.P Bakshi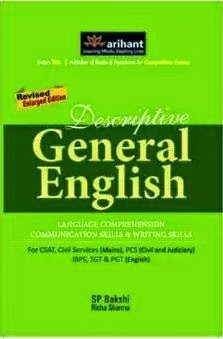 This book is important for improving descriptive English. It contains an exhaustive list of essay topics, letter writing, report writing, clause analysis, synonyms, and homonyms. It is widely recommended for UPSC, IBPS, TGT and PCS examination.
Objective English: Edgar Thorpe and Showick Thorpe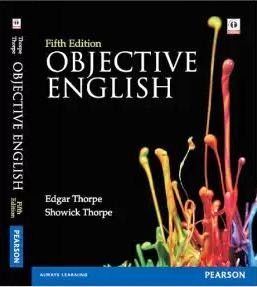 This book on English grammar includes over 8000 multiple choice questions with solutions, 50 solved English Grammar question papers and other important topics which will improve your English Comprehension and boost vocabulary. It is highly useful for CSAT, UPSC, SSC, IBPS, IELTS, GRE, and TOEFL.
Basic English Grammar: Betty Schrampfer Azar and Stacy A. Hagen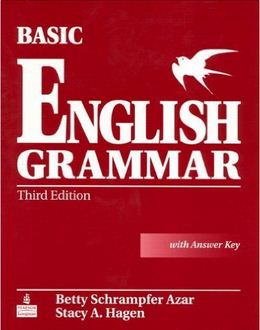 This English grammar book contains various exercises of vocabulary, speaking practice; understanding contexts, and other useful self- study exercises.  It also includes student book with or without answer key and a workbook. It is useful for competitive examinations like GRE, IELTS, and TOEFL.
English Improvement Course: Prof R.S. Dhillon, Dr. S Chaudhary, Manoshi Sinha and Sabiha Zareen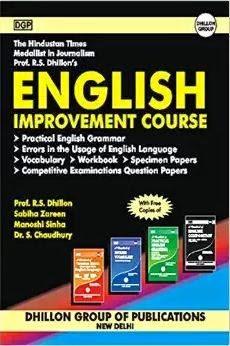 This book is best for Practical English grammar, vocabulary and learning to correct common errors in the use of the English language. This English Grammar book is also useful for the English Composition in English Language.
Did I miss out anything in this article? Please let me know in the comments below.
You Might Want To Read:
Calicut University Calicut, Tamil Nadu Board Chemistry Question Paper 6 2012, Ntt Data Mock Paper, Oicl Ao, Geology Question Paper 2 2014, How To Plan When Preparing To Study In A Foreign Country, Learning Spanish, Mahatma Gandhi Missions College Of Food Technology Aurangabad, Ugc Net Forensic Science Question Paper 3 2014, Ssc