Board examination plays an important role in shaping the career of a student. Students who are going to appear for class 12th board examination must work hard with dedication in order to give their best in the respective exam papers. But along with hard work, students must follow some strategies to prepare for the exam, because the marks scored in class 12th board examination is essential to get admission in their desired college.
Know the Syllabus
Knowing the syllabus of the subjects is one of the crucial parts of studies. Knowing the syllabus of the subjects will help to get a clear overview of the exam and they can prepare in an organized manner. If you are studying mathematics, make sure you have the CBSE class 12 mathematics syllabus as well as proper study materials like the textbook, CBSE Class 12 Maths NCERT solutions, reference books if any.
Create a Timetable
It is always advised to prepare a study plan or a timetable so that you can complete the entire syllabus within the stipulated time. While creating the timetable make sure you have assigned more time to the topics in which you feel are weak or you need to focus more on.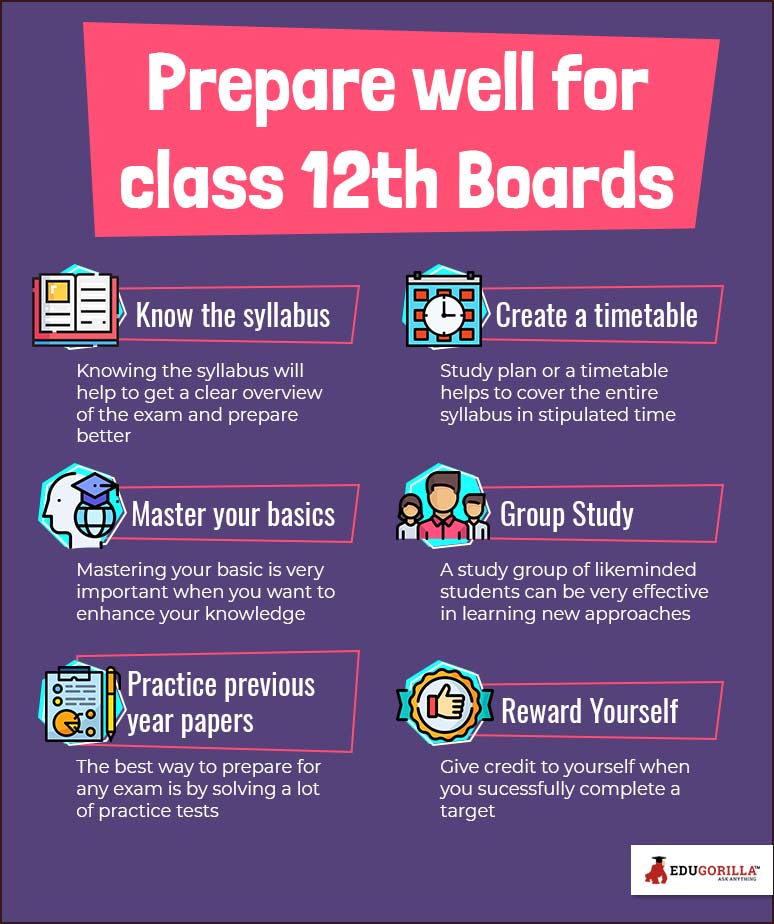 Master your Basics
The basics of most of the chapters of class 12 are taught in class 11 so it is important that you do revise some of them. If you have any doubt you can refer to Class 11 Maths Ncert book solutions, physics derivations, and important formulas.
Stay ahead of the Class
Try to read the chapter a night before it will be taught in the classroom. Don't worry if you don't understand anything from that. Reading the chapter before the class will help you to understand the topics faster when it will be taught in the classroom.
Study Group
Different students have different approaches to solve a particular question. There are several questions which are tough for few but are easy for most of the students.  In this case, students can teach each other.
Revise
According to the dictionary, the word revision means "read things again". So organize your study materials and start revising the topics you have prepared for your upcoming examination. Revising the topics will also help you to boost your confidence. For revision, you can use your own study notes which you have prepared or you can follow the class notes provided by your subject teacher.
Study Materials
Students should refer to appropriate books while preparing for their upcoming board examination. There are plenty of books available in the online bookstores and in the local shops. Better choose the one which is easy to understand or you can ask your seniors and subject teachers for help.
Reward Yourself
Set daily goals and reward yourself with a chocolate or with your favorite food for completing those goals. Doing such kind of activities will help you to stay motivated and confident enough to prepare for your examination.
Solve Previous Year Question Paper
The best way to prepare for any examination is by studying and solving lots and lots of problems. Solving previous year questions papers will help you to know the question patterns and the marking scheme of the questions. After solving the question paper check in which topic you are scoring fewer marks. Put some extra effort into those topics so that you don't make any further mistakes.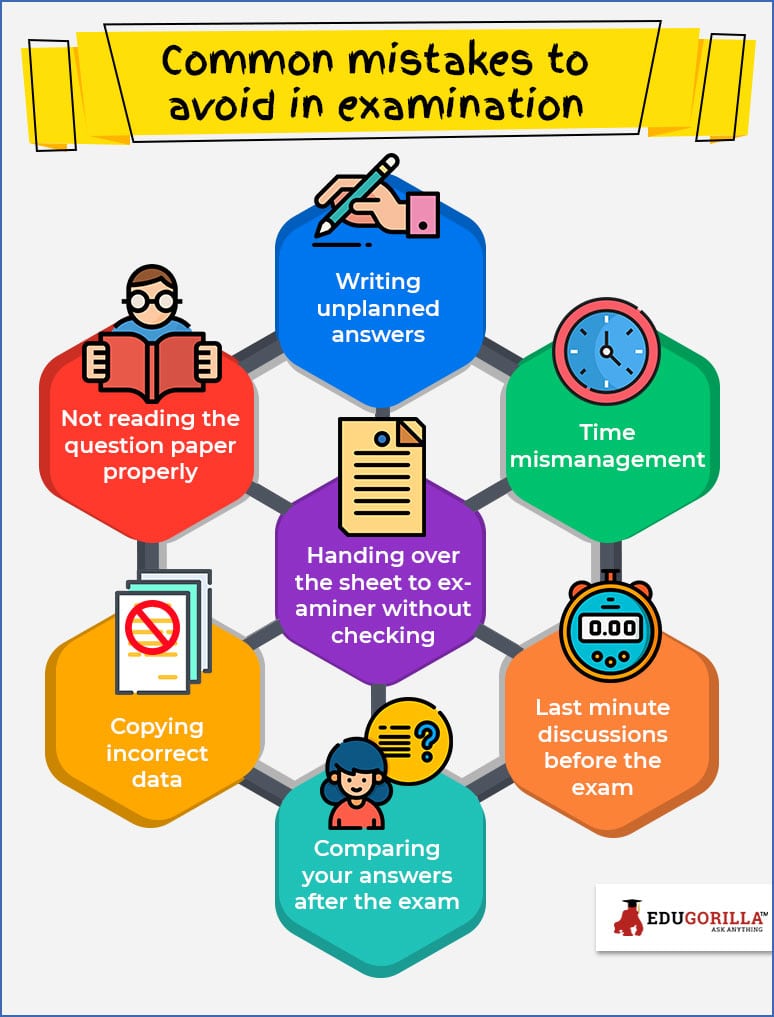 These are some important tips and strategies to excel in board examination. Subscribe to BYJU'S YouTube channel for interactive and engaging videos.
You Might Want To Read:
L L M Criminal Justice Administration And Protection Of Human Rights Sample Paper 1, Doeacc A Level Basic Of Os Unix And Shell Programming Mock Test Paper 1, Computer Systems Test Series, Ugc Net Museology Question Paper 3 2008, Net Jrf, Accountancy And Financial Management, Ugc Net Law Mock Test Paper 22, Rajasthani, Alternating Current, Design And Engineering Programs
Leave your vote
This post was created with our nice and easy submission form. Create your post!