If you have landed on this article, there are high chances that you have cracked JEE Mains and now getting your armor tightened for the final battle. Congratulations! But the story is not over yet. JEE Advanced is the major and final hurdle you need to cross to secure a brilliant future.
JEE Advanced Paper Pattern
Let's start with the paper analysis first, which will help in carving a clear strategy to crack the exam. JEE Advanced is conducted in two parts:
Paper 1: 9 am – 12 noon
Paper 2: 2 pm – 5 pm
Both the exams have the same number of sets and total marks.
Preparation Strategy
JEE Advanced is a level higher and different than JEE Mains. Refer to the syllabus and previous years papers first, to get familiar with what to expect on the D-Day. Once you know the syllabus for all the 3 subjects, make a timetable and study accordingly. You may also like to read the Important Pointers for JEE Advanced 2018.
Speed and accuracy are very important parameters for achieving success in the JEE Advanced. Let's break it down to a subject-wise strategy and curate some preparation techniques.
Physics
Concept clearance is the key factor for preparing Physics. Study NCERT thoroughly to clarify your concepts. After finishing off a chapter, solve all the problems by referring to multiple books you are studying from.
Chemistry
Chemistry is a blend of theory, concepts, reactions, and equations. Firstly, understand the basic things. And apply your learnings in solving the problems.
Mathematics
Understanding the basics and problem solving is the gist while preparing mathematics. Once you understand one concept, solve all the problems you think are relevant and important.
Tips for JEE Advanced preparations
Focus and time management
It doesn't matter how many hours you put in, rather it is the quality of hours you put in. Beware of distractions. Manage your time efficiently and take regular breaks in between.
Practicing and solving mock test papers
Practice and revision are the important factors while studying for an exam. Practice regularly and make the habit of marking important points that will help you during the revision. Also, take mock tests in the real test environment which will give you the feel of the D day.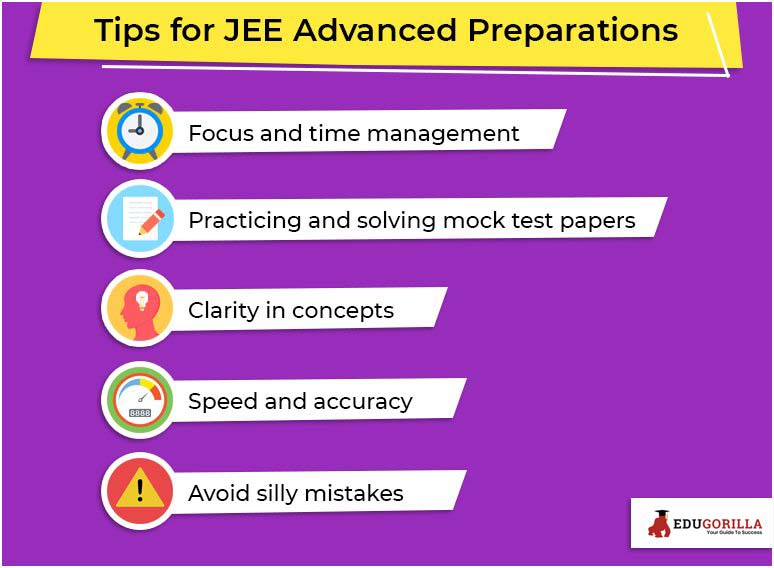 Clarity in concepts
If you lack in understanding the concepts, problem-solving will have an incorrect turnaround. There is no point in spending your valuable time in studying a particular concept which does not fetch you any mark. That's why whatever concept or topic you pick, study it thoroughly.
Speed and accuracy
Both are very important while you are preparing for JEE Advanced. There is less time during the exam and anxiety makes the chances of inaccuracy quite higher. While solving tests and taking mock test papers, make sure your speed and accuracy are top-notch.
Avoid silly mistakes
Often silly mistakes are the careless ones, which hurt the most. While you are putting in your hard work spending sleepless nights, making silly mistakes is just out of question. Revise your paper again and again. Avoid making calculation errors.
Following these simple tips will make sure that you fare well in the final exam. Good luck!
Must Read : JEE MAIN 2019
Also check, FAQs for IIT JEE Advanced 2018.
You Might Want To Read:
Ugc Net French Mock Test Paper 11, Government Exams Online Test, Ugc Net Archaeology Question Paper 2, Tnmgru Diploma In Clinical Pathology Biochemistry And Micro Biology Mock Test Paper 2, Jee Main Advanced Organic Chemistry Biomolecules Notes, Production Online Test, Associateship Examination Health Insurance Mock Test Paper 48, Best Universities University Of Manchester, Are Subject Test For Gre Available In India, Mathematics Trigonometric Ratio Identity Part 1
Leave your vote
This post was created with our nice and easy submission form. Create your post!