When you thinking of starting a Preschool you should also start making a good plan for your Preschool. Starting a Preschool is not an easy task. You have to manage many things. You have to register your Preschool. For your Preschool, you need a land and also need a NOC certificate from Local Area Authorities. You have to make curriculum and make the appointment of teaching staff. So the first thing you need to do is your school registration. There are no central laws which talk about rules and regulation for Preschool but there are some state laws which required some registration.
Legal Process of your Preschool                             
Permission required for Opening a Preschool from authorities. There is no central law on this but some state law will be there. So you have to take permission from state and local authorities for opening a school. First of all, you have to register a unique name for your school. And register it with its Logo Registration so other people cannot copy it. Registration of your school name will give you legal protection under Intellectual Property Rights. You have to define your budget. Open a preschool requires a lot of money. If you are open a Preschool with franchise then you have to mention it in your document. So you have to define your budget and also make a list of the investor. The next step involves making a curriculum for your Preschool. A permit from local authorities for your school Land is also important.
Logo Registration
The logo is the thing which represents your Preschool and makes different to others. A logo can represent your Vision. A logo will become your brand value and assets for your Preschool. Logo Registration is a primary required thing for your Preschool because if you not registering your Logo then anyone can copy it and will misuse it. Logo Registration of your Preschool will give you Legal Protection. The process of Logo Registration under Trademark act is nowadays easy you can file your Application Online.
The process of Logo Registration
Fill up the Registration form online.
Search for the Logo. If your logo is matching with another logo then you have to change your logo.
Select the class, there are 48 classes available under Trademark.
File application.
Affixing the Vienna codification
Trademark examination, Your Logo will be examined by the Authorities. After successful examination, you may be allowed for Trademark.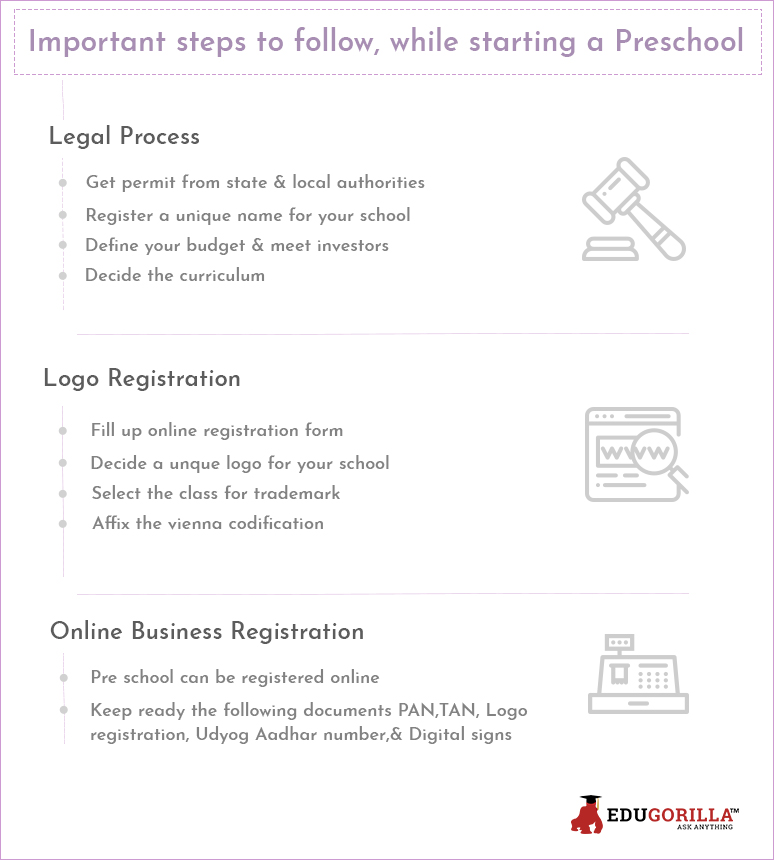 Online Business Registration
Online Business Registration is required for your Preschool. It creates legal rights and gives you legal protection. Business registration for your Preschool is required for smooth running in the long run. You can register your Preschool business online.
Basic Steps
If you are a single person in your business and your Preschool business is small then you can register as a Sole proprietorship. There is no such requirement for registration of this but you can show your registration with other documents, for example, PAN, TAN, Logo registration, Copyright and other documents which are required by a Preschool.
PAN and TAN are required for tax and business purpose. They are issued by the Income Tax Department of India. You can apply for this online. The process of filing an application online is very easy. You have to visit the official website. Then select the form and fill it. You have to submit your documents online.  Like, aadhar card details, your school address, and other documents.
You can also start a Preschool via making your company. For this, you have to register your company. You can file your application online for company registration.  There will be a minimum 2 people required for making company. A Digital sign is required for the incorporation form and also Director Identification number is required. You can apply for this online. With the incorporation form, you have to attach a memorandum of Association and Article of Association and other documents. You have to file Incorporation form online. After successful incorporation of the company, it becomes a legal entity.
Apart from this if you need the government benefits like loan or subsidy then you can apply for Udyog Aadhar Registration for the same. It's really helpful to get the government benefits for the preschool in India.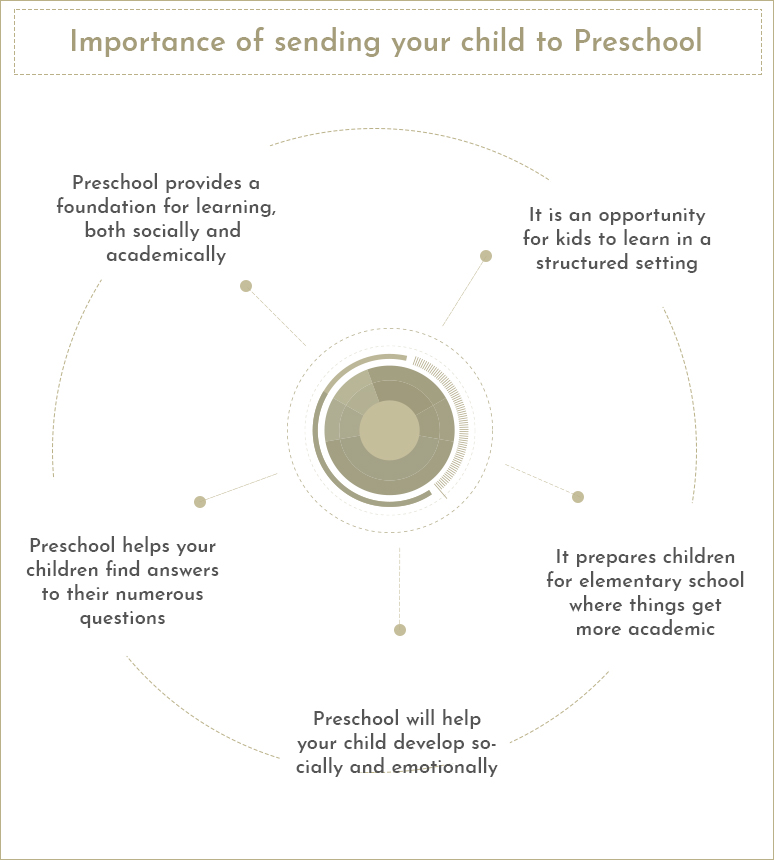 Final step
It is very important to secure our legal rights and you can secure your rights by above mention registration. As you can see in the above article you have to register your Preschool so you get your Legal rights and it also gives your legal protection. A Preschool required a good planning and need some registration. You can register your school online but first, you have to decide where you want to register your Preschool whether it is Sole Proprietorship or a company. The basic requirement for filing tax returns is PAN and TAN registration. Its registration is very easy you can register your PAN and TAN online. So Registration of Your Preschool is necessary and you can do it online.
You Might Want To Read:
Eligibility Criteria For Icfai Business School, National Institute Of Fashion Technology N I F T Question Paper 12 2013, Ugc Net Environmental Science Question Paper 2 2013, R P S C Civil Engineering Question Paper 1 2011 2, Cgpsc Question Answer Paper 2014 17, Defense Strategies Question Paper 1 2010, Security Assistant Grade Ii Technical Lok Sabha Secretariat Pre Exam Paper, Ugc Net Dance Drama Theater Question Paper 1 2005, Relations And Functions, Delhi University M C A 2Nd Year Mock Test Paper 8
Leave your vote
This post was created with our nice and easy submission form. Create your post!