Overview of IAS
Indian Administrative Services (IAS) a dream of billions, a journey from nowhere to somewhere, an opportunity to define your career. The Civil Service Examination is considered to be one of the toughest competitive exams to crack in India. Every year, lakhs of students appear for this exam but only a few make it till the end and become IAS officers. Luckily, the aspirants are given multiple attempts to keep their dream alive. Though the dream of thousands is shattered each year with the competition being so fierce.
IAS is officially known as UPSC Civil Service Examination abbreviated as UPSC CSE. It is conducted every year by the Union Public Service Commission (UPSC). The UPSC CSE consists of three stages- Preliminary, Mains, and Personal Interview. The first stage i.e. Prelims is conducted in the month of June whereas the mains are conducted around September to October. Only those who qualify the Prelims can appear for the Mains in the IAS exam. Qualifying both stages is the first step for the candidates who wish to be an IAS officer. The next and final stage of the IAS exam is a personal interview to test the overall personality and intelligence of a candidate.
This article covers all the relevant details like important dates, syllabus, eligibility, exam pattern, and cutoff related to the IAS exam 2019.
IAS 2019 in a Nutshell
| | |
| --- | --- |
| Specifications | Details |
| IAS Exam Conducting Body | Union Public Service Commission (UPSC) |
| Job Type | Central Government Job |
| Mode of application | Online |
| Mode of exam | Offline |
| Medium | English and Hindi |
| Number of times conducted | Once in a year |
| Vacancies | Around 900 |
| Application Fee | INR 100 (Females/SC/ST/PH are exempted) |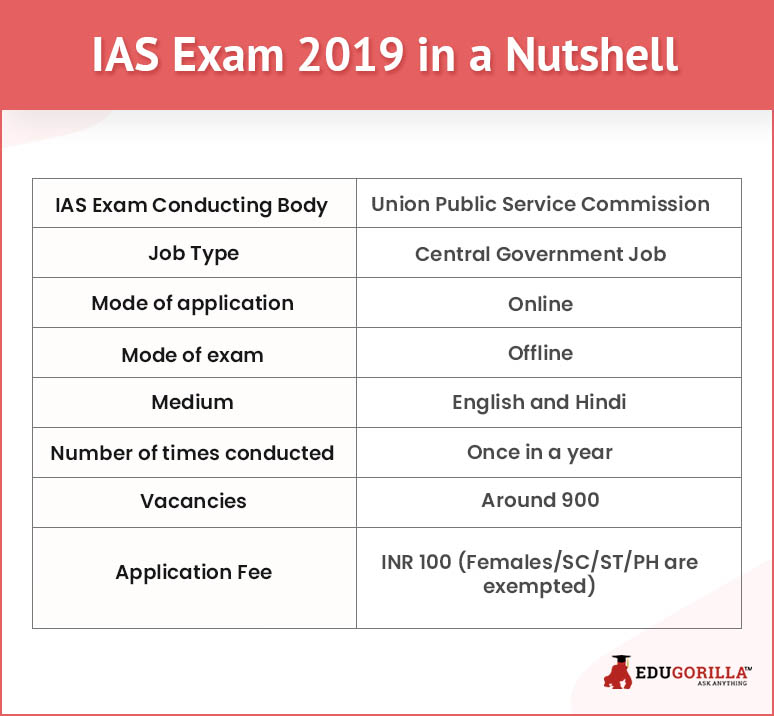 Changes in IAS Exam over the years
2011
In the year 2011, UPSC replaced the Optional subject with CSAT
2012
In 2012, the Commission kept the main syllabus a little more generic and this led to a change in the pattern of questions
There are two additional papers for each year in 2012
Two papers were incorporated on General Studies and one Essay
Both CSAT and GS scores were to be counted for preparing the merit list
2013
The number of Optional subjects was decreased from two to one and the number of papers on GS doubled from two to four
The previous two GS papers were increased to three
A new paper on 'Ethics, Integrity, and Aptitude' was introduced
Total marks allotted for the essay were increased from 200 to 250
The total number of questions increased while the overall word limit decreased
2014
The number of essays was increased from one to two. This resulted in two sections with four optional choices in total. Earlier there used to be one section with four optional choices
The total number of permissible attempts were increased from four to six
Maximum age limit for General Category was increased from 30 to 32
2015
In this year, CSAT was made a qualifying paper. Only GS marks were to be counted for qualifying Prelims
2018
The year recorded the lowest vacancies in UPSC ever
A new section was introduced in the Interview Scheme. Now, the results and details of the appearing candidates could be shared with private and public recruiting agencies
2019
Despite much anticipation, there was no change in the number of attempts
Reservation for EWS (Economically Weaker Sections) was introduced in the exam, as proposed by the Government

Important Dates for IAS 2019
| | |
| --- | --- |
| Event | Date |
| Date of Notification | February 19, 2019 |
| IAS Preliminary Exam | June 2, 2019 |
| Announcement of Preliminary Exam Result | July 12, 2019 |
| IAS Mains Application Form to release on | August 1-16, 2019 |
| Issue of IAS Main Admit Card | Last week of August 2019 |
| IAS Main Exam 2019 | September 20, 21, 22, 28, and 29, 2019 |
| IAS Main result | January 2020 |
Study Material for IAS 2019
Check out the deep repository of EduGorilla to avail notes, syllabus, question papers, etc. for IAS exam.
Eligibility Criterion for IAS 2019
Nationality
The candidate must be a citizen of India.
Educational Qualification
Candidates must hold a bachelor's degree from a recognized university
Candidates who are in their final year of the qualifying exam (bachelor's degree) are eligible to apply for the IAS prelims exam
They must provide the proof of passing the exam while applying for the IAS mains exam
Age Limit
Category
Relaxation
Upper Age Limit
General
No relaxation
32
OBC
Up to 3 years
35
SC/ST
Up to 5 years
37
Defence Service Personnel (disabled during service0
Up to 3 years
35
Ex-servicemen including Commissioned Officers and ECOs/SSCOs who have rendered at least 5 years military service
Up to 5 years
37
Visually challenged/hearing/impaired/

Physically challenged

Up to 10 years
42
Number of Attempts
| | |
| --- | --- |
| Category | Number of Attempts |
| General | 6 |
| OBC | 9 |
| SC/ST | No restriction |
| Physically Handicapped (General) | 9 |
| Physically Handicapped (OBC) | 9 |
| Physically Handicapped (SC/ST) | No restriction |
Syllabus and Exam Pattern of IAS 2019
Exam Pattern of IAS 2019 Prelims
| | | | |
| --- | --- | --- | --- |
| Name of the Paper | Duration | Question | Marks |
| Paper-I General Studies | 2 Hours | 100 | 200 Marks |
| Paper- II General Studies | 2 Hours | 80 | 200 marks |
Syllabus for IAS 2019 Prelims
The Preliminary exam comprises of two compulsory papers (General Studies-I and General Studies-II). All the questions are of objective type. The marks scored in the Preliminary round will be the basis for qualification in the next round.
Paper I – General Studies
Current Events of National and International importance
History of India and Indian National Movement
India and World Geography
Indian Polity and Governance
Economic and Social Development, Poverty, Inclusion, Sustainable Development, Demographics, Social Sector initiatives
General Issues and General Science
Paper-II – CSAT
Comprehension
Interpersonal skills and communication skills
Logical reasoning and Analytical ability
Decision making and Problem-solving
Mental ability
Basic Mathematics and Data Interpretation (charts, graphs, tables, data sufficiency, etc.) of Class 10th level
Exam Pattern of IAS 2019 Mains
Subject
Paper
Nature of The Paper
Duration
Total Marks
Compulsory Indian Language
Paper – A
Qualifying
3 hours
300
English
Paper – B
3 hours
300
Essay
Paper – I
Merit ranking
3 hours
250
General Studies I
Paper-II
3 hours
250
General Studies II
Paper – III
3 hours
250
General Studies III
Paper – IV
3 hours
250
General Studies IV
Paper – V
3 hours
250
Optional I
Paper – VI
3 hours
250
Optional II
Paper – VII
3 hours
250
Optional Subjects available for IAS 2019 Mains
| | | |
| --- | --- | --- |
| Agriculture | Animal Husbandry and Veterinary Science | Anthropology |
| Chemistry | Civil Engineering | Commerce and Accountancy |
| Geography | Geology | History |
| Mathematics | Mechanical Engineering | Medical Science |
| Political Science and International Relations | Psychology | Public Administration |
| Zoology | Economics | Law |
| Philosophy | Sociology | Botany |
| Electrical Engineering | Management | Physics |
| Literature of languages | | |
Syllabus for IAS 2019 Mains
General Studies 1 – Indian Heritage and Culture, History and Geography of the World and Society
Indian culture, aspects of Art Forms, Literature and Architecture from ancient to modern times, Modern Indian history and major personalities
The Freedom Struggle, important contributions and contributors from different parts of the country, and Post‐independence consolidation and reorganization in the country
History of the world, world wars, industrial revolution, re-drawl of national boundaries, political philosophies, colonization, decolonization, capitalism, socialism, Diversity of India and Salient features of Indian Society
Role of women, women's organization, poverty and developmental issues, population and associated issues, urbanization, Social empowerment, Effects of globalization on Indian society, regionalism & secularism, communalism, world's physical geography,
Factors responsible for the location of primary, secondary, tertiary sector industries, Natural resources, Important Geophysical phenomena, Tsunami, earthquakes, cyclone, Volcanic activity, geographical features and their location‐ changes in flora and fauna, and critical geographical features and their effects
General Studies 2 – Governance, Constitution, Polity, Social Justice and International relations
Indian Constitution – evolution, significant provisions and basic structure, amendments, features, historical underpinnings, functions and responsibilities of the Union and States, devolution of powers and finances up to local levels, challenges of the federal structure
Separation of powers, Comparison of the Indian constitutional scheme with that of other countries, redressed institutions and mechanisms, Parliament and State Legislatures, structure, conduct and functioning of business, powers and privileges
Structure, functioning, and organization of the Executive and Judiciary Departments and Ministries; formal/informal associations and pressure groups; their role in the Polity, and Representation of People's Act.
Mechanisms, laws, institutions, and Bodies constituted for the protection of vulnerable sections, Issues relating to poverty and hunger, Issues relating to the management and development of Social Sector/Services related to Education, Health, and Human Resources.
Important aspects of governance, e-governance‐ models, applications, potential limitations, and successes; citizens charters, accountability & transparency and institutional and other measures.
India and its neighborhood relations, Role of civil services in a Democracy, Bilateral, regional and global agreements and groupings involving India, Indian diaspora, Effect of politics and policies of developing and developed countries, Important International agencies, and institutions, and fora their structure, mandate.
Appointment to various Constitutional posts: functions, powers, and responsibilities of various Constitutional Bodies; Regulatory, Statutory, and other quasi-judicial bodies; Government policies and interventions for development in various sectors, Development processes and the development industry the role of SHGs, NGOs, various donors and charities, groups and associations.
General Studies 3 – Technology, Economic Development, Biodiversity, Environment, Security and Disaster Management
Indian Economy, Government Budgeting, Issues relating to planning, growth, development, mobilization of resources, and employment; Inclusive growth and issues arising out of it
Major crops and cropping patterns, types of irrigation and irrigation systems, Issues pertaining to direct and indirect farm subsidies, transport, storage and marketing of agricultural produce, its issues and related constraints; and e-technology for the aid of farmers
Public Distribution System – objectives, limitations, functioning, revamping; issues of food security and buffer stocks
Economics of animal- rearing, Technology missions; Food processing and related industries‐ their scope and significance, upstream and downstream requirements, supply chain management, location, Effects of liberalization on the economy, Land reforms in India, changes in the industrial policy & their effects on industrial growth
Infrastructure: Energy, Roads, Railways, Airports, Ports, etc., Investment models, Science and technology – developments, applications and their effects in everyday life
Achievements of Indians in science & technology; developing new technology, and indigenization of technology, Awareness in the fields of Space, IT, Robotics, Computers, Biotechnology, Nano-technology, and issues pertaining to intellectual property rights, environmental pollution, conservation and degradation, Disaster and disaster management, environmental impact assessment, Linkages between development and spread of extremism
Role of external state and non‐ state factors in posing challenges to internal security, Challenges to internal security via communication networks, basics of cybersecurity, role of social networking sites and media in internal security challenges; money laundering and its prevention, linkages of organized crime with terrorism; Security challenges and their management in border areas; Various Security forces and agencies and their mandate
General Studies 4 – Ethics, Integrity, and Aptitude
Probity in public life, Issues relating to integrity, Ethics and Human Interface – Essence, determinants, and consequences of Ethics in human actions; ethics in private and public relationships, dimensions of ethics
Role of society, family and educational institutions in inculcating values; Lessons from the lives and teachings of great reformers, leaders and administrators; Human Values, Attitude: structure, content, function; its relation and influence on thought and behavior; political and moral attitudes; social influence and persuasion
Aptitude and Foundational values for Civil Service, integrity, impartiality, empathy, objectivity, and non-partisanship, dedication to public service tolerance and compassion towards weaker‐ sections, Emotional intelligence‐ concepts and utilities, their application in governance and administration, Contributions of philosophers and moral thinkers from India and the world
Civil service/Public values and Ethics in Public administration: Status and problems; ethical concerns and dilemmas in private and government institutions, rules and regulations, laws and conscience as sources of ethical guidance; ethical governance; accountability and strengthening of moral and ethical values in governance; funding and ethical issues in international relations; corporate Governance
Probity in Governance: Philosophical basis of governance and probity; Concept of public service; Transparency and Information sharing in government, Right to Information, Codes of Conduct, Codes of Ethics, Work culture, Citizen's Charters, Utilization of public funds, Quality of service delivery, challenges of corruption
Case Study
Optional Subject- Paper 1 and 2
Agriculture, Botany, Chemistry, Civil Engineering, Anthropology, Commerce and Accountancy, Animal Husbandry and Veterinary Science, Electrical Engineering, Economics, Geography, Geology, History, Law, Mathematics, Management, Mechanical Engineering, Medical Science, Physics, Philosophy, Psychology, Political Science and International Relations, Public Administration, Statistics Sociology, and Zoology
Literature of any of the following languages: Bodo, Bengali, Assamese, Dogri, English, Gujarati, Hindi, Kashmiri, Kannada, Konkani, Malayalam, Maithili, Manipuri, Marathi, Nepali, Oriya, Punjabi, Santhali, Sanskrit, Sindhi, Telugu, Tamil, and Urdu.
Personality Test /Interview
Candidates who clear the Mains qualify for the final stage of the IAS exam i.e. the Interview Round with the UPSC board members. Those who qualify in this stage are further called for a face to face discussion round to assess their personality traits. Questions related to their hobbies, interests, current affairs, general knowledge are asked to evaluate their analytical ability.
Essential ID Proofs for IAS 2019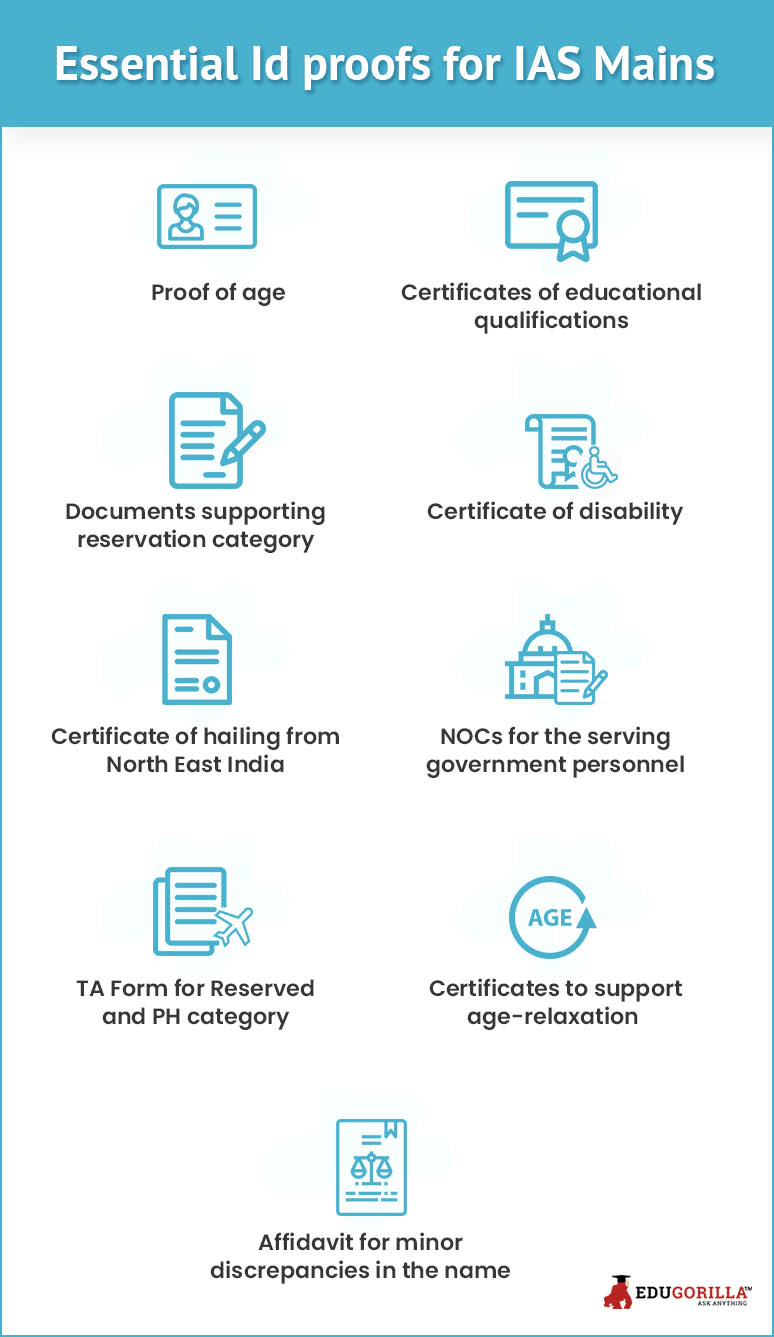 For Mains
Leaving certificate of matriculation as proof of age
Certificates of educational qualifications
Documents supporting Reservation Category
Certificate of Disability (if applicable)
Certificate of proof of hailing from North-East India and J&K Domicile (if applicable)
NOCs for serving government personnel
TA Form for Reserved and PH category (for travel allowance)
Certificates to support age-relaxation (if applicable)
Affidavit for minor discrepancies in the name
For Personal Interview
Matriculation certificate (original)
Degree certificates (original)
A printed copy of E-summon letter
2 passport-size photographs (one should be self-attested)
Certificates supporting age relaxation (if applicable)
For Medical Examination
8-10 passport-size photographs
Medical prescriptions and certificates (if any)

Exam Centers for IAS 2019
For IAS 2019 Prelims
| | | |
| --- | --- | --- |
| Agartala | Gautam Buddha Nagar | Ghaziabad |
| Agra | Panaji (Goa) | Gorakhpur |
| Ajmer | Patna | Gurgaon |
| Ahmedabad | Port Blair | Gwalior |
| Aizawl | Puducherry | Hyderabad |
| Aligarh | Pune | Imphal |
| Allahabad | Raipur | Indore |
| Ananthapuru | Rajkot | Itanagar |
| Aurangabad | Ranchi | Jabalpur |
| Bengaluru | Sambalpur | Jaipur |
| Bareilly | Shillong | Jammu |
| Bhopal | Shimla | Jodhpur |
| Bilaspur | Siliguri | Jorhat |
| Chandigarh | Srinagar | Kochi |
| Chennai | Thane | Kohima |
| Coimbatore | Thiruvananthapuram | Kolkata |
| Cuttack | Tiruchirapalli | Kozhikode (Calicut) |
| Dehradun | Tirupati | Lucknow |
| Delhi | Udaipur | Ludhiana |
| Dharwar | Varanasi | Madurai |
| Dispur | Vellore | Mumbai |
| Faridabad | Vijayawada | Mysuru |
| Gangtok | Vishakhapatnam | Nagpur |
| Gaya | Warangal | Navi Mumbai |
For IAS 2019 Mains
| | | |
| --- | --- | --- |
| Ahmedabad | Mumbai | Dehradun |
| Aizawl | Patna | Delhi |
| Allahabad | Raipur | Dispur (Guwahati) |
| Bengaluru | Ranchi | Hyderabad |
| Bhopal | Shillong | Jaipur |
| Chandigarh | Shimla | Jammu |
| Chennai | Thiruvananthapuram | Kolkata |
| Cuttack | Vijayawada | Lucknow |
IAS 2019 Expected Cutoff
| | | | |
| --- | --- | --- | --- |
| CATEGORY | PRELIMS | MAINS | FINAL |
| General | 116.00 | 787 | 988 |
| OBC | 110.00 | 745 | 951 |
| SC | 99.34 | 739 | 937 |
| ST | 96.00 | 730 | 937 |
| PH-1 | 75.34 | 713 | 927 |
| PH-2 | 72.66 | 740 | 951 |
| PH-3 | 40.00 | 545 | 817 |
You Might Want To Read:
Gate Syllabus Mining Engineering, Cgl Solved Question Paper 1 2011, Qjuestion Paper, Sathyabama University, Resonances Forward Admission Scholarship Test Neet, Keam 2018 Exam, Tips On Studying Gre And Toefl At The Same Time, Career Power Vs Ibt, Iifa Multimedia Indian Institute Of Film And Animation Bangalore, Psus Research Online Mock Test